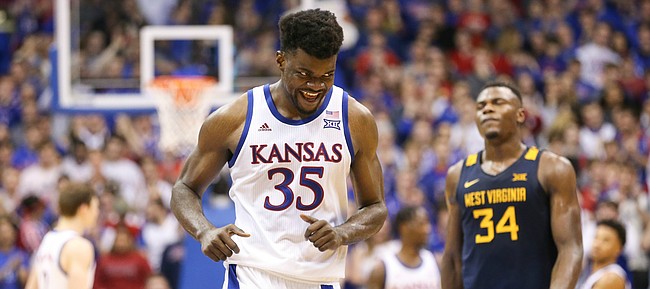 Saturday afternoon's 11-rebound effort in a 60-53 Kansas win over West Virginia marked the first time in the injury-plagued career of Udoka Azubuike that the Kansas big man has recorded double-digit boards in three consecutive games.
Prior to Saturday, the 7-foot senior grabbed 11 rebounds in a loss at Villanova and 13 in KU's road win at Stanford and he now has 13 double-digit rebounding games for his career.
Six of those have come this season, but there's little doubt that the most recent was the most gratifying given the fact that it came during one of the most physically demanding games Azubuike ever has played.
Photo Gallery
Kansas basketball v. West Virginia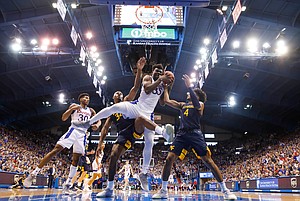 View a gallery of images from Saturday's game between the Jayhawks and Mountaineers at Allen Fieldhouse.
"During practice, (KU coach Bill Self) kept emphasizing that, hey, these guys are really physical," Azubuike recalled after the victory. "I mean, I didn't know. Last year I didn't play West Virginia because I was injured. So playing them again was like, 'Oh, man. These guys are really physical.'"
Throughout the first half, Self did plenty of reminding, both by yelling to his players out on the floor and by imploring them for more on the bench.
Azubuike, who played 15 first-half minutes, shuffled in and out of the lineup while the Jayhawks searched for some kind of answer to WVU's physical play.
Self described his team's demeanor throughout the first half as "shell-shocked." And watching his third-ranked Jayhawks snap out of that to earn the tough victory made this latest victory that much sweeter.
"We were so rattled in the first half," Self said. "We were running on the bench and (Azubuike) checks in and we had no idea. I mean, it was unbelievable how rattled we were. After he made a couple of plays, poise kind of took over and he was great in the second half. (WVU freshman) Oscar (Tshiebwe) was the best player, by far, in the first half, but there's no doubt (who) the best player was in the second half. I thought Dok played huge."
He also rallied from a place of frustration in ways he might not have been able to in years past.
"I think he's matured a lot," Self said of his anchor inside, who also blocked a career-high six shots on Saturday. "I think Dok's got a lot of stuff in him that's really good. And I still think he can do more."
Azubuike's strong effort on the glass in recent weeks has come during a five-game stretch in which the senior center has been equally productive as an offensive weapon.
Three times in the past five games, including Saturday, Azubuike has been perfect from the field shooting the ball. And his 6-of-6 shooting performance against the Mountaineers brought his field goal numbers to 24 makes in his last 29 attempts (82.8%) during that time.
Azubuike's second-half offensive production, which came after the Mountaineers limited him to just one field goal and a 4-of-8 clip at the free throw line in Saturday's first half, seemed to bother WVU coach Bob Huggins the most.
"We just didn't stick to the game plan," Huggins lamented. "We have a bunch of young guys. We're trying to play a bunch of guys, and... you can't help up. If you help up, they're going to throw to the rim and he's too big, too strong."
Azubuike, the Big 12's Preseason Player of the Year, now is averaging 13.3 points and 8.9 rebounds for the season. Those numbers rank him 14th in scoring and fifth in rebounding among the Big 12's leaders, with a whole bunch of season still to play.
The points were expected and are slightly better than Azubuike's career average of 11.8 points per game. The KU coaching staff hoped for the rebounding total to increase. And after challenging the senior center to do more on the boards eight games into the current season, Azubuike has responded with four double-digit rebounding outings in his last five games.
Since the challenge was issued in early December, Azubuike has averaged 11.4 rebounds per game.
As much as it might seem like Azubuike is a veteran because he has been in the program for four years, Saturday was just the 20th Big 12 Conference game of his career.
Teammates Devon Dotson and Marcus Garrett both have played more, and Ochai Agbaji has played just as many.
"I thought that was a big step in growing up and knowing how tough and how competitive you have to be to win games in this league," Self said of Saturday's victory. "It's an unbelievable league."