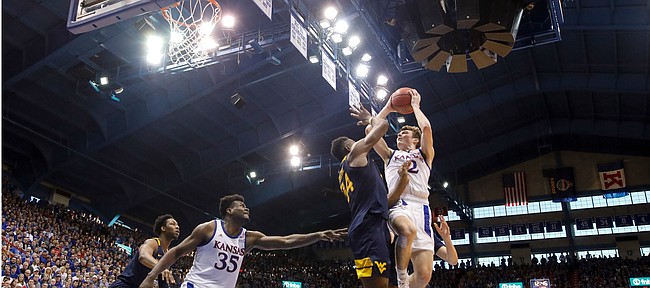 With his team lucky to be down just six points at halftime of Saturday's Big 12 Conference opener against West Virginia, Kansas coach Bill Self fell back on the one word that means more to him than any other — toughness.
The result was a grind-it-out, 60-53 victory in which five Jayhawks played 93% of the second-half minutes.
"I just thought it was a game you have to play your toughest guys," Self said after the win.
Kansas fans now know who KU's tough guys are.
Sophomores Devon Dotson and Ochai Agbaji joined freshman Christian Braun in playing the entire second half on Saturday, and senior Udoka Azubuike and junior Marcus Garrett played all but a few minutes.
"That was kind of a theme throughout this whole week preparing for this game — toughness is going to win," Braun said. "And that's something I've always prided myself on. We've got a lot of tough dudes, and to be in that five toughest group is pretty cool."
By boxing out, crashing the glass, diving on the floor and simply being willing to fight back when WVU big men Derek Culver and Oscar Tshiebwe bullied them all over the floor, that quintet helped Kansas flip the script on a game that was dominated by 16th-ranked West Virginia (11-2 overall, 0-1 Big 12) for the first 20 minutes.
Tshiebwe in particular was a first-half nightmare for the Jayhawks, who had no answer for the 6-foot-9, 258-pound freshman.
In 17 first-half minutes, Tshiebwe tallied 15 points on 6-of-8 shooting to go along with a whopping 10 rebounds, seven of them coming on the offensive glass.
Photo Gallery
Kansas basketball v. West Virginia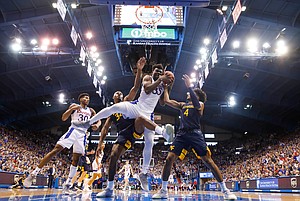 View a gallery of images from Saturday's game between the Jayhawks and Mountaineers at Allen Fieldhouse.
"I tried to box him out and he wasn't moving," Azubuike marveled after the game. "He's a grown man. I've never played against somebody like that. He's hard to move in the paint, really physical, really strong."
It's that fact that made KU's solution all the more head-scratching. Instead of tasking similarly-sized forward David McCormack (2 points and 3 rebounds in 10 minutes) or Silvio De Sousa (no points and 2 rebounds in 7 minutes) with slowing Tshiebwe down, Self turned to Braun, who was giving up three inches and more than 50 pounds to his counterpart in blue and gold.
Braun instantly made it look like a good move, proving that size alone was not the only way to win a hotly contested college basketball game.
In the first minute of the second half, Braun rebounded a missed free throw by Azubuike and funneled it back to the big fella for another easy deuce. Just like that, KU had cut the WVU lead to two with an eternity still to play.
"I thought he did really well," Self said of Braun's six points, five rebounds and two steals in 30 minutes. "He didn't get outside of who he was, played fairly conservative on offense but still yet made a couple of big plays and, defensively and and rebounding, did a good job going after the ball."
"That's my job," Braun countered, refusing to claim that there was anything special about his performance on Saturday. "Make extra possessions for the team, offensive rebound, little stuff like that."
Although those types of plays have defined Braun's freshman season to this point, he delivered one play in Saturday's game that looked like it came from a player much older and wiser.
Driving to his left across the lane, with Kansas trailing by a point, Braun knifed his way back toward the basket, finished a tough layup and saddled Tshiebwe with his third foul in the process. The ensuing free throw put Kansas up two and the Jayhawks never trailed again.
While Braun's performance on both ends played a big role in grabbing that lead, no one was more impactful than Azubuike, who seemed to play with the theory that if you can't go through your opponent, you might as well go over them.
Catching lob after lob from a variety of teammates in the second half, Azubuike finished with 17 points, 11 rebounds and a career-high six blocks.
"Dok was the best player in the game the second half," Self said after the win. "He was great."
Asked to explain how he flipped the switch from getting pushed around and out-challenged to delivering daggers almost every time he touched the ball, Azubuike said the approach was simple.
"Coach kind of spoke to us, and we just came out with a different mindset in the second half," he said.
It was more than that, though. Execution had something to do with it. For a team that has struggled to connect on lobs throughout early portion of the season, the Jayhawks (11-2, 1-0) made it clear that they had total faith in Azubuike to catch anything they threw near the rim on Saturday.
"It's amazing to me," Self began. "As much as we like to throw (lobs) we probably miss it 25-50% of time. But when we needed it, we got it today because we weren't shooting the ball (well) and we had to get it at the basket."
Although far from perfect, Saturday's victory came the way the Jayhawks would have liked it. Second-half adjustments — to their minds and the game plan — helped Kansas prevail and the game as a whole served as a not-so-subtle reminder of what's ahead during the next couple of months.
The rest of the Big 12 teams on KU's schedule do not feature mountainous men like Culver and Tshiebwe. But all of them are capable of giving Kansas the kind of 40-minute fight the Mountaineers provided on Saturday at Allen Fieldhouse.
KU's veterans will take the reminder. And the newcomers now know exactly what it looks like.
"This is all new to them," Self noted. "Blue Valley Northwest did a great job of prepping (Braun) for college, but they didn't prep him for that today. And there's no high school out there that does prep you for that."
The fun continues for Kansas on Wednesday at Iowa State in Ames, Iowa. Tipoff from Hilton Coliseum is slated for 7 p.m. on Big 12 Now/ESPN+.