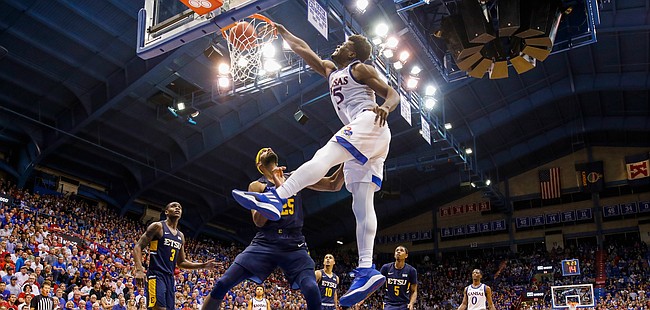 On Saturday afternoon when third-ranked Kansas and No. 16 West Virginia square off at Allen Fieldhouse to open Big 12 play, a matchup that has become must-see television in recent years will not be watched by some KU fans.
The same goes for Wednesday's game at Iowa State and two more Big 12 games later this season.

For the first time in KU history, the Big 12 Conference has taken a chunk of its college basketball games off cable and put them exclusively on the new streaming service known as Big 12 Now through ESPN+.
To get the Big 12 Conference games on Big 12 Now/ESPN+ — 20 in all during the upcoming Big 12 season — fans are required to subscribe to ESPN+ and watch them on their phones, tablets or computers. The games then can appear on television sets through various casting services and Smart TVs.
The cost for a subscription to ESPN+ is $4.99 per month or $49.99 per year and can be canceled at any time.
According to KU Athletic Director Jeff Long, the move, which has been met with frustration from several segments of the KU fan base, was made at the conference level and, as Long put it, is "very much a part of being in a conference."
"Obviously it's going to be a challenge for our fans who don't have the streaming service, Big 12 Now, to see those first two conference games," Long recently told the Journal-World. "But the fact that Kansas was chosen to be on in those first two games, there's a reason for that. And the reason is it will drive people to subscribe and that's obviously ESPN's goal here."
Judy Hollingshead, 70, of Lawrence, has no interest in signing up for the service and is frustrated that games that used to be so readily available for viewing have become hard to watch.
"This is my favorite time of the year," Hollingshead said. "KU basketball season is what I live for. The season is one-third over already and I've seen two, maybe three, games. It's just so rude that it's changing now. We're so used to being able to watch the games live, and it's frustrating for them to be streaming now. A lot of older citizens don't even know and understand how to stream."
The frustration from KU fans has not been limited to the subscription requirement.
Lawrence resident Jim Bowen, 78, has been following KU basketball since he first listened to a game on the radio in 1951. And while the streaming service and cost associated with it caused Bowen to grumble initially, he said he signed up for ESPN+ because he "can just hardly stand to know there's a game going on and not be watching."
With that said, Bowen's frustrations are not about the pay-per-view aspect but instead the quality of what he's watching.
"I would get comfortable with it if I had assurances that the quality would be the same as I'm used to on cable," he said. "Consistency and dependability I guess is what we're looking for."
Several other KU fans have taken to Twitter and email to complain about the production quality of the broadcasts.
One game, KU's 98-57 victory over Kansas City at Sprint Center, in Kansas City, Mo., had so many production issues it prompted both ESPN and Kansas Athletics to release apology statements a couple of days later.
By season's end, the KU men's basketball team will have played 10 games exclusively on Big 12 Now/ESPN+. The two exhibition games and four nonconference games already are in the past. And four of KU's final 19 regular-season games — starting with Saturday vs. West Virginia — remain slated for streaming.
KU's rematch with West Virginia on Feb. 12 in Morgantown, W.Va., also will be on Big 12 Now, along with a home game against TCU on March 4.
KU's total of 10 Big 12 Now games ranks tied for second among its Big 12 peers.
Only Kansas State, with 15, will play more games on Big 12 Now/ESPN+ this season. Oklahoma State joins the Jayhawks in having 10 of its games on Big 12 Now/ESPN+.
Long does not see that as a bad thing.
"Kansas being on is a tribute to our success and the demand that people have to watch Kansas basketball," he said. "So you can understand why ESPN and Big 12 Now chose Kansas."
Texas, because of The Longhorn Network's affiliation with ESPN, is only on Big 12 Now twice, and both times as the road team. Oklahoma and Texas Tech are each on three times, Iowa State four times, West Virginia five times, TCU six times and Baylor eight times, four Big 12 games and four nonconference matchups.
A request by the Journal-World for more information from an ESPN+ representative about the programming and future of the Big 12's contract with ESPN+ was not immediately returned. But Long said fans should get used to this sort of setup.
"The streaming is the way of the future," he said. "If you watch some of the television negotiations that are playing out right now, the streaming piece is a big part of it. So the Big 12 has positioned itself very well and it will be to our advantage when we go into our negotiations."
Well aware of the frustration surfacing among its fan base — in fact, Long on Wednesday evening engaged in a back-and-forth dialogue on Twitter about this very topic — KU has taken some steps to help people get the streaming service.
Associate Athletic Director for Public Relations Dan Beckler and Assistant AD and radio color commentator Greg Gurley recently went to a local retirement home to outfit the theater room with Roku access so its residents could watch the Big 12 Now games.
"All of us, even our new folks, understand the passion our fans have for KU basketball," Long said. "And we wish we had an army of people who could go out and set up these things for people."