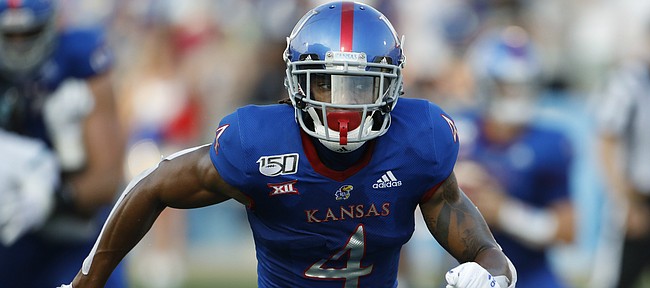 Andrew Parchment realizes a significant unknown accompanies the University of Kansas football team's offense into 2020.
As much as the Jayhawks flashed some big-play potential this past year, when they next take the field, well, there will be a different starting quarterback being asked to connect on deep shots to KU's receivers.
"Big," Parchment said recently of the impact losing Carter Stanley will have, before the entirety of a question on the subject could even be completed.
In spite of that, Parchment, a breakthrough performer at wideout in his first year at KU, actually entered the long offseason feeling quite upbeat about the offense's future. And that stems from his confidence in KU's receiving corps.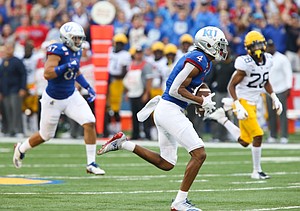 Parchment is quick to point out the only crucial member from that tight group of position players that won't be back is Daylon Charlot, who made 33 receptions for 413 yards and two touchdowns as a senior during the 2019 season.
"I feel like we've got the best receiver group in the country," Parchment offered. "So it sucks that Daylon's gone, and we're going to have to pick it up more. But I'm excited for that challenge."
Based on individual reception totals, KU should get its top three pass-catchers, all of whom were juniors in 2019, back for next season. Parchment led the way, with 65 receptions, 831 yards and seven TDs. Stephon Robinson Jr. caught 45 passes for 727 yards and eight TDs. Kwamie Lassiter II added 34 catches for 352 yards and a TD.
According to Parchment, some other players within KU's receiving group, such as Takulve Williams and Quan Hampton, also are capable of contributing.
"So, we've got other people, too — young guys, too, that you guys don't know about yet," a grinning Parchment told a small group of reporters.
It's possible some of those contributors aren't even on campus yet. Parchment also pointed to KU's receivers coach, Emmett Jones, doing a "great job" of recruiting for the Class of 2020.
"So we've got a lot of good freshmen coming in, as well. Size, as well," Parchment noted. "So we've got a couple guys that can take over Daylon's spot, be that jump ball guy, and be that beast on the outside that we need."
During the early signing period in December, Jones helped the Jayhawks officially land high school seniors Malik Johnson, Lawrence Arnold Jr., and Tristan Golightly from Texas, plus Steven McBride from Louisiana and Luke Grimm from Missouri.
As Parchment began thinking about the crucial work to be done between the conclusion of this past season and the start of the next, and what the offense might look like in 2020, he hoped that the Jayhawks would make sure to start fast.
"And that's going to start in the offseason. Just starting fast with winter workouts," Parchment said. "So we've got to have that mindset early."
The 6-foot-2, soon to be senior from Fort Lauderdale, Fla., said the Jayhawks can't be trying to establish that or instill that proper train of thought in August, a few weeks before the season begins.
"We've got to start that from now," he declared in November. "I feel like that's the biggest thing we need to do and we can accomplish in the offseason. I feel like that puts us in a good position next year."