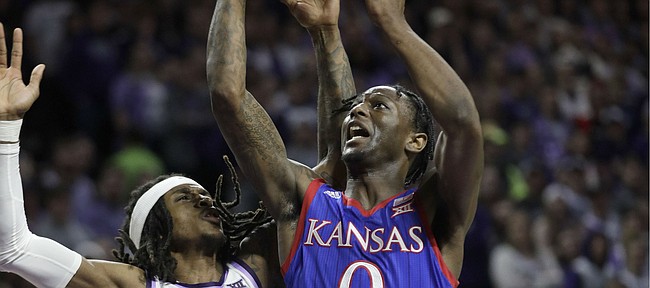 Manhattan — The rematch proved to be more interesting, at least from a basketball perspective.
In a back-and-forth battle, No. 1 Kansas ultimately prevailed with a 62-58 win over Kansas State Saturday afternoon at Bramlage Coliseum. The Jayhawks cruised to a 81-60 win over the Wildcats in the first meeting on Jan. 21, though an all-out brawl ended up being the biggest storyline from that game.
This time around, it was all about basketball. Before the game, players from both teams shook hands. And the rest of the day was slugfest between in-state rivals, who happen to be on opposite ends of the Big 12 standings.
Kansas (26-3, 15-1 Big 12) was able to hold off a late push by K-State to stay undefeated on the road in league play. Kansas State (9-19, 2-13 Big 12) went 0-9 in February, while KU has won 14 games in a row.
Sophomore point guard Devon Dotson provided plenty of offense for the Jayhawks on a night where they struggled to get much going on that end. Dotson poured in a game-high 25 points on 8-of-11 shooting from the floor. He went 8-for-8 from the free-throw line.
No other Kansas play finished in double figures. David McCormack, who filled in when Udoka Azubuike was hobbled, finished with 9 points in the win. Azubuike did not play the final 6:23 of the contest after appearing to tweak his ankle again.
Here's a quick look back at some of the action:
• The game turned when: With 7:57 left to play, Kansas State evened the score at 48-all. And then the Jayhawks put the game away.
Kansas scored eight unanswered points to create some breathing room. Dotson hit a few freebies at the charity stripe and converted on an and-one opportunity. Freshman Christian Braun splashed a 3-pointer as well.
In the end, it was a stretch that helped Kansas claim its 12th win in the last 13 matchups with Kansas State.
• Defensive highlight: There was a stretch in the first half where Kansas proved why it is considered the top-ranked team in adjusted defensive efficiency on KenPom.
Cartier Diarra opened the game with a 3-pointer, but Kansas State proceeded to miss its next nine attempts from the floor. The Wildcats were held without a field goal for over seven minutes in the first half.
It was a run, as clunky as it may have been, that allowed the Jayhawks to get out in front and take control of the game early on.
• Offensive highlight: Devon Dotson shouldered more responsibility after Azubuike went down with an injury in the first half.
There is certainly a case to be made that both players should be considered for Big 12 Player of the Year. But when Azubuike was sidelined for nearly a seven-minute stretch in the first half, the sophomore point guard took over for KU.
Dotson repeatedly drove by K-State defenders, and finished through contact at the rim. At one point, Dotson scored nine consecutive points for the Jayhawks. Azubuike eventually checked back in, but it was an important stretch for KU.
• Up next: Kansas will play host to TCU on Wednesday.