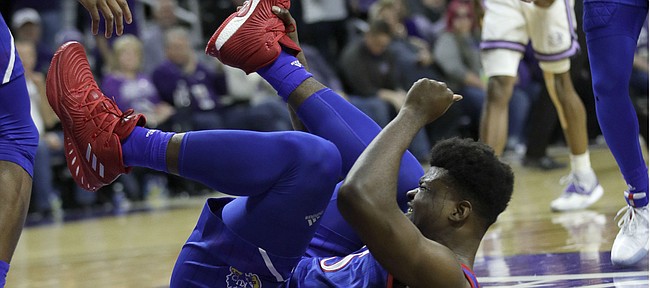 Manhattan — Kansas coach Bill Self said Saturday that he expected senior center Udoka Azubuike to be "fine" following an ankle injury during Saturday's 62-58 win over Kansas State at Bramlage Coliseum.
"The way he laid on the ground initially, amputation may have been a viable course of action," Self said after top-ranked KU's 26th victory of the season. "But he came back, and we probably don't win the game unless he's able to give us some minutes."
After tearing up Big 12 opponents with double-doubles during the past couple of weeks, Azubuike finished Saturday's victory with 6 points and nine rebounds in 20 minutes.
Off to another strong start, Azubuike rolled his right ankle after being called for traveling with 15:45 to play in Saturday's first half. As the teams ran to their benches for the media timeout that followed the whistle, he went down in the paint and stayed there for several minutes while trainers examined his ankle.
Wincing in pain as he got up, Azubuike, who grabbed the ankle while falling to the floor, went directly to the locker room for further evaluation.
He did not return to the bench until just after the 10-minute mark of the first half and he checked back in with 9:01 to play in the first half, able to play six of the final nine minutes of the first half.
The Jayhawks led 5-4 when Azubuike went out and had built a lead of 19-12 by the time he checked back in.
"We play next man up," Dotson said. "Of course, we're going to feel for him and make sure he's all right. But a player going down, that can't stop us in the moment. Coaches told us we've got to play. We can't feel sorry (for ourselves)."
Azubuike started the second half and played the first eight minutes of the second half, but had next to nothing to show for it. He finished the second half with 2 points and five rebounds in 9:36.
Self said the injury forced the Jayhawks to play a lineup that they had not practiced within the last month when reserve forward David McCormack (9 points, four rebounds in 20 minutes) picked up his second foul in the second half.
"He showed some toughness coming back," Self said. "I imagine he'll be fine. But big guys like that a turned ankle probably affects more than a guard."
Road warriors
Saturday's victory moved Kansas to 8-0 on the road in conference play this season, putting the Jayhawks in position to do something that has been done just one time in the history of the Big 12 Conference.
A win over Texas Tech next Saturday in Lubbock, Texas — no easy feat — would give Kansas an undefeated road record in Big 12 play and would make the 2019-20 Jayhawks just the second team in Big 12 history to make it through a conference season unbeaten on the road.
The only other team to achieve that mark in the 24-year history of the league was the 2001-02 Jayhawks, who finished 8-0 away from home under Roy Williams and 16-0 in Big 12 play.
Under Self, the Jayhawks, who are 7-1 against Big 12 foes at home this season with one game to play (Wednesday vs. TCU), never have had a better road record than home record in conference play.
KU has finished with one conference loss at home and one away three times during the Self era, finishing 14-2 in 2006-07, 14-2 in 2010-11 and 16-2 in 2016-17.
KU is now 9-1 overall in true road games this season and has a winning road record in Big 12 play in 20 of the 24 Big 12 seasons.
Selective signage
Just after 10:30 a.m. Saturday, the first K-State students began filing into the east seats at Bramlage Coliseum. Many came carrying signs, but not all of those signs stayed with them or enjoyed their moment in the spotlight.
According to a Kansas State official, arena staff was instructed to remove any inappropriate signs from the crowd as soon as they saw them.
One K-State student, Cameron Kroger, made a large fake check for $20,000 that was made out to KU junior Silvio De Sousa, who was not in Manhattan on Saturday while serving the second-to-last game of his 12-game suspension. The fake check was fictitiously signed by Adidas, and Kroger tweeted that it was taken from him before he entered the building.
Another K-State student, Greg Houser, tweeted out before Saturday's game that he was told the rules about Saturday's signs. They included: "any signs that are derogatory to student players or brands that are controversial" will not be allowed.
Houser kept track of some of the confiscated signs on his Twitter page and also tweeted that K-State officials were making students lift up their sweatshirts to ensure that no one was wearing any offensive clothing either.
This and that...
Saturday's victory pushed the Jayhawks' edge in the all-time series with Kansas State to 199-94, including a mark of 79-48 in games played in Manhattan and a 27-5 edge at Bramlage Coliseum... McCormack, who was 5 of 6 at the free-throw line in Saturday's win, snapped a streak of 24 consecutive makes at the line with a miss in the first half… KU has now won 15 conference games or more for the eighth time since the conference was formed in 1996-97 and the fifth time in the Self era... The Jayhawks now have won 26 games for the sixth consecutive season, a streak that began in 2014-15. KU also has won 26 games or more in 13 of the past 14 seasons... KU's 9-0 mark in the month of February marked the second time in the Self era that the Jayhawks finished February undefeated and the fourth time in the history of the Big 12.