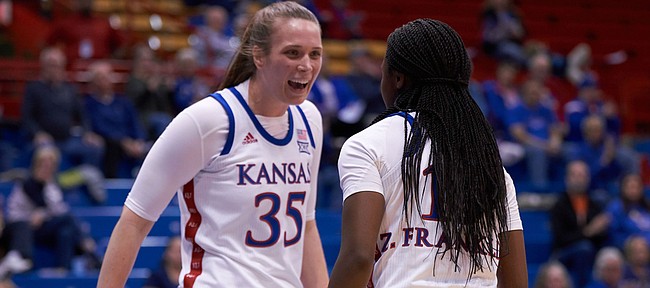 After leading by as much as 22 points, Kansas women's basketball held on in the second half to defeat Oklahoma State, 77-69, Saturday at Allen Fieldhouse.
The Jayhawks have now won back-to-back games for the first time since Dec. 30 and have guaranteed at least a .500 record for the first time since the 2012-13 season.
Eight Jayhawks scored, led by freshman guards Zakiyah Franklin with 23 points.
"I mean, that's who we have to be," KU coach Brandon Schneider said. "We're going to have to do it together, we're going to have to do it as a team. When we've played well this year, you can look at the numbers — (we have) four, five, even six players in double figures when we're playing our best."
In three of KU's conference wins over Texas Tech, Texas and Saturday against Oklahoma State, the Jayhawks had four players score in double figures. It was the same with the 94-82 overtime loss on Feb. 2 to Oklahoma as well — a game that KU held a 22-point lead at halftime.
And like the game against Oklahoma, KU couldn't have asked for a better start. Against Oklahoma, the Jayhawks shot 54.3% from the field in the first half. On Saturday, the Jayhawks shot 56.3% in the first half.
"I think we've grown a lot from (the loss against OU)," Schneider said. "It stung at the time, and it hurt. But I think that we have a very, very young team and they've grown and have a much better understanding of poise and composure."
Saturday's game also felt familiar once KU jumped out to a 21-5 lead midway through the first quarter. The 43-26 lead at halftime did, too.
Most of that can be attributed to rebounding and shot selection, with the Jayhawks consistently getting good looks off corner threes and backdoor cuts.
KU also didn't turn the ball over until an errant pass from senior forward Mariane De Carvalho with 1:23 left in the first quarter. The Jayhawks finished with just seven turnovers in the game.
There was still a slim margin for error, because in past games this season KU has taken its foot off the gas in the second half. Against Oklahoma, the Jayhawks were out-rebounded 41-33 and were outscored 48-26 in the second half before falling in overtime.
But against Oklahoma State, that wasn't the case.
This time, KU won the rebounding battle 43-37. Junior forward Tina Stephens led the way inside with 13 points and 12 rebounds, her second straight double-double.
Another change since the Oklahoma game was inserting her into the starting lineup, which Schneider said was important since he wanted her to play more alongside De Carvalho.
"And I think even a few weeks ago we really made it a concerted effort to increase her minutes," Schneider said. "We made some changes in the lineup we felt like would be conducive to making that happen. She's made the most of it."
Oklahoma State also had an off-shooting night. The Cowgirls shot 30-for-69 from the field and a brutal 3-for-19 from 3-point range. Five players scored, with the majority coming from junior forwards Vivian Gray (29 points) and Natasha Mack (24 points).
"Those two players are really, really good," Schneider said. "But I think we just really wanted (Mack) to feel bodies, even when she didn't have the ball. And then try to double her as fast as we could if she did get the ball.
"Players that are that good — and Vivian Gray is one of the more elite scorers not only in our conference, but in the country — they find a way to get there's."
Mack also grabbed 15 rebounds and swatted six shots. She and Gray helped lead a late charge in the fourth quarter where Oklahoma State cut the lead to 68-61.
"(There are) really, really good teams in this league, and they're going to make runs at you, just like Oklahoma State was fantastic in the fourth quarter," Schneider said.
But, unlike earlier this season, KU found answers late. Stephens and Franklin hit big shots down the stretch.
As Schneider reiterated, this team is growing and learning from past mistakes late in games, something that could help salvage the end of this season.
"I just think our attitude (was different tonight)," Schneider said. "We didn't get our chin down, we kept our shoulders back, kept pressing forward. You've got to move on to the next play no matter what happens. And that's whether it's in the fourth quarter or the first.
"That's where our team has made significant progress."
KU will next play Iowa State at home on Tuesday on Senior Night. Tipoff is set for 7 p.m.