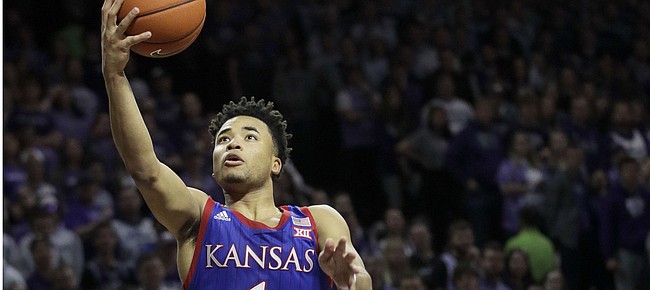 Manhattan — There was no ugly ending this time between top-ranked Kansas and Kansas State, just an ugly game that came before it.
In Saturday's rematch of a Kansas win in January in Lawrence that ended with an all-out brawl between the two Sunflower State rivals, poor offensive performances underscored KU's 62-58 victory.
But the Jayhawks made enough plays on both ends in the final five minutes to survive a scare from their in-state rivals in front of an electric-as-always K-State crowd at Bramlage Coliseum.
"Overall, our offensive execution was so poor," KU coach Bill Self said after the victory. "That was going to be a game where whoever got stops down the stretch was going to win."
That team was Kansas, which improved to 26-3 overall and moved into sole possession of first place in the Big 12 Conference, at 15-1, following Baylor's Saturday loss at TCU.
Kansas now has an opportunity to clinch at least a share of the Big 12 title with a win on Wednesday against TCU at Allen Fieldhouse.
"To think that going into last Saturday we (were) a game back and now (could) be a game up is something I would not have imagined," Self said after the victory.
A big reason the Jayhawks took over the pole position in the Big 12 title race was sophomore point guard Devon Dotson, who led all scorers with 25 points on 8-of-11 shooting in Saturday's grind.
Playing much of the second half without senior center Udoka Azubuike, who rolled his ankle early in the first half but managed to come back and play limited minutes the rest of the way, Dotson was forced to shoulder most of the scoring load for the Jayhawks in the 38 minutes he played.
So he did. Driving to the rim time after time and hitting eight clutch free throws in eight trips to the line, Dotson helped Kansas build a 9-point lead early. He then played a key role in bringing the Jayhawks back from a four-point deficit in the second half.
At one point, after KU's lead was trimmed to just two (21-19) late in the first half, Dotson scored nine consecutive points for Kansas that allowed the Jayhawks to regain control. Four points came on drives to the rim. Three came on his lone 3-point make (in three tries) of the day. And the final two came at the free throw line.
"He was great," said KU freshman Christian Braun. "He kind of carried us. It wasn't even what he was doing scoring or on the defensive end. He was great on both ends, but he even stepped up as a leader, giving everybody else confidence when Dok was out."
That confidence carried over to Braun, who hit what Self called the shot of the game right in front of the K-State student section.
In a game that had devolved into dead-heat crawl through mud to the finish with 9:48 to play, the Jayhawks led 50-48 just before Braun's big shot.
After catching a pass from David McCormack on the wing, the native Kansan who torched the Wildcats for six 3-pointers in the first meeting drilled the his second 3-pointer of this game to put KU up 53-48 with 4:53 to play.
Kansas State (9-20 overall, 2-14 Big 12) called timeout after the 3 but the Wildcats never really recovered.

"Huge," said Dotson of Braun's shot. "Dave gave him a nice pass and he found the target and knocked it down. That changed the momentum of the game, which led to some more things after that."
Braun gave credit for the make to Dotson, who Braun said kept telling him and others to stay confident and pull the trigger.
"We couldn't buy a shot the whole game," said Braun, whose 3-pointer ended an 0-for-8 3-point stretch in the second half. "We didn't play very well. But, you know, when we needed one, we needed somebody that would just let it go."
KU, which now has won 14 games in a row, shot 4-of-15 from 3-point range (26.7%) and 18-of-43 overall (41.9%) but limited the Wildcats to 39.6% shooting from the floor.

After the timeout, and another KU defensive stop, Dotson delivered his own shot of the game, an and-one driving layup in transition over K-State forward Levi Stockard III.
Dotson's free throw that followed the tough layup put Kansas up 56-48 with 4:03 to play. McCormack and Marcus Garrett followed that up with two tough shots of their own in the paint and Kansas hit enough free throws down the stretch to hold off K-State's late charge.
"Dot (got) 25 on his own for the most part," Self said. "Because we didn't have a lot of guys offensively step up and help him. That was huge."
While Saturday's game was much different from the first meeting in which the Jayhawks put up 81 points in an easy win, it was the non-basketball stuff, before and after the KU victory, that was most noticeable.
Dotson played a role in that, too.
Standing above the 3-point line while KSU big man Mawol Mawien shot free throws with 6 seconds to play in a five-point game, Dotson was seen laughing with K-State guard Cartier Diarra.
"That's my boy," Dotson said of Diarra. "We talk pretty often. We worked some camps in the summer. And he was just cracking jokes. He was killing me. He's funny. I think it's great that there wasn't any bickering back and forth. It was a tough game and it was good for the fans and for everybody."
Self agreed, saying that the pregame handshake between the two teams at midcourt was an attempt to put all of the ugliness of the brawl firmly in the past.
"My sport supervisor, Sean Lester, and I talked about it and we both thought it'd be a good idea," said Self of the pregame pleasantries that set the tone for the hard-fought but peaceful game. "So we approached K-State about it and they concurred. What happened at our place was an embarrassment to both teams, both schools and (there is) certainly no place for it. But we've never had a problem with K-State's players. And they've never had a problem with our players. ... So I think that was a way to hopefully show people that it's still just a competition. I don't know how it was received, but I think it was received well (by) the players."