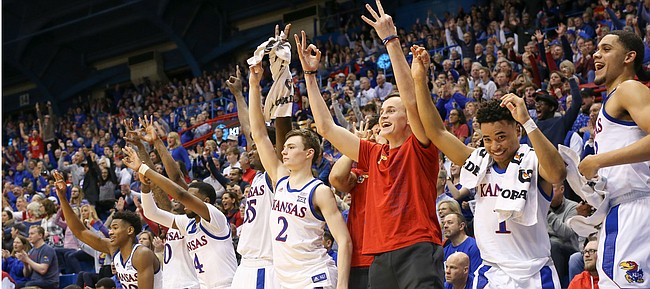 No. 1 Kansas Jayhawks (25-3 overall, 14-1 Big 12) vs. Kansas State Wildcats (9-19 overall 2-13 Big 12)
Time: 12:30 p.m. Saturday, Feb. 29, 2020
Location: Bramlage Coliseum, Manhattan, Kansas
TV: CBS | Radio: IMG Jayhawk Radio Network
Log on to KUsports.com for our live game blog coverage and follow the KUsports.com staff on Twitter: @KUSports @mctait @bentonasmith @SJacksonLJW & @ByBradenShaw
Keys for Kansas
1. Take care of the ball
KenPom.com has Kansas pegged as a 13-point favorite, and oddsmakers in Las Vegas view this game roughly the same way.
While that number might seem a little high for a rivalry game and a road favorite, it also underscores one key fact — the Jayhawks are supposed to win this game.
Any time a team is such an overwhelming favorite, it often takes some kind of special performance by the underdog to change the expected outcome. Sometimes that's red-hot shooting. Other times that's an off night by the favorite.
In this case, it could be Kansas State forcing the Jayhawks into a bunch of turnovers and that's why taking care of the ball should be the No. 1 focus for the Jayhawks in their rematch with K-State.
As has been the case for years under head coach Bruce Weber, K-State hangs its hat on the defensive end of the floor.
The KSU defense ranks eighth nationally in opponent turnover percentage, with the Wildcats forcing a turnover on 24% of its opponents possessions. Most of that number is the result of their high steal rate of 12.7%, which also ranks eighth in the nation.
KU coughed it up just 10 times in the first matchup back in January — playing at Allen Fieldhouse has a way of helping that — and the Wildcats, who average nearly nine steals per game, swiped just six steals from Kansas that night.
Meanwhile, K-State turned it over 15 times in that game, which led to a 20-6 advantage for Kansas in points off turnovers.
If the same is true in the rematch, the Jayhawks should be in good shape. But if the Wildcats are able to flip the script and do to Kansas what they've done to most teams this season, this one could be much closer than oddsmakers are projecting it to be.
2. Help for Braun
In the six games following the 81-60 win over Kansas State at Allen Fieldhouse in January, the KU offense recorded 3-point percentages of 23.5%, 33%, 30.8%, 16.7%, 30.8% and 23.5%.
In the four games since those six, KU has combined to shoot 46% from 3-point range in wins over Oklahoma, Iowa State, Baylor and Oklahoma State.
The Jayhawks have started to find their touch from distance and KU's 3-point percentage has jumped up to 35.2%, which ranks third in the Big 12 Conference.
In the first meeting between these two teams, however, it was freshman guard Christian Braun who carried the day for Kansas from beyond the 3-point line.
In 29 minutes off the bench that night, Braun scored a career-high 20 points and knocked in 6 of the 10 3-pointers he attempted.
Outside of the native Kansan's hot hand, the rest of the KU lineup shot just 3 of 16 from 3-point range. So it's important for the Jayhawks to give Braun some help in this one.
Asked this week if KU coach Bill Self had much to say to him about his hot night in his first Sunflower Showdown, Braun said the two talked about it briefly.
"It wasn't a big focus," he said. "We were more focused on getting the win and taking another step towards what we want to do."
The Wildcats' 3-point defense is allowing 34% shooting from 3-point range — which ranks eighth in the conference — so the matchup is a good one. But in order for the Kansas offense to remain hot, the quartet of Devon Dotson, Ochai Agbaji, Marcus Garrett and Isaiah Moss is going to have to make more than the two 3-pointers it made in the first meeting with K-State.
3. Block out the environment
The plan for the Kansas players and coaches is to treat this game like they would any other road game.
Forget the rivalry. Forget the way the first meeting ended, with KU and K-State engaging in a bench-clearing brawl that led to four suspensions. The Jayhawks just want to show up, play hard and climb one step closer toward their goal of winning a Big 12 championship.
And in a perfect world, that might be easy to do. After all, this Kansas team has been razor sharp in its focus during recent weeks, as it has put together 10 consecutive wins since topping K-State the first game and is riding a 13-game winning streak into Manhattan.
But the K-State fans generally come out in full force for this one, with signs, chants and passion that tend to make this anything but a regular road game.
Twelve of the last 16 Sunflower Showdowns inside Bramlage Coliseum have been decided by single digits, and even though the Jayhawks are 11-5 in that stretch, very few of the contests have been played in comfortable circumstances.
The atmosphere is electric and often hostile in Manhattan, and it's games like these where KU's talk of keeping a tight circle on the road is most important.
Although both bring pressure of their own, KU's goals of winning the Big 12 and getting to the postseason as a No. 1 seed could be beneficial in this one because they give Kansas something other than the surroundings to stay locked in on.
"We're kind of focused a lot more on winding down conference play," Agbaji said this week.
Marquee Matchup
KU center Udoka Azubuike vs. Anything Kansas State can throw at him
The first time the Wildcats and Jayhawks met this season, Weber made it crystal clear early on that his game plan was to swarm Azubuike and make someone else beat him.
That someone else was Braun, and the Jayhawks rolled to an easy win despite K-State doing a pretty good job of limiting Azubuike's impact.
The KU big man still managed a double-double of 10 points and 14 rebounds, but he took just five shots and was 2 of 4 at the free-throw line in 31 minutes.
There's little doubt that the Wildcats again will be looking to neutralize Azubuike in the rematch, but plenty of teams, including K-State, have found that saying that and doing it are two drastically different challenges.
Earlier this week, Weber was asked about Azubuike and he had nothing but praise for the contender for Big 12 Player of the Year.
"He's in great shape, confident, playing like an older guy should," Weber said of Azubuike. "You have to give him credit. … They just spread you out and then he gets to roam. They're so good at getting downhill and you have to help and now they lob it to him or they throw it over the top."
While it will take a total team effort from the Wildcats' defense to slow Azubuike down — and even that might not work — Weber was wary of paying too much attention to the KU big man and ignoring the rest of the Kansas lineup.
It's all of KU's pieces working together that makes the Jayhawks so difficult to handle, Weber said.
"Very few teams have more than one good defender, so that kind of puts you in a bind," he said. "Dotson's one of the best and, really, Garrett's a point forward and both of them know how to read and make the plays for (Azubuike)."
Jayhawk Pulse
After successfully making their way through another Saturday-Monday turnaround with a 2-0 record last week, the Jayhawks enjoyed a chance to catch their breath and get some rest this week as they prepare for the home stretch of their quest to win a Big 12 title.
The Jayhawks are 8-1 in true road games this season, with the lone loss coming at Villanova and seven of the eight wins coming in Big 12 play. KU has won eight in a row on the road entering Saturday's Big 12 battle.
The top-ranked Jayhawks are tied atop the Big 12 standings with No. 2 Baylor at 14-1, and both teams will be looking for a leg up on the other after KU moved into a first-place tie with Baylor by winning in Waco, Texas, one week ago.
Baylor plays at TCU at 1 p.m. Saturday.
Kansas leads the all-time series with Kansas State, 198-94, and the Jayhawks have won 10 of the last 11 meetings between the Sunflower State rivals.
KU's dominance in Manhattan has been well documented, with KU owning a 26-5 record in Bramlage Coliseum and a 78-48 record in games played in Manhattan dating back to the first game of the series, which began in 1907.
KU has traveled to K-State as the nation's No. 1-ranked team three times and is 2-1 in those meetings, with the lone loss coming in 2011 and wins coming in 1993 and 1997.
The Jayhawks are 51-6 against K-State since the inception of the Big 12 Conference and have won 59 of the last 65 meetings.
Self is 34-6 all-time against the Wildcats, and Weber is 3-16 all-time against Kansas.
Probable Starters
No. 1 Kansas
G – Devon Dotson, 6-2, 185, Soph.
G – Ochai Agbaji, 6-5, 210, Soph.
G – Isaiah Moss, 6-5, 208, Sr.
G – Marcus Garrett, 6-5, 195, Jr.
C – Udoka Azubuike, 7-0, 255, Sr.
Kansas State
G – Cartier Diarra, 6-4, 188, RS-Jr.
G – Mike McGuirl, 6-2, 188, Jr.
F – Xavier Sneed, 6-5, 215, Sr.
F – Antonio Gordon, 6-9, 215, Fr.
F – Makol Mawien, 6-9, 228, Sr.