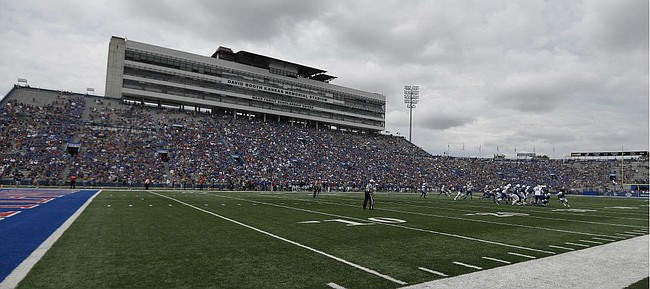 The Kansas football program solidified plans to add Fresno State to its nonconference schedule for multiple years — eventually.
KU and Fresno State announced jointly Thursday a three-game series between the two programs, which will begin in the 2025 season.
The Jayhawks will travel to Fresno, Calif., for their only road game in the series, in 2029.
The Bulldogs will take on KU in Lawrence in both 2025 and 2031.
Kansas and Fresno State have never squared off. The first meeting between the programs is set for Aug. 23, 2025, at David Booth Kansas Memorial Stadium.
Scheduled future KU football nonconference opponents
2020 — New Hampshire, Boston College, at Coastal Carolina
2021 — South Dakota, Coastal Carolina, at Duke
2022 — at Houston, Duke
2023 — Illinois, Houston
2024 — at Illinois
2025 — Fresno State
2026 — no matchups set
2027 — at Washington State
2028 — Washington State
2029 — at Virginia, at Fresno State
2030 — Virginia
2031 — Fresno State