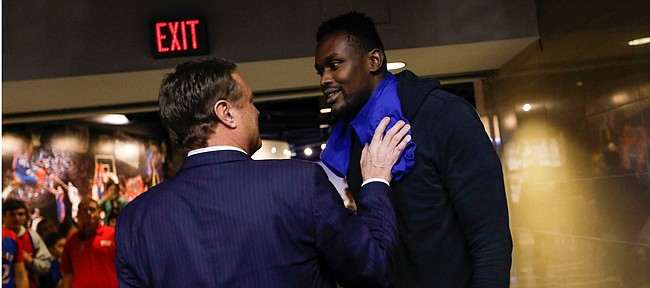 When Kansas senior Udoka Azubuike first received the text message on Sunday afternoon, he thought it was a joke.
Still, with his older brother Chima Azuonwu telling him earlier this week that he planned to be at Allen Fieldhouse on Monday night for KU's 83-58 win over Oklahoma State, Azubuike thought he better make plans for him to get in the building just in case.
"I thought he was just messing around," Azubuike said after Monday's victory. "It was kind of surprising. I tried to put him on the ticket list, but I didn't think I was going to see him."
That changed shortly before tipoff on Monday, when Azubuike saw Azuonwu sitting off the court waiting to watch his first Kansas basketball game in person.
Photo Gallery
Kansas basketball v. Oklahoma State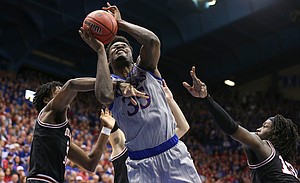 View a gallery of images from Monday night's game between the Jayhawks and the Cowboys at Allen Fieldhouse.
According to Azubuike, it had been 10 years since the two last saw each other. And that was in Africa. Neither brother remembers much about it — largely because they could not have known such a break was in store — but the decade between visits did nothing to slow Azubuike's stroll over to where Azuonwu was waiting for him.
ESPN cameras caught the interaction and Azubuike was still buzzing about it after putting on a display that his 6-foot-11 brother, who played college basketball at Tennessee State, could be impressed by in his first experience — 19 points on 6-of-7 shooting, a 7-of-8 clip from the free throw line and 16 rebounds to go along with three blocks in 27 minutes.
"I saw him sitting there and it was kind of a surprising moment for me," Azubuike recalled. "I went over there and gave him a hug."
After the game, Azuonwu met with a few media members in the tunnel the Jayhawks run out of before games. He took his turn at explaining their brief reunion before the game.
"It wasn't a surprise," Azuonwu said. "It's just that, when you haven't seen someone in such a long time, you're just like shocked and you are very happy and so excited."
It was clear from Azuonwu's words that nothing his younger brother did on Monday night surprised him at all.
"Yes, I already know that he's a beast," Azuonwu said. "He goes hard and he plays really good basketball. He's tough to guard and I encourage him to continue to put in that work."
Because of the age difference between them — Azuonwu will turn 24 in June and Azubuike will be 21 in September — along with the fact that Azuonwu left their native Nigeria a few years before Azubuike, the two still have not played basketball against one another.
After leaving Nigeria, Azuonwu attended Darien High School in Connecticut before landing at Tennessee State. After redshirting the 2014-15 season, Azuonwu chose to transfer away from Tennessee State and called it a career shortly after that.
A criminal justice major in college, Azuonwu currently lives in Nashville and watches the Jayhawks whenever he gets the opportunity.
"I was excited, man," he said of seeing it live. "I see him dominating and watch him on ESPN. It's so amazing to watch him play and also I'm a big fan of this team, too. I always pray that God continues to guide them and protect them."
Azuonwu emphasized the religious upbringing that he and his brother received from their parents as a big part of both of their lives. And even though they have not seen each other much and only talk when time allows, it was clear Monday night that the two native Nigerians have a bond as strong as siblings who did attend the same high school and spend their formative years growing up together.
"We do communicate when we have the time," Azuonwu said. "He's so busy, with basketball and school, and, me, I'm busy, too. But if I have the time, I communicate with him because there's nothing like blood, you know?"
Nearing the end of easily his best season as a Jayhawk, Azubuike is on a torrid pace. After burying Baylor to the tune of 23 points and 19 rebounds last weekend, he followed it up with his monster night — in limited minutes — on Monday.
He has 13 double-doubles on the season, which leads the Big 12 Conference, and five of them have come in the last seven outings.
"We've been trying to tell Dok all along that he can dominate a game without having to get a lot of touches and that's the case," KU coach Bill Self said after Monday's victory, noting that things like defense and footwork and effort and intimidation can all be as important as points in the paint. "He's the best defensive center we've had since I've been here. We've had some good ones. You look at (Jeff) Withey, you look at Cole (Aldrich), but he's the best."
While Azubuike said Monday that the past few weeks and the season as a whole have been the most fun of his career, the reigning Big 12 player of the week added that having his brother experience a small portion of it with him merely added to the joy.
"It means a lot," Azubuike said. "I'm so happy that he was able to witness and see me play. It was nice."
Asked what he told Azubuike about his play after the game, Azuonwu seemed to recount the exact words he used.
"I told him, 'Good job, man. You're balling hard. I hope we get to continue to talk more because you're my brother and I'm the biggest fan of your team,'" Azuonwu recalled.
Said Azubuike of the brief exchange that came before his obligations in the media room: "He was like congratulating me and saying he was proud of me. It was like a brother moment."
Long after the postgame media sessions had stopped and the autograph line outside the KU locker room had disappeared, Azubuike approached his brother and tried to pull him away from the questions. Like the proud big brother he is, Azuonwu seemed more than happy to answer everything thrown his way.
"That's enough," Azubuike said with a crooked grin. "We've got to go."
Together, they walked up the ramp past the Kansas locker room and headed back to KU's McCarthy Hall to close that 10-year gap a little more.
After what he experienced on Monday night — both the reunion and the exciting display of basketball dominance — Azuonwu said the wait for their next get-together will not be nearly as long as this one was.
"Yes, I will be at some more games in the future," he said. "No plans right now. … I just think it's amazing."