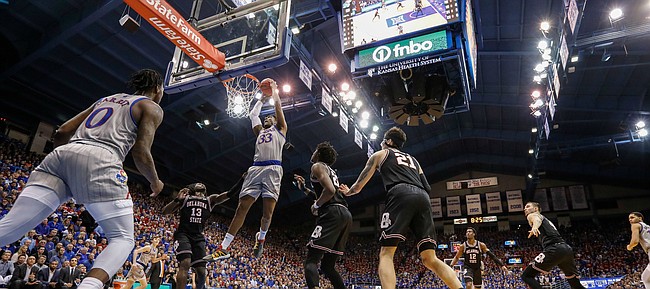 Fresh off a 3-point win in Waco, Texas, on Saturday over then-No. 1 Baylor, the Kansas Jayhawks on Monday morning moved into the No. 1 spot in the Associated Press Top 25 poll.
Then they went out and proved they belonged there with a 83-58 home victory over Oklahoma State at Allen Fieldhouse.
Kansas, which sits at 25-3 overall and 14-1 in Big 12 play, jumped two spots in the latest poll that was released Monday morning. The Jayhawks received 62 of the 64 first-place votes handed out this week. Baylor received the other two.
Although one of the Big 12's top two teams wound up on the losing end of the recent showdown, Saturday's KU victory turned out to be a win-win for the conference. Despite the loss — its first in its last 24 games — Baylor fell just one spot to No. 2, and the Big 12 now owns the top two positions in the current AP poll.
"I do think we earned it," Kansas coach Bill Self said after Monday's victory. "But I watched the games Saturday, with San Diego State and Gonzaga and it didn't matter to me who won those games. If somebody else was No. 1, I think I'd be OK with it. I think that we put ourselves in a pretty good position, that if we take care of business, we're going to be in a favorable spot from a seeding standpoint. But we're still a long ways away from taking care of business."
Gonzaga, like Baylor, which lost over the weekend, dropped a spot to No. 3, and Dayton (up one) and San Diego State (down one) round out the new top five.
The Jayhawks' jump to No. 1 in the latest AP poll was hardly a surprise. Not only did KU knock off the No. 1 team on its home floor last weekend, but the Jayhawks also are ranked No. 1 by KenPom.com, No. 1 in the NCAA Tournament Evaluation Tool rankings, No. 1 by KPI and Sagarin and also have the most Quadrant 1 wins of any team in the country and the most Quadrant 1 and 2 wins of any team in the country.
KU's strength of schedule also ranks No. 1 per KenPom.com, giving Bill Self's Jayhawks the most complete and well-rounded resume of any team in the country and in Kansas team in a long time.
Photo Gallery
Kansas basketball v. Oklahoma State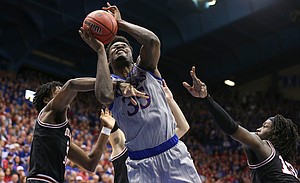 View a gallery of images from Monday night's game between the Jayhawks and the Cowboys at Allen Fieldhouse.
Even with that, the Bears were just a possession or two away from sweeping the Jayhawks, making their soft landing at No. 2 more than justified, according to KU point guard Devon Dotson, who praised the Bears after Saturday's victory.
"Just great teams battling against each other," Dotson characterized Saturday's showdown.
"Both teams really defend," he added. "They make it tough each and every possession on you and there's just that respect (between us). Just many different pieces, a lot of versatility out there on the floor, a couple great teams collectively that can execute game plans. Just two great teams going at it."
KU now has been ranked in 217 consecutive AP polls, bringing the Jayhawks closer to eclipsing UCLA's all-time record of 221 consecutive weeks in the AP Top 25.
Player of the Week
Monday morning got off to a pretty good start for Kansas senior Udoka Azubuike.
Following his 23-point, 19-rebound effort in a win at then-No. 1 Baylor over the weekend, KU's 7-footer learned that he had won a trio of player of the week honors.
In addition to being named the Big 12 Player of the Week for the third time this season, Azubuike earned national player of the week nods from the Naismith Trophy and @MarchMadness.
Azubuike's big game against Baylor marked his 12th double-double of the season. For the week, he averaged 18 points and 13 rebounds while shooting 80% from the floor in victories over Iowa State and Baylor.
On nearly every national player of the year watchlist, Azubuike leads the NCAA in field goal percentage at 74% and also leads the Big 12 in rebounding at 10.1 boards per game.
Azubuike is the only player in the Big 12 currently averaging a double-double.
Hello, Mr. Hinson
Former Self staff member Barry Hinson, now in his first year as an analyst at Oklahoma State, was back in Allen Fieldhouse on Monday night with the Cowboys.
Hinson, who spent four years as KU's director of basketball operations from 2008-12 before going on to be the head coach at Southern Illinois for seven seasons, was in the building for the first time since the night after the 2012 national title game.
Prior to Monday's tipoff, Hinson recalled that night, when the Jayhawks walked onto the floor through the southwest tunnel to a rousing ovation from their home fans after falling to Kentucky, 67-59, in New Orleans.
"How about that," Hinson said. "That's a pretty special memory."
This and that...
Monday night's pregame hype video featured an entire 60-second intro devoted to last weekend's win at Baylor. The video also included a 20-second encore of clips from Waco, Texas, after starting lineup introductions... The Jayhawks wore alternate uniforms during Monday's victory. The all-gray look with crimson and blue trim and numbers was in honor of Black History Month. The look also featured a black shooting shirt, with the word Jayhawks written vertically down the center of the back in gold and Kansas Basketball emblazoned on the front. A few Jayhawks completed the ensemble by wearing special Adidas shoes designed to pay homage to the Tuskegee Airmen, who fought in World War II... Kansas now leads the all-time series with Oklahoma State 118-59, including a 64-12 mark in games played in Lawrence and a 49-10 record at Allen Fieldhouse... KU now has won 25 games for the 15th consecutive season, which extends an NCAA record... The Jayhawks' 14 Big 12 wins marks the 14th time since the conference was founded that KU has won at least 14 league games... KU is now 14-1 in home games this season, 13-1 at Allen Fieldhouse... Former KU great Nick Collison was in attendance on Monday night.