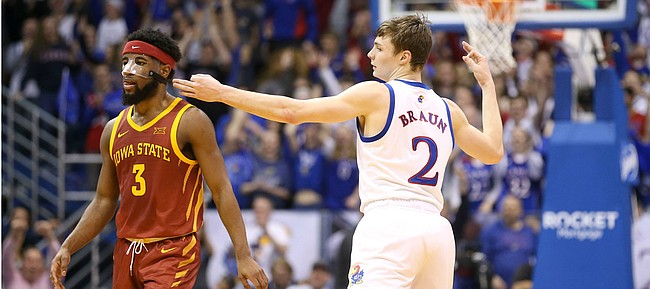 Throughout conference play, the Kansas Jayhawks have made it a point to tell anyone who would listen that the defensive end of the floor is where they hang their hats.
On Monday night, the third-ranked Jayhawks showed that their offense can deliver, too, by knocking off Iowa State 91-71 in all-time win No. 800 at Allen Fieldhouse.
It marked the second game in a row that the Jayhawks had scored in the range of 90 points — something they have done just six times in 26 games this season — and served as valuable proof that there is more to this team than a stingy defense.
"I think sometimes that's fool's gold, though," Kansas coach Bill Self of offense carrying the day. "I don't think that's how this team will win consistently. I still think the grimier it is the more we should like it."
Photo Gallery
Kansas basketball v. Iowa State
View a gallery of images from Monday night's game between the Jayhawks and Cyclones at Allen Fieldhouse.
While Saturday's 87-70 home win over Oklahoma marked the first time the Jayhawks scored more than 85 points since defeating Kansas City 98-57 on Dec. 14, Self said he left Allen Fieldhouse on Monday night hoping that the recent offensive explosions were signs of an evolving team.
"We didn't do anything to make it grimy the last two games," Self reiterated. "Which isn't all bad because we need to see the ball go in the basket, too. Hopefully it'll be a good balance. Now we can hopefully get back to guarding a little bit and do it with more of a confident offensive mindset."
The KU players themselves — five of whom scored in double figures Monday night, led by Devon Dotson's 29 points on 11 of 14 shooting — said they were not surprised by their recent offensive surge.
"It just shows the weapons we have out there," Dotson said. "You know, (it shows) the firepower we have, the versatility, (we know) we can play defense. We can play offense, too. But when we combine them, it can be special, so we have to learn to do that."
One way they've done that has been from the outside. Kansas has made 23 of 49 3-pointers in its past two games for 47% from behind the arc.
That's more than the KU offense had hit combined in its four games prior to the Oklahoma win that kickstarted its awakening from distance.
In wins over West Virginia, TCU, Texas and Texas Tech, Kansas made 14 of 52 from 3-point range.
"Hitting 3s helps him get open," freshman Christian Braun said of senior center Udoka Azubuike, who was seated to his left. "That's something we're always trying to do a lot. If we knock down shots, then he gets easier buckets."
Braun hit 3 of the 4 3-pointers he attempted in Monday's victory, with all of the makes coming in the first half when he scored 13 points to pace KU to a 50-40 lead.
"He was as good as anybody we had the first half," Self said of the freshman who played 22 minutes and hit 5 of the 6 shots he attempted, surpassing his output from the past five games.
Dotson, meanwhile, made a career-high 6 triples on eight attempts, matching his output from 3-point land from the previous nine games.
In fact, since returning from his one-game absence, when he sat out with a hip pointer in a road win over Oklahoma, Dotson had not made more than one 3-pointer in a game and had combined to go 6 of 32 during that stretch.
"Devon's a good shooter and he hasn't made shots, basically, all year consistently," Self said after the victory. "It was good to see him get the ball to go down."
Sophomore guard Ochai Agbaji shot 2 of 6 from 3-point range and walk-on Chris Teahan calmly stepped into a 3-pointer of his own that sent the fans into a frenzy late in the game.
"We see it in practice," said Dotson of KU's offense playing the way it has in its past two outings. "These past few games our defense kind of carried us, but we know our offense is capable."
Added KU big man David McCormack, who said Monday's offensive eruption came as no surprise because it featured he and his teammates playing to their strengths: "It's definitely a (relief). We're a strong defensive team, and that's what we hang our hat on. So if you have a mental lapse, we're glad that we have an offensive team that can still hold its own."