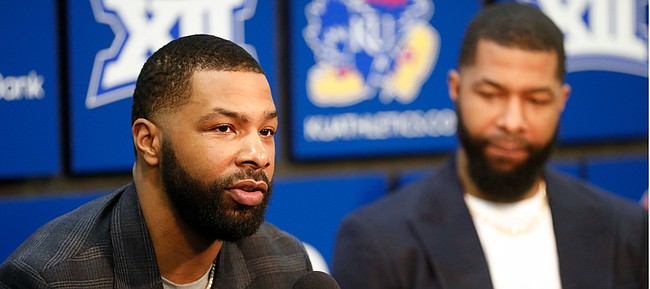 No one has or will confuse Marcus Morris' college career with Wilt Chamberlain's or Danny Manning's. That doesn't mean Morris should be denied a place among the pantheon of all-time Kansas greats.
His last name and No. 22 took their rightful spot in the Allen Fieldhouse rafters Monday night, nearly nine years after Morris' time with the Jayhawks ended.
There was a noticeable backlash from at least a portion of the KU basketball fan base last week when the program announced that Morris would be recognized.
Maybe it was because none of the three seasons Morris spent at KU concluded with a magical March run through the NCAA Tournament. Perhaps some choose to hold other Jayhawks from the Bill Self era who have gone on to see their jerseys retired — Cole Aldrich, Mario Chalmers, Sherron Collins, Brandon Rush and Wayne Simien — in higher regard, because their careers included a trip to college basketball's holy land, the Final Four.
There are degrees of greatness at a storied program such as KU, as well as accompanying levels of reverence for players in the eyes of adoring fans. That's to be expected.
Photo Gallery
Kansas basketball v. Iowa State
View a gallery of images from Monday night's game between the Jayhawks and Cyclones at Allen Fieldhouse.
But give Morris the on-court credit he deserves. Don't put an imaginary asterisk next to his No. 22 because his best season ended in the 2011 Elite Eight, or for any other reason.
The burly and occasionally surly Morris wasn't always perfect, but he is one of the most gifted and impactful scorers Self has coached during his 16-plus seasons in Lawrence.
Morris didn't need to be iconic to leave his mark. By the time he and his twin brother, Markieff, were done, they were the identical faces of the program once the members of the 2008 national championship team all had moved on.
And, appropriately, that was the vibe inside the fieldhouse as Marcus Morris had his jersey retired.
"I feel like this is one of those places where you have to win the fans over," Marcus Morris told reporters Monday, prior to the ceremony. "I think it took us some time, but once we did they loved us and embraced us. It was special for us."
Both twins exuded the toughness and confidence Self aims to get out of all his players, and as a big forward playing out on the wing, Marcus Morris brought that mentality into everything he did in a KU uniform, with his passion often fortifying his efforts.
A rugged rebounder who could just as easily transition into a smooth shooter, Marcus Morris became a dominating performer by his junior season with the Jayhawks. That's when his 17.2 points and 7.6 rebounds per game made him the No. 14 overall pick in the 2011 NBA draft.
Markieff Morris said before Monday night's KU game versus Iowa State that he thought most people recognized how good his brother was for the Jayhawks, because he had the "accolades" to go with it.
"I think they all appreciated him more after we left," Markieff Morris added. "Like what he did for the team and all the stuff he accomplished while he was here."
The Jayhawks went 35-3 with the Morris twins carrying them during the 2010-11 season. The 29.3 player efficiency rating that Marcus Morris posted is the best by any KU starter in the 10 years of data available at sports-reference.com. And Marcus Morris — the 2011 Big 12 Player of the Year and a consensus second-team All-American — accomplished that while finishing with a higher usage percentage (26.9%) than Frank Mason III had (25.6%) during his senior-season tear that made Mason college basketball's best player in 2016-17.
Mason wasn't fortunate enough to play in a Final Four, either. But you won't hear many fans complaining when his No. 0 jersey one day goes up in the rafters.
As consensus All-Americans, as well as Big 12 players of the year, Mason, Thomas Robinson and Devonte' Graham all seem like locks to have their names immortalized high in the fabled fieldhouse before long.
What's more, there are other Jayhawks who are in similar standing to Marcus Morris, in that they earned All-American status, even if they aren't considered consensus first-teamers in the NCAA record books.
So don't be surprised in the future if more debates about retired Kansas jerseys pop off.
Two one-year stars for KU, Ben McLemore and Andrew Wiggins, were named to the John R. Wooden All-America team before turning pro. A teammate of both McLemore and Wiggins, four-year KU contributor and Wichita native Perry Ellis, became a consensus second-team All-American in his senior season, a few years after McLemore and Wiggins each picked up that same distinction, too.
Self said this past week there are no specific guidelines for which players get their jerseys retired. And he also pointed out that some unnamed Jayhawks who weren't Big 12 players of the year or first-team All-Americans have delivered "pretty impressive" careers worthy of consideration.
On Monday night, Marcus Morris got his reward. More Self-coached players will eventually do the same. Self knows better than anyone who deserves to get his jersey retired and who doesn't.
Marcus had Markieff, his "partner in crime," at his side as he watched his No. 22 go up next to Collins' No. 4 on the south end of the fieldhouse.
And at least for a few minutes, no one was arguing about his merits.