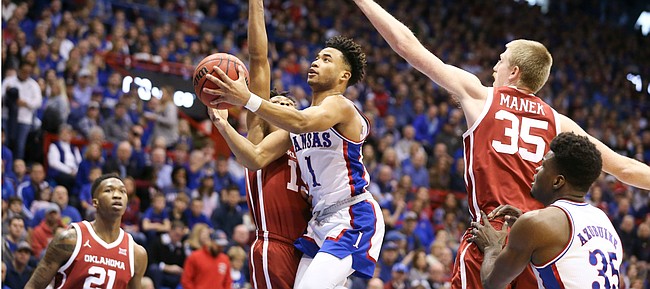 With sophomore point guard Devon Dotson back in the mix, No. 3 Kansas had no problem taking care of business with an 87-70 win over Oklahoma on Saturday in Allen Fieldhouse.
Dotson missed the first meeting against the Sooners, but was a pivotal reason why the Jayhawks completed the season sweep. He finished with 19 points in the win on 7-of-15 shooting to go along with eight rebounds and five assists.
Marcus Garrett, who shouldered the role as point in the first meeting at OU, thrived in his off-ball position. Garrett paced the team with 24 points on 9-of-18 shooting, which included a career-best six triples. His previous career-high was three 3-pointers, which he had done three different times.
Udoka Azubuike and Ochai Agbaji joined them in double figures with 15 and 10 points, respectively. Kansas, which has now won 10 games in a row for the 17th time in the Bill Self era, improves to 22-3 (11-1 Big 12) on the year.
Oklahoma (16-9, 6-6 Big 12) has now lost 19 consecutive meetings with KU in Allen Fieldhouse, a streak that began in the 1994 season. Kansas leads the overall series with Oklahoma by a 150-68 margin, including 50-7 in Allen Fieldhouse.
Here's a quick look back at some of the action:
• The game turned when: Kansas reclaimed control late in the first half, but delivered the knockout punch early in the second half.
Dotson hit a pair of attempts from the free-throw line, pulling Kansas within one with 5:07 left in the first half. It was the start of a decisive stretch by the Jayhawks en route to their 10th consecutive win.
Garrett recorded back-to-back steals, which led to a pair of layups for him and Dotson. Garrett and Dotson were responsible for all 17 points of KU's 17-5 run to close out the final five minutes of the first half, leading to a nine-point lead at halftime.
More players got involved during a 12-2 run within the first three minutes of the second half, which effectively ended any threat by the Sooners. Isaiah Moss drilled a 3-pointer on a fastbreak and Azubuike was active inside to help the Jayhawks create plenty of cushion.
• Defensive highlight: Do you even have to ask?
Of course this section of the quick recap belongs to Garrett once again. Late in the first half, Garrett stole the ball from Oklahoma on back-to-back possessions. It gave the Jayhawks some much-needed energy after a sleepy start to the morning matchup.
Kansas eventually held a 41-32 advantage at the intermission. Garrett had four steals in the first half, and was involved in every aspect on the defensive end. After recording five steals against West Virginia just a few days ago, Garrett is certainly building his case to be considered the best defensive player in the country.
• Offensive highlight: Lost in the defensive wizardry of Garrett was the play of Dotson.
Dotson provided consistent production, even when the offense wasn't quite in rhythm early on. He repeatedly attacked Oklahoma defenders off the dribble, and finished through contact. It led to Dotson recording his fifth consecutive double-digit outing in points.
In fact, Dotson has reached double figures in eight of his previous nine games since he missed the first meeting with Oklahoma.
• Up next: Kansas will play host to Iowa State on Monday.