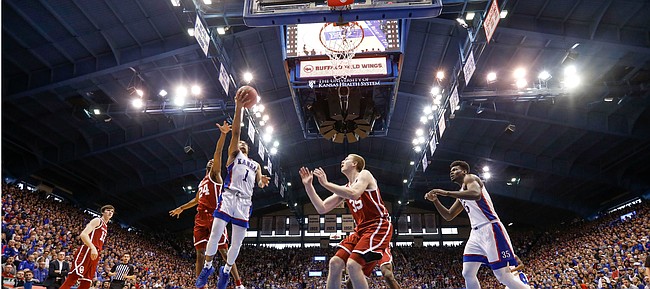 There are still a couple of weeks to go in the Big 12 basketball race, but third-ranked Kansas is not basing its well-being on its position in the conference standings.
One game behind No. 1 Baylor heading into Saturday's 87-70 victory over Oklahoma at Allen Fieldhouse, the Jayhawks are riding a 10-game winning streak after moving to 11-1 or better in Big 12 play for the first time since 2009-10, when KU opened the conference season 12-0.
"And it's still not good enough," KU coach Bill Self said after Saturday's victory. "We want to win the league bad, and Baylor will want to win the league bad. It won't be a failure if we don't because there's other things to play for."
The Jayhawks know that now better than ever, with their NCAA-record streak of 14 consecutive regular-season conference titles coming to an end last season.
With six games to play in the regular season — three at home and three away, including next Saturday at Baylor — Self said the Jayhawks were heading into the home stretch feeling pretty good about their team.
"The best we could be right now is (in position to be) the No. 1 overall seed in the tournament and (according to the committee's recent sneak peek at the bracket) we're No. 2," he said. "At this moment, that's the best that we could be. So I don't think we failed because we aren't that. And the reason we're not is because Baylor beat us on our home floor and they deserve it."
"I'm not looking at it like we haven't done as well as our record because we're in second place," Self added. "I'm looking at it like, 'You know what, we played pretty good, we just got beat by a team (Baylor) that was better than us that day and we get a chance to get them back. There's still a lot of work left to do so I'm pretty pleased where we're at. Every coach in America would sell out (to be 11-1) in conference play, I would think."
Photo Gallery
Kansas basketball v. Oklahoma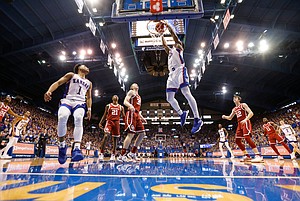 View a gallery of images from Saturday's game between the Jayhawks and Sooners at Allen Fieldhouse.
Retro '90s
Saturday morning featured a jump back in time at Allen Fieldhouse.
Wearing alternate uniforms for the game against Oklahoma, the Jayhawks threw it back to the mid-to-late 1990s with their uniforms for this one.
All white with the circus font "Kansas" written across the chest, the look was trimmed in red and white piping around the sleeve holes and on the shorts, which featured blue panels on the sides with each player's number on the left leg and a white KU trimmed in red on the right leg.
The look was inspired by the uniforms worn by KU greats such as Paul Pierce, Raef LaFrentz, Jacque Vaughn and others. But, as many people pointed out on Twitter, the version worn on Saturday was not nearly as big and baggy as the uniforms worn by those players and their teammates a couple of decades ago.
Svi returns
Fresh off his showing in the NBA All-Star Weekend's Rising Stars game (6 points, four rebounds and two assists in 16 minutes for the World Team), former Kansas sharp-shooter Svi Mykhailiuk was in Allen Fieldhouse on Saturday to watch the Jayhawks and some of his old teammates top OU.
"I talked to Svi a lot actually," said junior Marcus Garrett, who made 6 of 9 3-pointers in Saturday's win.
Asked if he thought Mykhailiuk was impressed by his shooting performance, Garrett said the player who finished his Kansas career at No. 4 on KU's all-time 3-point shooting list, with 237, no doubt liked what he saw.
"Oh yeah, of course," Garrett joked. "I'll probably get a little respect from him."
Mykhailiuk was one of three former Jayhawks introduced to the home crowd during Saturday's game, joining Dave Robisch and Billy Thomas.
This and that...
Saturday's victory gave Kansas 22 wins or more for the 31st consecutive season, dating back to 1989-90... KU now has won 11 or more conference games in 26 consecutive seasons... Kansas now leads the all-time series with Oklahoma, 150-68, including a 77-16 mark in Lawrence and a 50-7 record in Allen Fieldhouse. The Jayhawks have won 19 home games in a row over the Sooners, dating back to 1994... KU's 11 3-pointers on Saturday tied for their most in a single game in Big 12 play this season... The technical foul given to Self with 5:49 to play in the game was his first of the season... Udoka Azubuike's double-double of 15 points and a career-high-tying 17 rebounds was his 11th of the season and the 18th of his Kansas career.