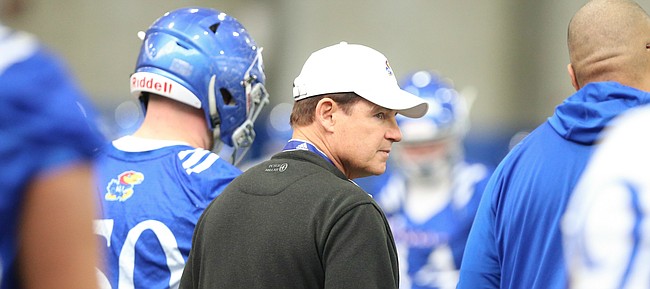 Les Miles is adding two new senior analysts to his Kansas football staff, the team announced Friday.
A former defensive coordinator at NAIA Marian University, Brock Caraboa will become KU's defensive senior analyst, while Charles Moore, a former graduate assistant at Auburn, is joining the Jayhawks as a special teams senior analyst.
Caraboa worked at Marian the past seven seasons, serving as defensive coordinator the past four — a span during which he twice was a finalist for FootballScoop.com's Coordinator of the Year award.
Marian, Caraboa's alma mater, led the nation in scoring defense (11.5 points per game allowed) in 2018, and was second in total defense and rushing defense that season, when the Knights had three shutouts in their 11 games.
The Knights, under Caraboa, also led NAIA in scoring defense (11.9 points allowed) in 2016, when they racked up 48 sacks (first in NAIA).
During his four-year playing career for Marian, Caraboa, a linebacker, became the program's record-holder for single-season and carer tackles.
Moore focused on Auburn's defensive backs while working there as a grad assistant.
Prior to 2017, Moore spent two seasons as a defensive grad assistant, working with the secondary while also serving as co-special teams coordinator at his alma mater, Tarleton State University.
Moore played safety at TSU from 2010-14.