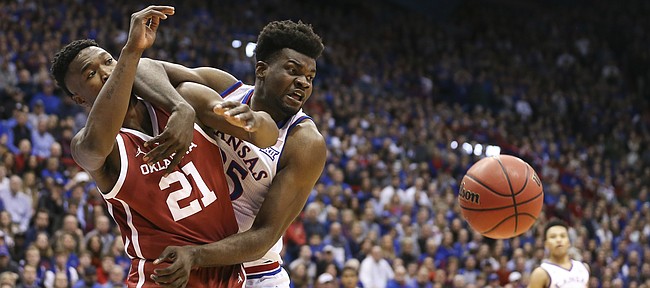 No. 3 Kansas Jayhawks (21-3 overall, 10-1 Big 12) vs. Oklahoma (16-8 overall, 6-5 Big 12)
Time: 11 a.m. Saturday | Location: Allen Fieldhouse, Lawrence, Kansas
TV: ESPN | Radio: IMG Jayhawk Radio Network
Log on to KUsports.com for our live game blog coverage and follow the KUsports.com staff on Twitter: @KUSports @mctait @bentonasmith @SJacksonLJW & @ByBradenShaw
Keys for Kansas
1. Dominate the glass
Despite its 10-1 conference record and solid standing in the national polls, the Kansas men's basketball team has, at times, left a little to be desired in the rebounding department this season.
"The two best rebounding teams in our league controlled the glass basically all three times that we've played them so far," Kansas coach Bill Self said Friday of his team's 2-1 record against West Virginia and Baylor this season.
The Jayhawks were outrebounded 113-91 in those three meetings, including a 38-27 deficit Wednesday night in Morgantown, W.Va.
Through the first 11 games of Big 12 play, the Jayhawks have outrebounded their opponents by just over four boards per game. When you take the Baylor and WVU games out of the equation, that number jumps to an advantage of nearly nine rebounds per game in KU's favor.
Those numbers, along with the fact that Oklahoma is one of the worst offensive rebounding teams in the country (ranking 319th nationally in offensive rebound percentage per KenPom.com), has this one looking like a game in which the Jayhawks should be able to do some work on the glass.
"It's a game in which we should be a lot better rebounding the ball than what we showed against Baylor and against West Virginia," Self said Friday.
The Jayhawks did exactly that in the first meeting with OU this season — a 66-52 win in Norman, Okla., on Jan. 14 — dominating the Sooners on the boards to the tune of a 46-32 rebounding edge.
Udoka Azubuike grabbed 14 rebounds in that win — 11 on defense and three offensive boards — and five other Jayhawks had at least four rebounds in the double-digit victory.
"We've got to be a little scrappier," Self said Friday. "You know, winning the battle on the boards is not good enough. We need to be become more dominant and more convincing in that area than what we have been."
2. Momentum for Moss
Coming off one of his best games of the season, senior guard Isaiah Moss enters this one looking to add momentum for a late-season run.
While scoring 13 points, including three key 3-pointers in a road win at West Virginia, Moss delivered the kind of game that seemed different from all of the others. For one, Moss showed more emotion than he had in most games this season. For two, all of his shots were big on a night when the Kansas offense struggled to score from the start.
"I think he's helped us win some games, but I think deep in his core he knew that he was responsible and played a huge role in us winning that game the other day, in a hard game," Self said. "It's one thing to go out and make shots if you win by 20. In a hard game, that you needed every one, I thought he felt really good about himself, which is good to see because he's (had) a terrific attitude since he's been here."
As the team's top 3-point threat in terms of makes (41-of-108) and second on the team in 3-point percentage, Moss, Self said, has the green light to let it fly at all times when he's on the floor.
"He has been the whole year," Self said. "You know, if he's open, he's supposed to shoot it. And he's the one guy that would have it more than anybody else on our team."
Self also said he believed that Moss finally understands that.
"Based on practice, every time he touches it seems like it's going up," Self said.
Added Marcus Garrett: "I think he's started taking advantage of it now. Early on, we had to remind him. I feel like now he kind of knows that every time he touches it we want him to shoot it."
There's more to Moss being a key part of this team's rotation than him shooting the ball at a high percentage. Self on Friday mentioned that Moss could become a better post feeder. And his ability and intensity on defense will continue to impact his minutes.
But no matter what he's doing in the other aspects of the game, if Moss can keep defenses honest by being a consistent 3-point threat, the Jayhawks' offense is going to be much more dangerous the rest of the way.
Self, who spent Thursday in Dallas visiting his newborn granddaughter, Phoebe, said before Friday's practice that he had not talked to his team about any new lineups. But he also confirmed that he would consider giving Moss a crack at starting again at some point this season.
Could that come against the Sooners?
3. Take advantage of Dotson
Although Devon Dotson is currently dealing with a right knee injury that has limited his participation in recent practices but not during games, the Jayhawks should get a huge boost from having their starting point guard and likely all-Big 12 and All-American leader on the floor against the Sooners this time around.
In Norman, KU knocked off OU with Dotson in street clothes, nursing a hip pointer that plagued him for a couple of weeks.
Garrett handled primary ball handling duties that night and finished with 15 points, five assists and one turnover in 38 minutes.
This time around, Garrett will slide back into his normal role and the Sooners will get their first taste of the sophomore version of Dotson, who leads the Big 12 in scoring (17.9 points per game), ranks sixth in field goal percentage (45.8) and sixth in assists per game (4.3) and second in steals (50).
Without Dotson, KU recorded just 12 assists on 25 makes and only four steals in the win over OU in January.
After playing 37 minutes against WVU, Dotson said his knee was fine. Self said Friday that he had not heard anything different.
"I think he's fine," Self said. "I was very proud of him, and I thought he hung in there. I obviously didn't play him the whole time — I only played him 37 instead 40 — but I thought that he was good and based on the reports I've got, he hasn't had any setbacks."
Marquee Matchup
KU's defensive strategy vs. OU senior Kristian Doolittle
According to Garrett, this week's review of the game film from KU's first matchup with Oklahoma this season showed that the KU defense got a little lucky in Norman.
OU's top two scorers, Kristian Doolittle and Brady Manek, combined to shoot just 9-of-34 in that game. And Garrett said the film showed that a lot of those misses were open looks that OU easily could have made.
"We actually didn't defend them as great as I thought we did," Garrett admitted. "They missed a lot of shots, so we have to defend way better and take away some of those easy looks."
While both Garrett and Ochai Agbaji said they believed the KU defense had improved since then, both also said they realized that making life hard on those two would be important in the rematch.
Their coach agreed, with one small clarification.
"I think Doolittle's such a key," Self said. "When he goes well, then they're awfully hard to defend. ... How do you guard him? If you put a big on him, he takes you away. If you put a small guy on he will try to post him. He's probably about as versatile as anybody that our league has offensively."
Doolittle enters this one averaging 15 points and nine rebounds per game, while Manek sits at 15.9 points and 6.4 rebounds per game.
Jayhawk Pulse
While KU's next opponent scored 90 points in its last game and has topped 80 three times so far in Big 12 play, the Jayhawks return home on the heels of holding their last two opponents in the 40s on the road.
"That's pretty good," Self said. "I'm not going to give us credit yet that we're the best defensively that we've been, because I think there's been some teams that are sounder than this one. But I do think, statistically, if you look at it, you would be hard-pressed to say that anybody, up until this stage, has statistically guarded any better than this team has."
That mindset of defense ruling the day and the rest falling in place around it has led the Jayhawks to nine wins in a row since falling to Baylor at home back in January.
Kansas will look to make it 10 in a row against the Sooners before turning around and playing Iowa State again at home on Monday night.
After that, the Jayhawks will get a little time to rest before heading to Waco, Texas, for the rematch with Baylor that could have massive implications in the Big 12 title race.
The Bears enter the weekend with a one-game lead over Kansas in the standings and Texas Tech sits in third place, four games back with seven to play.
KU leads the all-time series with Oklahoma 149-68, including a 76-16 record in Lawrence, 49-7 in Allen Fieldhouse. No one on the OU roster, other than head coach Lon Kruger, has ever won in KU's home gym.
KenPom.com has the Jayhawks listed as a 14-point favorite in this one, with a 90% win probability.
Probable Starters
No. 3 Kansas
G – Devon Dotson, 6-2, 185, Soph.
G – Ochai Agbaji, 6-5, 210, Soph.
G – Isaiah Moss, 6-5, 208, Sr.
G – Marcus Garrett, 6-5, 195, Jr.
C – Udoka Azubuike, 7-0, 265, Sr.
Oklahoma
G – Jamal Bieniemy, 6-5, 187, Soph.
G – Alondes Williams, 6-5, 205, Jr.
G – Austin Reaves, 6-5, 202, RS-Jr.
F – Kristian Doolittle, 6-7, 232, Sr.
F – Brady Manek, 6-9, 231, Jr.