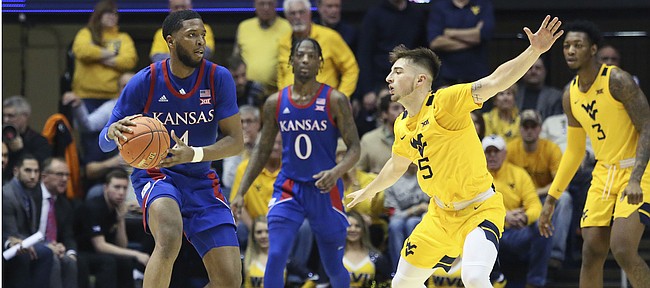 Having known senior guard Isaiah Moss longer than anyone on the roster, Kansas point guard Devon Dotson is the Jayhawks' resident expert on Moss' demeanor and what makes him tick.
Early in his high school career, Dotson got to know Moss when he watched the first-year KU guard play on teams with Dotson's older brother. So Dotson's words about Moss' offensive and emotional explosions during Wednesday's 58-49 win at West Virginia carried a little more weight than a run-of-the-mill comment about a teammate's nice night.
"When he's fired up, whether that's practice or back in the day, yeah," said Dotson when asked if he had ever seen Moss show as much emotion as he did Wednesday night. "It's rare, but he'll show it. It was cool to see, and it was a great win."
Three times during KU's second-half surge, the 6-foot-5 reserve guard from Chicago hit huge shots and followed them up with emotional responses.
The first, after a 3-pointer in front of the KU bench with 8:23 to play, was a simple roar toward his teammates and coaches on the sideline.
The second, after taking a hard foul on a drive to the basket in transition, came in the form of a simple smirk on his face, which simply indicated that Moss knew what was coming — two pure free throw makes that gave third-ranked KU a 49-48 lead with 5:22 to play.
The third, which came after a 3-pointer from the far corner, on a play that Kansas coach Bill Self called from the sideline, featured Moss pumping both fists and flexing while roaring toward the other end of the floor.
Document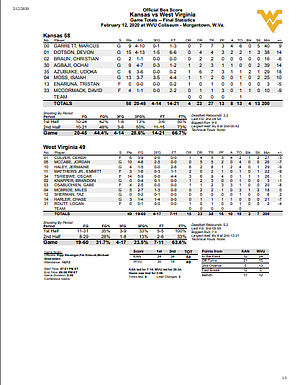 "It was just an emotional game for me," Moss said after the win. "I was just trying to play as hard as I could. … This is a huge win for us."
A 40% 3-point shooter at Iowa during the 2018-19 season, Moss was brought to Kansas precisely for moments and shots like those.
Moss currently leads the third-ranked Jayhawks in 3-point makes (38) despite playing in just 54.3% of available minutes. Ochai Agbaji ranks second, with 34 triples, but the sophomore has played 85.4% of available minutes.
Moss, at 38 of 104 from downtown, also ranks second on the team in 3-point percentage (36.5), trailing only Christian Braun (43.1% in half as many attempts) and Silvio De Sousa's 2-for-2, non-qualifying clip.
Moss' ability to get hot on a moment's notice, and stay hot for long stretches, adds an important element to KU's offense.
The fact that Self not only knows that and expresses it to his team, but also is willing to make calls and draw up plays to take advantage of it, has done a lot for Moss' confidence and ability to stay even keel during the ups and downs of the season.
"It feels amazing," Moss said after Wednesday's win. "He's confident in me and I appreciate it, so I just try to make the shot."
The play Self called was simple. Dotson started the action by moving to his left and flipping the ball back to Marcus Garrett at the top of the key. As Garrett received the pass, Udoka Azubuike positioned himself near the right elbow to be a road block for the man guarding Moss and Moss began to fade to the corner, behind Azubuike's screen, to create the space he needed to take the shot.
The rest was catch-and-shoot, muscle memory stuff, and Moss drilled it, despite releasing the shot with his feet slightly staggered and his momentum carrying him toward the baseline.
One of the more overlooked elements of Moss' game — and that play — came on the other end of the floor, just before Moss' third 3-pointer of the night swished through the net.

Sixteen seconds earlier, it was Moss who had grabbed the rebound of a Jermaine Haley free throw miss, perfectly executing his job of double-teaming Oscar Tshiebwe on the rebound and then out-jumping the talented WVU freshman to grab the miss and secure the possession for Kansas.
Moss finished the night with just one other rebound — a rundown of his own miss a couple of possessions earlier — but it was the way he made that play, and not necessarily the final numbers, that best illustrated where Moss' mind was throughout the Kansas victory.
"(He was great) all around," Dotson said. "On the defensive end he was locked in, and he hit some big shots for us."
That type of success, and delivering in big moments, tends to bring out fire and passion from most players, even the most stoic personalities.
In fact, the only time on Wednesday when Moss wasn't showing some kind of extra pep in his step was when he was too busy busting his butt to get back on defense.
"That's what we take pride in," said Moss, who insisted when he committed to KU that he was more than just a shooter and actually liked mixing it up on both ends of the floor. "We know it starts on defense."
As he made his rounds through the media circuit following Wednesday's victory — from the on-camera interview with ESPN to the lectern in the media room and then back to the locker room to celebrate with his teammates — Moss' face again began to display the more commonly seen expressions that have been the 23-year-old graduate transfer's signature look since coming to Kansas — cool, calm and content.
But not before Self, who called Wednesday's win as good of a road victory as he has had at Kansas, gave Moss one more opportunity to cut loose during the postgame party in the locker room.
"Isaiah," Self yelled as he walked toward the sharp-shooting guard with Jayhawks bouncing and screaming all around him. "Big time! Big time!"
Winners of nine in a row since losing to Baylor on Jan. 11, Moss and the Jayhawks will look to keep their current hot streak going on Saturday, when they welcome Oklahoma to town for an 11 a.m. tipoff at Allen Fieldhouse.
The last time the Jayhawks and Sooners squared off, Moss scored 20 points in 38 minutes and tied a career-high with six 3-point makes on 11 attempts.