Wednesday, February 12, 2020
After trailing for much of the night, No. 3 Kansas took control in the last five-plus minutes to come away with a 58-49 victory over No. 14 West Virginia in WVU Coliseum on Wednesday.
The Jayhawks, who trailed by as many as nine in the second half, eventually reclaimed control down the stretch. It is just the third time in eight trips to Morgantown that KU has come away with the win against West Virginia.
Kansas (21-3, 10-1 Big 12) has now won nine games in a row since its 67-55 loss to Baylor on Jan. 11, and remains alone in second place in the Big 12 standings. West Virginia (18-6, 6-5 Big 12) has now dropped back-to-back games, including its lone home loss of the season.
As advertised, Wednesday's top-15 clash ended up being a defensive battle. KU's defense made several late stops to help the visitors net a come-from-behind victory. The Mountaineers did not score in the final five minutes of the contest.
Document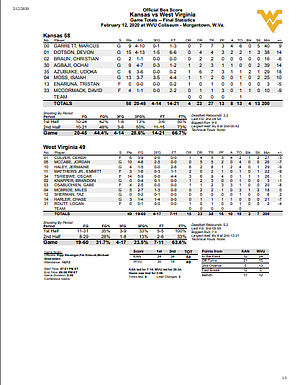 Isaiah Moss drilled a 3-pointer from the right wing with 4:54 left in the game to break a 49-deadlock, giving the Jayhawks a lead that they wouldn't relinquish. Moss made a trio of 3-pointers, which really swung the momentum in KU's favor, en route finishing with 13 points in the win.
Sophomore point guard Devon Dotson paced Kansas with 15 points on 4-of-13 shooting, including a 6-for-6 effort at the free-throw line. Junior Marcus Garrett recorded seven rebounds and five steals in 40 minutes of action.
Senior center Udoka Azubuike, who was limited with foul trouble early on, finished with six points and a pair of blocks. Sophomore Ochai Agbaji also added nine points and registered three rebounds.
Kansas will play host to Oklahoma at 11 a.m. Saturday.
https://www.youtube.com/watch?v=atHjJKCkkeY&t=50s
https://www.youtube.com/watch?v=P6kLM-vfsS8
https://www.youtube.com/watch?v=AxL0x2Em8K0