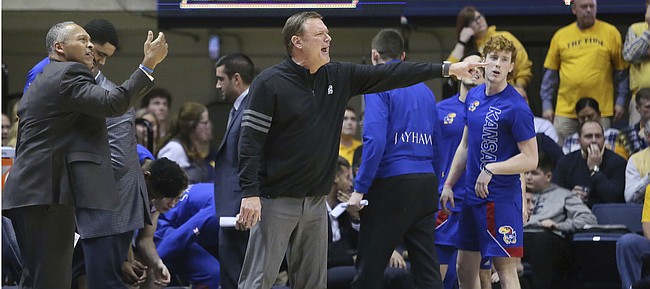 Morgantown, W.Va. — Just after Wednesday's 58-49 KU victory over West Virginia, Kansas coach Bill Self announced that freshman Jalen Wilson would sit out the remainder of the 2019-20 season.
"He's officially going to redshirt," Self said of the 6-foot-8, 210-pound forward from Denton, Texas. "We talked about that (Tuesday). He's still not healthy."
There had been some hope that Wilson would be able to return from the broken ankle that kept him out of action entirely for the first three months of the season. But the combination of Wilson's recovery from the injured ankle and back spasms that surfaced a couple of weeks ago slowed his progress.
Wilson has traveled with the team for most of the season, and he continues to go through pregame shoot-arounds and warmups. But, at this point, all of that is merely a way for the freshman to gain some kind of experience from his first season of college basketball.
"He can maybe get a little bit out of travel," Self said after the victory. "But I think he can get more out of practice. He and (fellow KU redshirts) Dajuan (Harris) and Mitch (Lightfoot), they should make every practice like a Big 12 road game. … Jalen can be better for this."
Heckle mania
The Mountaineer Maniacs were back at it in full force Wednesday night, arriving roughly two hours before tipoff to set up the WVU student section with rally towels and the latest "Mountaineer Musings," a heckling guide handed out to each person in the student section.
WVU senior Tyler Redding, a Philadelphia native who has been writing the guide for the past three years, said he sends a copy of each game's musings to a couple of WVU staff members for approval in an attempt to keep things as clean as possible.
There's little doubt that the group of super fans likes to go as far as they can go without making the material too mean or personal.
"We go on Twitter, we go on Facebook, we go all the way as deep as possible to get stuff to use," Redding said.
On Wednesday, a popular topic was the recent brawl between Kansas and Kansas State, with Redding even wearing a shirt that read, "Stools are for sitting" in reference to the moment when suspended KU forward Silvio De Sousa picked up a stool, but did not use it, during the brawl.
Point guard Devon Dotson was pegged as the "Bum of the Game," who was to be booed by the Maniacs every time he touched the ball. The heckling guide also called out Ochai Agbaji for wearing Texas gear (in support of his sister who plays volleyball at UT) and announced that KU freshman Christian Braun would henceforth be known by them as "Baby Face Braun" for the rest of his career.
"Ladies and gentlemen," the guide began. "It is the date on the calendar that everyone in Mountaineer Nation circles with the largest marker that they can find. It. Is. Kansas. Gameday."
U.S. senator talks ESPN+
On Tuesday, during a Senate hearing regarding student-athlete compensation in Washington D.C., West Virginia Sen. Shelley Capito took the opportunity to ask Big 12 Commissioner Bob Bowlsby about the conference's decision to put so many games on ESPN+ this season instead of regular cable.
Wednesday's KU-WVU game was the ninth such game for the Jayhawks this season, and both KU (March 4 vs. TCU) and West Virginia (Saturday at No. 1 Baylor and March 7 vs. Baylor) will have more games on the streaming platform before the season ends.
Capito's issue, which she classified as "a source of very deep concern for West Virginia" centered around the unreliable internet connectivity in her state's rural communities.
Because of a steadily shrinking cable market, Bowlsby, who was involved with the rollout of both the Big Ten Network and the Pac-12 Network, said the Big 12 concluded in making the move to Big 12 Now/ESPN+ that digital platforms "are the future."
"We took a leap of faith with a new technology," Bowlsby explained. "We believe that streaming and the ESPN platform is best in class, so it's a voyage of exploration. There isn't any doubt about that."
Document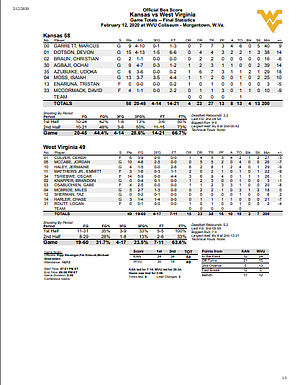 Self a grandpa again
A new addition to the Self family arrived this week, with Self's daughter, Lauren Browning, giving birth to her second daughter on Tuesday afternoon.
Phoebe Lynn Browning was born early Tuesday, Feb. 11, in Dallas.
She is the younger sister of Ella Browning, and Self said on his way into WVU Coliseum on Wednesday night that the entire Browning family was doing great.
Self said after Wednesday's victory that he was headed to Dallas on Thursday and would return to Lawrence a day later to prepare for KU's weekend clash with Oklahoma.
A little help, please
After doing their best to make life miserable for the Mountaineers and dispatching them on their home floor, the Jayhawks will quickly turn around and root for Bob Huggins' team this weekend.
That's because the Mountaineers will travel to Waco, Texas, on Saturday to take on first-place Baylor in the first of two meetings between WVU and BU in a 21-day span to close the season.
Baylor also will travel to Morgantown on March 7 in the regular-season finale for both teams.
"The league race isn't over by any stretch," Self said earlier this week. "But Baylor is well in front of us, and well, well in front of everybody else. With us, we're a game-and-a-half or two games out just because they've already won on our home court. … So I'm hopeful that somebody will play good against Baylor, including us, and give them something to really challenge them."
This and that...
Kansas now leads the all-time series with WVU 14-5. Wednesday's win improved the Jayhawks to 3-5 all-time at WVU Coliseum... KU has now won 21 games for the 31st consecutive season and, at 10-1 in Big 12 play, is off to its best conference start since the 2009-10 season, when the Jayhawks started 11-0... Kansas now has won 10 or more games in conference play for 26 consecutive seasons... The Jayhawks now have won seven in a row on the road and are 11-2 this season away from Allen Fieldhouse, including 7-1 in true road games... In a joint effort with WVU coach Bob Huggins, who always wears a pullover while coaching, Self ditched the suit and tie for Wednesday's game and wore a KU pullover and slacks instead. The two appeared together in a first-half feature on the video board in which they asked fans of both teams to donate money to cancer research at each university.