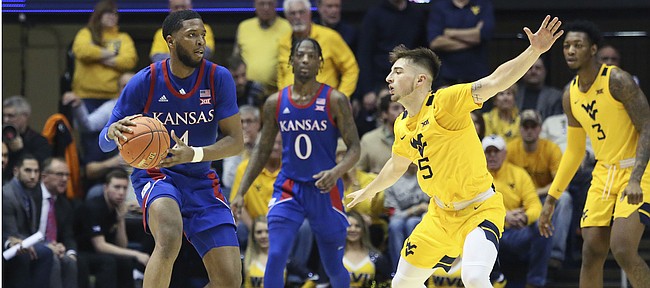 Morgantown, W.Va. — After years of experiencing late-game collapses in gruesome battles at WVU Coliseum, the Kansas men's basketball team now knows how it feels to turn the other direction on those "country roads" for which West Virginia is famous.
There still were plenty of gruesome moments in the Jayhawks' 58-49 victory Wednesday night. But none of them came at the end, when third-ranked Kansas outscored West Virginia 19-5 over the final 9:48 to cruise to victory in what historically has been one of the hardest places for KU coach Bill Self's teams to win.
"We haven't won here a ton," Self said after notching just his third win in eight trips to WVU Coliseum. "But I don't know that we've ever won here when it's pretty. … This was not artistic at all. But this was a grind-it-out, tough road win that you have sometimes when you're going through your second round in conference."
Four Jayhawks played all 20 minutes of the second half, and Kansas (21-3 overall, 10-1 Big 12) erased a 9-point second-half deficit by staying the course on defense and finally coming alive on the offensive end.
For a while, it looked as if the Jayhawks might threaten to challenge for the fewest points ever scored in a Big 12 game under Self. And, in reality, they still did, besting the Self-era low of 55 by just a couple of points.
But when you have a defense playing the way the Kansas defense has played during recent weeks, points become more of an afterthought and keeping your opponent from scoring becomes the primary goal.
"When you make shots, the tendency is to relax because you always know you can come back," Self explained after the win. "But when you don't make shots, the tendency is we have to grind harder because we can't allow them to create more separation. And that's kind of what this team is."
Trailing 44-37 with 9:48 to play following a free throw by WVU's Jermaine Haley, the Jayhawks limited the Mountaineers to just two layups and a free throw the rest of the way. That included the Jayhawks pitching a shutout over the final 5:07 of the game, when they outscored 9-0 in the sprint to the finish.
No one was more important to KU's offensive surge down the stretch than senior guard Isaiah Moss, who broke a 49-all tie with a 3-pointer from the far wing with 4:54 to play and then pushed KU's lead to 5 points one possession later after scooping up a loose ball following yet another WVU miss.
"That's a play that we go over a lot in practice, so I felt pretty comfortable with it," said Moss of the triple that gave KU the lead for good.
Added Dotson of Moss' big night: "On the defensive end, he was locked in and he hit some big shots for us. He was great down the stretch. I'm just proud of him and excited."
Moss scored 10 of his 13 points in 14 second-half minutes, knocking in 2 of 3 from 3-point range and calmly draining all four of his free-throw attempts.
"We won the game," Self said after the victory. "But I don't know if we would've won it if Isaiah wasn't in the game."
Wednesday marked the second time this season that Kansas primarily has used the same five guys throughout the second half of a win over West Virginia.
Last time, during a January win in Lawrence, it was Self choosing to put his five toughest players on the floor to help combat WVU's physicality. This time, it was the five players who created the best blend of defensive grit and offensive potential.
"We knew we had to find a way to get back in the game, and I felt the five that were out there were playing the best," Garrett said. "I think Coach felt that, too, so we just had to finish out the second half."
No one captured KU's grind in the final 20 minutes better than Garrett, who, once again, filled up the stat sheet in helping lead Kansas to victory.
His 9 points, seven rebounds and four assists were all secondary to his biggest stat of the night — five steals, three of which came on consecutive possessions late in the second half with the outcome still in doubt.
"I don't know if we really forced mistakes as much as Marcus Garrett forced mistakes," said Self when asked about his team forcing WVU (18-6, 6-5) into 11 second-half turnovers and 19 for the game. "Who guards better than him? Anywhere? He guarded 1 through 5 today. With the game on the line, he had three steals in a row. He's unbelievable defensively, and I really thought he controlled the game on that end."
Document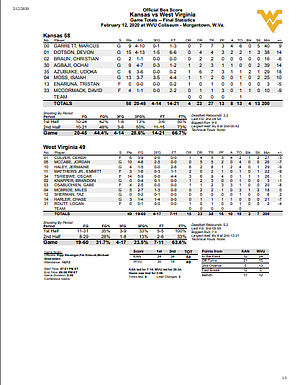 Garrett's night also included an uncharacteristic total of five turnovers. But the junior from Dallas said after the game that those giveaways inspired him to make up for it with his game-changing defensive showing.
"Of course," he said. "I had one bad turnover late, and I just wanted to get the possession back."
Still marveling over his defensive leader's big night and clutch play, Self explained in detail what made Garrett capable of delivering on an off night for the Kansas offense.
"I think studies dribbling rhythm," Self began. "I think he's got unbelievable hands. I think he loves getting to the second half out of foul trouble so he can be more aggressive."
While Garrett was the defensive star and Moss the star of the offense, the turnaround that both Dotson (15 points on 4-of-13 shooting) and senior center Udoka Azubuike (6 points, seven rebounds and two blocks) delivered from their rough first halves to solid seconds, was also a huge story of this game.
"I thought Dot was a lot better the second half and Dok was a lot better the second half," Self said. "So when your two best players play pretty well, (you've) got a chance."
Dotson, who had his right knee wrapped in ice during the postgame meeting with the media, said he tweaked his knee during the win over TCU on Saturday. Although he received some extra attention on Wednesday night and had been getting treatment throughout the week, the sophomore from Charlotte, N.C., said the knee issue had no impact on how he played against the Mountaineers.
"It's fine," he said.
All Dotson was focused on was his team's latest defensive gem and KU's potential if they ever put it all together.
"(It's) just (about) finding a way to win," he said. "If our shot's not falling, we know we can hang our hat on the defensive end and make the other team play worse. We're not worried about not hitting shots. We know that's going to come, and once we do, we'll be really dangerous."
KU, which remains one game back of Baylor in the Big 12 race, returns home this weekend to take on Oklahoma at 11 a.m. Saturday at Allen Fieldhouse.
West Virginia, meanwhile, travels to Waco, Texas, to take on the unbeaten, first-place Bears.