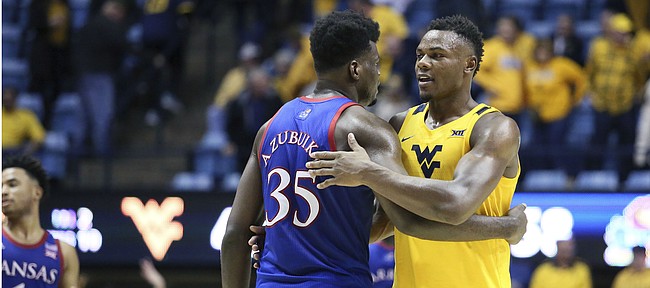 Morgantown, W.Va. — A shift of power in the paint Wednesday night at WVU Coliseum made a massive difference for No. 3 Kansas.
With West Virginia freshman big man Oscar Tshiebwe doubling as a force of nature at times in the first half against the Jayhawks, KU would need its own powerful center to come out of hibernation.
The active Tshiebwe even outplayed KU senior Udoka Azubuike early on. But his 7-foot counterpart from Kansas roused just in time, particularly on defense, to help the Jayhawks head back to Lawrence with a 58-49 road victory.
KU's bigs, of course, are no strangers to Tshiebwe, who destroyed the Jayhawks in the first half of the first meeting with WVU, back in early January, during the opening weekend of Big 12 action.
At certain junctures of the rematch, it appeared the 6-foot-9 and 258-pound Tshiebwe would even eclipse his 17-point, 17-rebound double-double in Round 1, at Allen Fieldhouse.
Neither Azubuike, David McCormack, nor anyone in a KU uniform had a solution for Tshiebwe in the first half. The sturdy and explosive WVU freshman was so aggressive, so eager to attack, that whichever KU big was on his back or in front of him at the time wound up in trouble.
Tshiebwe had 12 points and five rebounds by halftime. Far more shocking, though, he had the type of energy that helped WVU play KU's two bigs off the floor in the first half, with the help of some whistles that had Azubuike on the bench with two fouls and McCormack sitting with three fouls for a late stretch ahead of halftime.
The frontcourt was supposed to be a true strength for KU this season, and thanks to Azubuike, it usually is. But neither of KU's bigs impacted the game the way Tshiebwe did in the first half, as WVU took a 30-24 lead into intermission.
It looked to be more of the same in the second half, too, even with KU surging after the break. Then came an offensive rebound and putback by the Mountaineers' active freshman big, putting WVU and its home fans at ease.
Out of the first media timeout of the second half, KU found a way to get Marcus Garrett driving for a layup. But Tshiebwe met him at the rim and obliterated Garrett's attempt.
The next possession, Tshiebwe refused to give up any ground on an Azuubike post-up and KU's star center caught the ball a good 15 feet from the hoop before Tshiebwe successfully contested a jump-hook that rimmed out.
His trajectory for a massive night and a possible upset win for No. 14 WVU (18-6 overall, 6-5 Big 12) veered soon after.
The powerful freshman felt invigorated and aimed to body up Azubuike in the post to show how tough and strong he was. And Tshiebwe hated with every fiber of his being the third personal foul he drew in the process of trying to outmuscle Azubuike in the post, with 13:10 left in the second half and the Mountaineers leading by 9.
Even though Azubuike only had 2 points and three rebounds at halftime, his teammate, Garrett, wasn't surprised to witness KU's center better take control down the stretch.
"Second half, he locked in and he knew he had to play bigger," Garrett said. "He knew what we needed, and that's what he did for us."
Tshiebwe reentered with about eight minutes left and WVU's lead down to 3. Azubuike, in the middle of finding some sort of rhythm, went right at Tshiebwe soon after, spinning past his defender for an easy slam, just the second bucket of the night for KU's best big.
Document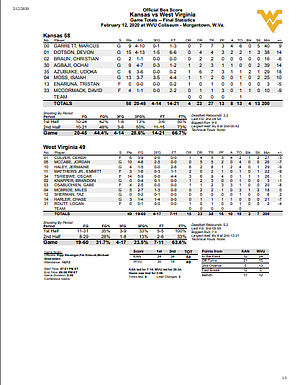 Azubuike worked Tshiebwe from the same left block a few possessions later, this time going over his foe with a jump-hook.
"Dok didn't play great offensively," KU coach Bill Self said after the senior contributed 6 points and seven rebounds and was credited with two blocked shots. "But defensively I thought he really protected the rim well."
With less than 5:00 left and KU up 3, thanks in great part to Garrett's second-half steal-fest, Azubuike poked an entry pass away from Tshiebwe inside. Appropriately, KU's veteran center looked far more active and confident than he had in the first half. Tshiebwe picked up his fourth foul in frustration, sending him back to the bench.
Reestablishing himself as the best big in the building, Azubuike did his best Garrett impersonation a couple of minutes later, coming up with a late-clock steal with a little more than two minutes left in a two-possession game.
"Oscar was the best big guy, but let's call it like it is," Self said. "Dok didn't play in the first half, and then when he was in there (10 minutes played before the half) he wasn't effective at all. (Tshiebwe) was by far the best big. Then in the second half, I'm not saying Dok was the best for the half, but he was the best down the stretch."
A big man who struggled with conditioning earlier in his career won the marathon against the younger and ambitious Tshiebwe (14 points, nine boards).
Azubuike didn't leave the court at all during the second half, even after picking up foul No. 3 with 12:15 to play.
His presence alone so often makes all the difference for KU (21-3, 10-1) this season. And the veteran didn't let a subpar personal night impact his effort, even as KU's chances of staying unbeaten in Big 12 road games looked shaky.
Said WVU coach Bob Huggins of KU's protector of the paint, Azubuike: "He gives them a defensive force in there that makes it tough to score driving it to the basket, and offensively, he's a brute."