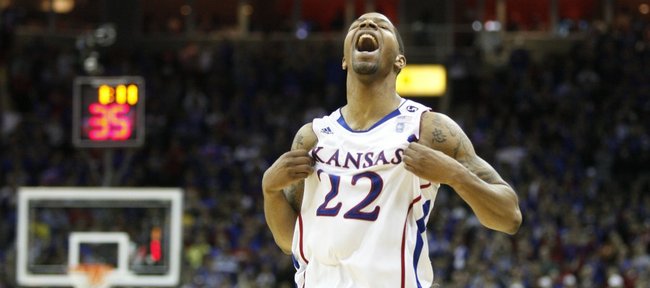 The Kansas men's basketball program on Monday announced plans to retire the jersey of former KU standout Marcus Morris during a ceremony on Feb. 17 when Kansas plays Iowa State at Allen Fieldhouse.
In doing so, the Jayhawks, for the first time in history, will essentially be honoring two players with one jersey.
"We knew when Marcus left school in 2011 that his jersey would be retired," KU head coach Bill Self said in a news release announcing the plans. "When you say Marcus, you have to include his twin brother, Markieff, because they did everything together. It's amazing to see the growth they had from when they got here. They were both good players that were a little lazy. You had to beg them to give a second effort. Then they got used to the culture, the grind, the routine and took off. I have never enjoyed coaching a twosome that I felt has as good a feel for the game as what they had."
On Monday afternoon, during a meeting with the media to preview Wednesday's game at West Virginia, Self said he had "a few" Marcus Morris stories that stood out as his most memorable and elaborated on the twins' understanding of the game.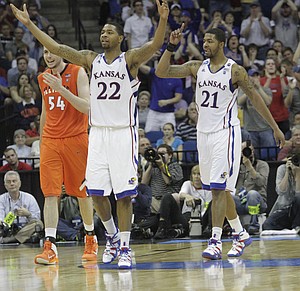 "On the court," Self began, "I would say the thing that would probably stand out the most is how smart he was and how competitive and smart that the twins were. Ridiculously bright. Unbelievable IQ."
Self said only a few players during his 17 seasons at Kansas saw the game as well as the Morris twins in terms of basketball intelligence.
"I've only had four or five like that," Self noted. "Aaron Miles you could throw in that category. Devonte' (Graham) was like that. But there haven't been very many. The biggest thing that (the Morris twins) did was they made it where it was interesting to come to work every day. And I mean that from all standpoints. I loved coaching them. They say young people, if you're around enough of them, it'll keep you young. They certainly played a big role in aging me but still yet keeping me young at thought while they were here."
Although it will just be Marcus Morris' No. 22 jersey that will hang in the rafters at the south end of Allen Fieldhouse, Markieff no doubt will be on hand for the ceremony.
"I'm excited to be getting my jersey hung in the rafters at Allen Fieldhouse," Morris said in the news release. "But this is not only about me, it's my teammates, especially Keef (Markieff), coach Self, the other coaches, my family, the fans and everybody who helped me along the way. To have my jersey up there with other great players like Wilt (Chamberlain), Danny (Manning), and Paul (Pierce), is an honor. I look forward to coming back to KU where I have so many great memories."
Now with the Los Angeles Clippers and in his ninth NBA season, Marcus Morris will become the first player who wore No. 22 at Kansas to have his jersey retired.
In three seasons at KU, Morris started 91 of 109 games and averaged 12.6 points and 6.2 rebounds per game.
He was a two-time all-conference selection and a member of the Big 12 All-Rookie team his freshman season in 2008-09.
Morris helped KU win three Big 12 regular-season titles, two Big 12 Tournaments and was 52-1 in games played in Allen Fieldhouse, including back-to-back 18-0 records in 2008-09 and 2009-10.
Morris earned Consensus All-America second-team honors and the Big 12 Player of the Year nod following his junior season in 2011, when he averaged 17 points and eight rebounds per game in 38 games for the Jayhawks.
The Philadelphia native also led the Jayhawks to the 2011 Big 12 Tournament title that season, earning Most Outstanding Player honors. Two weeks later, he landed on the NCAA Tournament Southwest Regional all-tournament team after helping lead Kansas to the Elite Eight.
Morris' 1,371 career points rank 29th on the KU career scoring list, and his 676 rebounds tie him for 19th with Paul Pierce. He led KU in scoring in 2010-11, and his 654 points that season rank 15th on KU's single-season scoring list.
"I'm very proud of both Marcus and Markieff," Self said of the NBA lottery picks, who were selected back-to-back at No. 13 and No. 14 (Markieff first) in the 2011 NBA Draft. "I know how much this will mean to Marcus as he brings his own family back for this honor. He and Keef will always be remembered for the competitive spirit they played with and also for the great teammates they were."