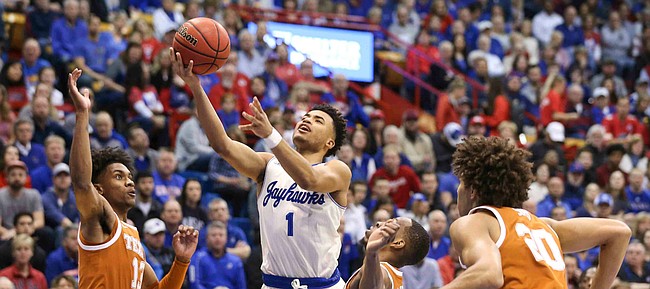 The top two teams in the Big 12 Conference held onto their spots at the top of the Associated Press men's college basketball poll this week, with Baylor remaining No. 1 and Kansas sticking at No. 3.
Gonzaga also stayed put at No. 2, marking the fourth week in a row that the top three in the AP Top 25 remained unchanged.
Kansas held onto its spot with wins over Texas and TCU last week. The Jayhawks used a strong second half surge to knock off Texas at home last Monday and dominated TCU with their defense on Saturday, holding the Horned Frogs to just 46 points in a road win in Fort Worth.
Baylor received 48 of 65 first-place votes in this week's poll, while Gonzaga received 15 and KU the lone remaining vote.
The Jayhawks, at 20-3 overall and 9-1 in conference play, enter the week one game behind Baylor in the Big 12 standings. No other Big 12 team has fewer than four losses in conference play and half of them already have six or more.

KU now has been ranked in 215 consecutive AP polls, bringing the Jayhawks closer to eclipsing UCLA's all-time record of 221 consecutive weeks in the AP Top 25.
San Diego State and Louisville rounded out the Top 5 — marking the second week in a row with the same five teams at the top — and preseason No. 1 Michigan State dropped out of the poll altogether, falling from No. 16 to 26th on the heels of a three-game losing streak.
It marks the first time since Kentucky did it twice in the 2013-14 season that the AP's preseason No. 1 team has fallen out of the Top 25.
Baylor, meanwhile, has won 20 games in a row since falling to Washington early in the season, making the Bears the first Big 12 Conference team since 2008 to win 20 consecutive games in a season.
Beyond the Top 5, the rest of the Top 10 stayed pretty much in tact, with Seton Hall representing the only change among the top 10 after the Pirates moved up two spots to No. 10.
Penn State had the biggest jump of the week, moving up nine spots to No. 13 for its highest ranking since reaching No. 9 in 1995-96.
Here's a look at this week's complete AP Top 25:
1 – Baylor, 21-1, 1,583 (48)
2 – Gonzaga, 25-1, 1,546 (15)
3 – Kansas, 20-3, 1,450 (1)
4 – San Diego State, 24-0, 1,422
5 – Louisville, 21-3, 1,331
6 – Dayton, 21-2, 1,255
7 – Duke, 20-3, 1,211
8 – Florida State, 20-3, 1,170
9 – Maryland, 19-4, 1,057
10 – Seton Hall, 18-5, 1,013
11 – Auburn, 21-2, 998
12 – Kentucky, 18-5, 853
13 – Penn State, 18-5, 787
14 – West Virginia, 18-5, 721
15 – Villanova, 17-6, 581
16 – Colorado, 19-5, 567
17 – Oregon, 18-6, 497
18 – Marquette, 17-6, 425
19 – Butler, 18-6, 414
20 – Houston, 19-5, 402
21 – Iowa, 17-7, 374
22 – Illinois, 16-7, 235
23 – Creighton, 18-6, 213
24 – Texas Tech, 15-8, 169
25 – LSU, 17-6, 160
Others receiving votes: Michigan State 124, Rhode Island 57, Northern Iowa 44, BYU 43, Arizona 34, Purdue 27, Ohio State 14, Cincinnati 6, Stephen F. Austin 6, Michigan 3, Rutgers 2, East Tennessee State 2, Virginia 2, Winthrop 1, Wright State 1
More like this story on KUsports.com