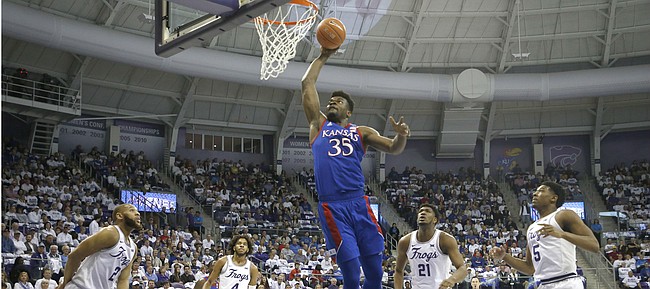 KU's first possession of the second half really told the whole story of its 60-46 win over TCU Saturday afternoon in Schollmaier Arena.
Junior guard Marcus Garrett, who was at the top of the key, threaded a pass to Kansas center Udoka Azubuike near the rim. Azubuike caught the ball, and spun past TCU center Kevin Samuel before finishing off the sequence with a dunk. It gave the Jayhawks a 31-18 advantage at the time.
The broadcast crew on ESPN2 then proceeded to provide a perfect summation of that particular play, which was emblematic of what worked for the Jayhawks (20-3, 9-1 Big 12) in their eighth consecutive victory.
"Kevin Samuel has no chance," ESPN color commentator Chris Spatola said on the broadcast after the play. "He's kind of playing like a wet noodle right now, to be honest with you. There is no fight. There is no resistance whatsoever. That's as easy as I have seen it all year."
TCU (13-10, 4-6 Big 12) eventually made things interesting, pulling within four with seven minutes remaining. But Kansas ultimately staved off the hosts, winning its 15th game in the last 16 meetings with TCU. KU now leads the overall series with TCU, 19-2, including 9-1 in games played in Fort Worth.
Azubuike was a big reason why the Jayhawks powered past the Horned Frogs, too. Azubuike finished with a team-high 20 points on 10-of-14 shooting to go along with 15 rebounds and five blocks in the win. Sophomore point guard Devon Dotson added 18 points for Kansas.
KU finished with 11 dunks on its 20 2-point baskets against TCU, most of which were rim-rattling slams by Azubuike. The Jayhawks also finished with six layups, while leading for 32-plus minutes against the Horned Frogs.
Document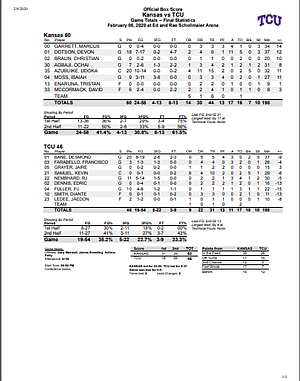 Here's a quick look back at some of the action:
• The game turned when: TCU pulled within a 44-40 margin with seven minutes remaining, and appeared to be making things interesting.
Then, the Jayhawks proved why they are a national title contender this season. Moments later, Kansas held a 59-42 advantage after a decisive run by the visitors. Isaiah Moss capped off the stretch with a 3-pointer with 2:31 left to play, which effectively ended TCU's late surge.
• Offensive highlight: All of the dunks were significant in KU's latest win.
The 11 dunks on 12 attempts was an impressive performance by the Jayhawks. Kansas finished with 11 dunks on its 20 made 2-pointers, which is a dunk share of 55% against TCU. For comparison, Kansas ranked third in the nation with a dunk share of 13.6% entering today.
• Defensive highlight: Really the whole game was a stellar defensive effort by Kansas, but especially the first half.
The Jayhawks held the Horned Frogs to a season-low 18 points in the first half, taking a 31-18 advantage into the locker room at the intermission. TCU went 8-for-27 in the first 20 minutes of the game, including a 2-of-11 effort from beyond the arc.
• Up next: Kansas will travel to West Virginia on Wednesday.