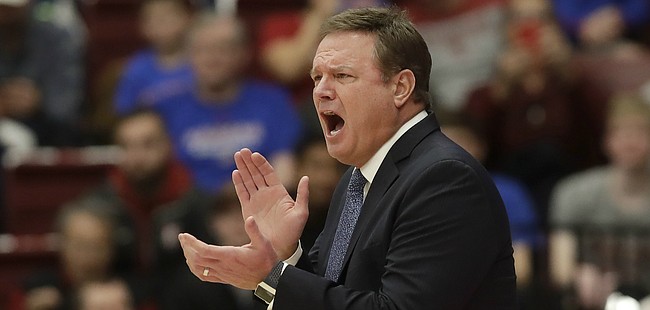 Devon Dotson's latest interview session with the media proved eye-opening on Thursday, when the Kansas sophomore point guard fielded a question about his head coach.
It was in that moment Dotson learned the Jayhawks' next victory will give Bill Self 700 career wins.
"Really?" Dotson questioned right back. "That's big. You said 700? Oh, wow. That's amazing."
A similar situation played out with senior KU guard Isaiah Moss, who also entered the Q&A; unaware of Self's upcoming milestone.
"That's crazy," Moss said, "but I would definitely believe it. Hall of fame coach."
None of the Jayhawks had any reason to have that figure on their minds, because their basketball coach, 699-214 during his 26-plus seasons on the job, sure wasn't bringing it up to them.
"Well, I hadn't thought about that one time," Self said, when asked during his weekly press conference about reaching 700 career victories. "But I did know it was coming up because somebody said it the other day."
So far, 492 of Self's wins (against 109 losses) have come over the past 16-plus years at KU, after he went 55-54 at Oral Roberts, 74-27 at Tulsa and 78-24 at Illinois.
He could become just the eighth active head coach with 700 career wins as soon as Saturday, when his No. 3 Jayhawks play at TCU (11 a.m., ESPN2).
When Self crosses that threshold, he will become the 31st coach in Division I history to achieve it.
"The fraternity of coaches that I will be joining will all be elderly," Self joked, "which is not great for me, I guess, because all the old guys can win that many games because they've been around so long."
Actually, if KU beats TCU, Self, at 57 years, one month and 12 days old, would become the second-youngest coach to win 700 games. Only Bob Knight, who reached that number at 56 years, four months and 12 days, pulled it off at a younger age.
"Hopefully it's not close to the end, but 700 is a pretty big number," Self said, "when you start out at Oral Roberts, and you're losing 18 in a row, and I think 6-21 and (10-17) your first two years and then somehow, you know, kids flipped it."
Dotson is only in his second season of playing for Self, but he had some ideas about what has made KU's coach so successful through the years.
"Just his drive, competitiveness. He doesn't short sell anything. He's tough on everybody. I think he gets the best out of his players," Dotson said. "Each day in practice, there's not an off practice. We're going hard every day. He does that over time and it pays off."
His players deserve the "lion's share" of the credit for Self's record, he said, adding the assistant coaches who worked with him through the years also fall in that category. They have helped him stick around in this profession for a long time, Self said, and are part of what makes these types of achievements feel significant.
His father, Bill Self Sr., KU's longtime head coach added, also played a key role in his career.
"And teaching me the values I think that goes into what would probably be being a successful coach," Self said, "So I learned more from him than anybody."