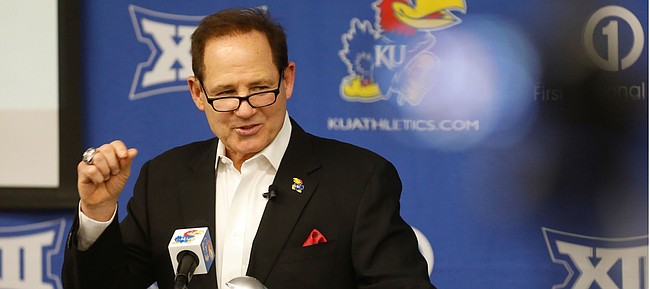 With most of their 2020 recruiting class sorted out in December, Kansas football head coach Les Miles and his assistants just have a few loose ends to tie up on Wednesday for National Signing Day.
The Jayhawks could add somewhere around four to six new additions to fill out the class, after announcing the signing of 19 high school seniors during the early signing period.
While previously known commitments such as defensive lineman Kenean Caldwell and offensive linemen Jackson Satterwhite and Bryce Cabeldue are expected to make their pledges official, there's one local recruit who won't be joining them.
Topeka High quarterback Da'Vonshai Harden Jr. told the Journal-World he won't be signing on Wednesday. Harden did not want to share further details on the matter. Harden is rated as a two-star dual-threat quarterback by Rivals. He committed to KU back in March of 2019.
Meanwhile the Jayhawks appear to be in good standing with Ra'Mello Dotson, a two-star cornerback from Daytona Beach, Fla.
Dotson visited KU this past weekend and told Jon Kirby of Jayhawk Slant that defensive backs coach Chevis Jackson shared a lot of information with him.
"He was telling me stories about his past and what he did in college and the NFL," Dotson told Jayhawk Slant. "And he was showing me how their defense works and things like that. He likes how long I am, and how I can go get the ball."
One of KU's final spots in the 2020 class might end up going to a defensive lineman.
Formerly committed to Texas Tech, defensive end Philip Blidi announced on Monday, less than 48 hours form National Signing Day, he had reopened his recruitment. Blidi, a 6-foot-4 prospect from New Mexico, identified his top two choices as Texas Tech and KU.
The Jayhawks could also be in the mix for another D-lineman previously tied to the Red Raiders. Clinton Anokwuru, who decommitted form Tech back in October, visited KU this past week. Anokwuru followed that visit up with a trip to Washington State.
The 6-3 prep defensive end from Richmond, Texas, recently listed his top five schools, in no particular order, as Colorado State, Virginia Tech, KU, WSU and Louisiana-Lafayette.
KU has yet to announce the signing of two-star receiver Kyler Pearson. But that should come once he has officially been accepted through KU's student application process and cleared by the NCAA to participate, Pearson told the Journal-World.
KU football 2020 unsigned commitments
(Rivals recruiting rankings listed)
• Kenean Caldwell - 3-star DT from Louisiana
• Jackson Satterwhite - 3-star OL from Oklahoma
• Bryce Cabeldue - 2-star OL from New Mexico
• Kyler Pearson - 2-star WR from Oklahoma (signing not yet announced by KU)
KU football's announced 2020 signees
√ Garrett Jones - 3-star OL from Michigan; 6-4, 285 pounds
√ Will Huggins - 3-star TE from Kansas; 6-7, 235 pounds
√ Caleb Taylor - 3-star DE from Missouri; 6-2, 255 pounds
√ Trevor Kardell - 3-star TE from Lee's Missouri; 6-5, 225 pounds
√ Krishawn Brown - 3-star LB from Oklahoma; 6-1, 200 pounds
√ Taiwan Berryhill - 3-star LB from Louisiana; 6-2, 200 pounds
√ Steven McBride - 3-star WR from Louisiana; 6-0, 160 pounds
√ Johnquai Lewis - 3-star CB from Florida; 6-0, 185 pounds
√ Tristan Golightly - 3-star WR/TE from Texas; 6-4, 200 pounds
√ Lawrence Arnold - 3-star WR from Texas; 6-3, 185 pounds
√ Malik Johnson - 3-star WR from Texas; 5-9, 180 pounds
√ Nicholas Martinez - 3-star OL from California; 6-5, 285 pounds
√ Duece Mayberry - 3-star CB from Oklahoma; 6-0, 185 pounds
√ Alonso Person - 3-star LB from California; 6-3, 200 pounds
√ Luke Grimm - 3-star WR from Missouri; 6-0, 170 pounds
√ Daniel Hishaw Jr. - 2-star athlete from Oklahoma; 5-10, 200 pounds
√ Armaj Adams-Reed - 2-star OL from Texas; 6-5, 350 pounds
√ Karon Prunty - 2-star CB from Virginia; 6-1, 190 pounds
√ Jalon Daniels - 2-star QB from California; 6-0, 207 pounds