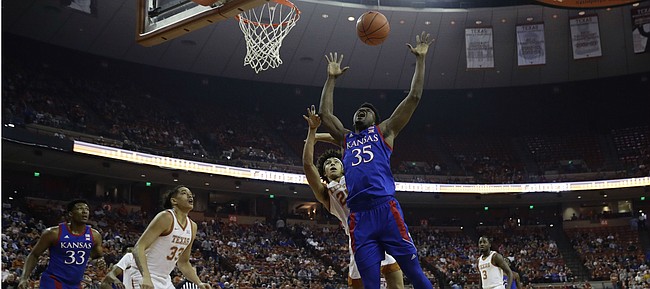 No. 3 Kansas Jayhawks (18-3 overall, 7-1 Big 12) vs. Texas Longhorns (14-7 overall, 4-4 Big 12)
Time: 8 p.m. | Location: Allen Fieldhouse, Lawrence, Kansas
TV: ESPN | Radio: IMG Jayhawk Radio Network
Log on to KUsports.com for our live game blog coverage and follow the KUsports.com staff on Twitter: @KUSports @mctait @bentonasmith @SJacksonLJW & @ByBradenShaw
Keys for Kansas
1. Closing time
On paper, Saturday's 78-75 win over Texas Tech at Allen Fieldhouse looked like a barnburner, the type of game from which the Jayhawks could gain some confidence from closing the deal in a tight game.
After all, KU is 1-2 in games decided by 5 points or fewer this season, with losses to Duke and Villanova coming down to the final few possessions.
But don't tell KU coach Bill Self that Saturday's win over the Red Raiders was a feather in the cap for Kansas and close wins.
"I look at it differently," Self said of the recent win over the Red Raiders. "It wasn't a one-possession game. We made it a one-possession game. … We were fortunate (to win) today, based on our execution in the last minute."
With that in mind, the Jayhawks no doubt will have their minds on finishing much earlier against the Longhorns, if they find themselves with a nice lead heading into the final four minutes of this one.
"We had the game and let it be a closer game than what it was," Self recalled of his team's 66-57 win in Austin a couple of weeks ago. "So I hope like heck we can we can close better."
KU sophomore Devon Dotson, who was magnificent in scoring 21 points against Texas Tech, also scored 21 against the Longhorns. And it was his late 3-pointer and some clutch free throws down the stretch that kept UT from making things even tighter.
For what it's worth, the Longhorns enter this one 4-1 this season in games decided by 4 points or fewer.
2. All about 3-point shooting
By now, everyone knows that this Texas team, with its talented guards playing around an elite big man, are always a threat to go off from 3-point range.
And Shaka Smart's UT teams certainly have done that their share of times against the Jayhawks.
But the numbers show that 3-point shooting not only is a key for the Longhorns, but it's also pretty much their only chance to stay in games.
Nearly half of Texas' points this season (41.7%) have come from 3-point land, as the Longhorns rank as one of the worst teams at getting to the free-throw line and also are merely average as a 2-point shooting team.
Their 37.1% 3-point clip, however, leads this Big 12, and that should be a huge focus, once again, for the Kansas defense when looking to slow down the Longhorns.
It worked to some degree during the first meeting in Austin. The Jayhawks were rock solid in the second half in terms of recognizing who and where the Texas shooters were and they closed out hard, forcing UT to turn down or force 3-point attempts.
Some of KU's success in that department, however, came down to UT just missing shots. Texas made just 6 of 20 from 3-point range in the first meeting between these two, which kept them in the 50s.
If they don't shoot better than that in this one, it's hard to envision the Longhorns scoring enough — especially in Allen Fieldhouse — to earn a different result.
3. Next step for Agbaji
Sophomore guard Ochai Agbaji has been on an uptick in the past couple of weeks, using increased effort and energy to get on the glass and watching that lead to good things for the rest of this game.
But now it's time to take things to the next level so he can position himself for KU's stretch run.
The added activity has led to easier baskets. The easier baskets and extra effort have increased Agbaji's confidence. And that confidence has led to more consistent shooting nights of late for the smooth sophomore from Kansas City, Mo.
But the turnovers are still an issue. Agbaji's passing has been subpar most of the season, and many of his mistakes are born from getting too sped up or thinking too much rather than playing on instinct.
Agbaji turned it over four times against the Red Raiders, adding a layer of head-scratching to what otherwise would have been his best all-around game in weeks.
Kansas becomes a totally different and more dangerous team if Agbaji can become the offensive weapon that many people expected him to be when the season began. And while his past few games have been a step in the right direction, the fact that it's February now means that Agbaji needs to find the next step sooner rather than later.
If motivation is a question, he should have plenty in this game, as his performance at Texas was, statistically, one of his worst this season. He finished with 4 points on 1-of-6 shooting and grabbed just two rebounds and fouled three times in 30 minutes.
Marquee Matchup
KU center Udoka Azubuike vs. Texas forward Jericho Sims
When looking ahead to this matchup with Texas, Self made note of his belief that UT big man Jericho Sims might be the best athlete in the conference.
It's the second time this season that Self has said that, and the numbers (10 points and eight rebounds a game on 66% shooting), the eye test and Sims' all-around ability on both ends of the floor certainly back it up.
But if Texas is fielding the best athlete in the conference, the Jayhawks might be fielding the most motivated in Azubuike.
In Saturday's win over Texas Tech, the KU senior shot just 1 of 5 from the floor. Not only was that uncharacteristic for the 7-footer who leads the nation in field goal percentage, but it also was a brand-new feat.
Saturday marked the first time in Azubuike's KU career that he took three or more shots and did not make at least 50% of them. In fact, Azubuike has failed to shoot 50% or better in a game, regardless of the number of shot attempts, just four times since becoming a Jayhawk — once last season and three times during his freshman year.
Despite Azubuike's off day, Kansas pulled out a 3-point win over the Red Raiders. But there's little doubt that the big fella will enter this game looking to make that outing a distant memory.
And if recent history is any indication of his chances, he should feel pretty good about the matchup. Two weeks ago in Austin, Azubuike played a season-high 35 minutes in KU's 66-57 win, tallying 17 points on 7-of-9 shooting while adding nine rebounds and a block.
Sims, meanwhile, scored 20 points (on 9-of-14 shooting) and grabbed six rebounds with two blocks in 33 minutes.
Whichever player gets the better of this matchup — and is able to stay out of foul trouble — should be a good indicator of which team has the best shot of winning the game.
KU is 24-1 in his career when Azubuike scores 15 points or more.
Jayhawk Pulse
Tonight's game represents the light at the end of the tunnel in a way for this Kansas team. And the Jayhawks sure could use a break.
With Marcus Garrett dealing with a foot injury and Devon Dotson still nursing that hip pointer, KU has reached the point in the season where finding some rest is crucial.
But don't think for a second that the Jayhawks were looking at the Saturday-Monday as an excuse for not being ready and locked in for their next game.
After all, with No. 1 Baylor winning over the weekend, the Jayhawks remain one game back in the Big 12 race as the conference season reaches its midway point.
"We'll be fine," said Agbaji when asked on Saturday about the quick turnaround. "A lot of guys are banged up, but we know we can't just sit out — we can't really leave our team dry like (that), so we have to keep fighting and keep pushing through."
After tonight, KU's next game is not until 11 a.m. Saturday at TCU, so, win or lose, the Jayhawks should be able to take it easy during the next few days before they begin preparations for TCU.
Kansas leads the all-time series with Texas, 34-9, including a 17-1 mark in games played in Lawrence, 15-1 at Allen Fieldhouse.
The Jayhawks have won 12 of the last 13 meetings with Texas and are listed as a 17-point favorite, with a 93% win probability, on KenPom.com.
KU is still the No. 1 team in KenPom's rankings — No. 10 in offensive efficiency and No. 3 in defensive efficiency — and the Longhorns are ranked No. 68 in KenPom's latest rankings, 109th in offensive efficiency and 55th on defense.
Probable Starters
No. 3 Kansas
G – Devon Dotson, 6-2, 185, Soph.
G – Ochai Agbaji, 6-5, 210, Soph.
G – Christian Braun, 6-6, 205, Fr.
G – Marcus Garrett, 6-5, 195, Jr.
C – Udoka Azubuike, 7-0, 265, Sr.
Texas
G – Matt Coleman III, 6-2, 185, Jr.
G – Jase Febres, 6-5, 195, Jr.
G – Courtney Ramey, 6-9, 195, Soph.
F – Kamaka Hepa, 6-9, 225, Soph.
F – Jericho Sims, 6-9, 240, Jr.