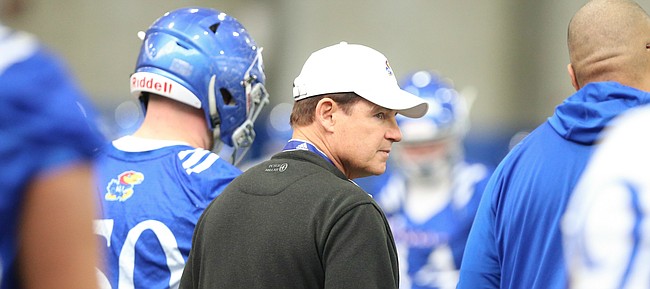 When Jeff Hecklinski left the Kansas football staff to become the offensive coordinator at San Diego State, head coach Les Miles decided to promote the departing assistant's replacement from within.
Miles and KU announced on Super Bowl Sunday afternoon, the promotion of Joshua Eargle to tight ends coach and recruiting coordinator.
"Joshua will bring a wealth of experience to our program," Miles stated in a release. "He has a great understanding of our offense, having been on our staff last year, and his strengths in communicating and teaching will benefit our players, specifically the tight ends. Joshua is also a dynamic recruiter whose organizational skills will be a huge asset to our staff."
Initially hired by Miles a year ago as a senior analyst for offense, Eargle will take on the same responsibilities Hecklinski had during his one year on KU's staff. SDSU announced Hecklinski's hiring on Friday.
Before moving to Lawrence in early 2019 to work at KU, Eargle spent the three seasons prior working at the FCS level for Austin Peay State, holding the following titles at various points: interim head coach, offensive coordinator, run game coordinator and offensive line coach.
In 2009, Eargle worked in a quality control position for Miles at LSU.
Before joining Austin Peay State, Eargle spent three seasons as the head coach at East Texas Baptist, from 2013-15.
Other stops in his career path included a year as the defensive coordinator at Southeastern Oklahoma State, one year as the offensive coordinator at Arkansas-Monticello and two years at Nicholls State as the recruiting coordinator and offensive line coach.
After playing collegiately at Memphis, Eargle got his start in football coaching at Southern Miss, in 2003, as a graduate assistant. He earned a master's degree from USM in sports administration.
Eargle's wife, Kristen, created and hosts a podcast, "Coach's Wife Life." The couple has three children, Kourtney, Landrey and Stallings.
The Eargles formed together a foundation called Ruler of Hope, which raises funds for medical expenses for families with critically or chronically ill children. They were inspired to do so by their daughter, Landrey, described on the foundation's website as "our own little fighter."
In 2018, an organization called Uplifting Athletes gave Joshua Eargle the Rare Disease Champion Award for his work in raising awareness for Landrey's fight against a life-threatening illness.
As reported by the Clarksville Leaf Chronicle in 2018, Landrey was born with a rare genetic mutation.