Despite leading by 22 points at halftime, Kansas women's basketball faltered down the stretch in an overtime 94-82 loss to Oklahoma on Sunday afternoon in Allen Fieldhouse.
The Jayhawks have now dropped eight of their last nine games and sit at 1-7 in Big 12 play. Freshman guard Zakiyah Franklin led the way with 25 points, followed by freshman guard Holly Kersgieter (18 points) and senior forward Mariane De Carvalho (17 points).
It was smooth sailing initially for KU as the Jayhawks jumped out to an early 21-10 lead at the end of the first quarter. That momentum carried over into halftime as well, with Kersgieter, Franklin and De Carvalho each scoring 11 points in the first half. KU sat on top with a commanding 49-27 lead at the break.
Document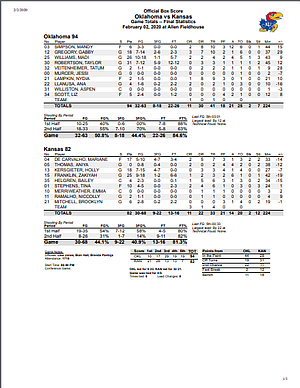 However, KU's offense staggered to the finish as Oklahoma outscored the Jayhawks 48-26 in the second half. Franklin added 14 points, but the next highest scorer in the second half for KU was De Carvalho with 6 points.
And as Oklahoma tied the game at 75 at the end of regulation, the visiting Sooners had enough to finish the game on a 13-2 run and secure the victory in overtime. Oklahoma was led by sophomore guards Taylor Robertson (31 points) and Madi Williams (25 points) in the win.
KU will next travel to play at Baylor on Wednesday. Tipoff is set for 7 p.m.
More like this story on KUsports.com