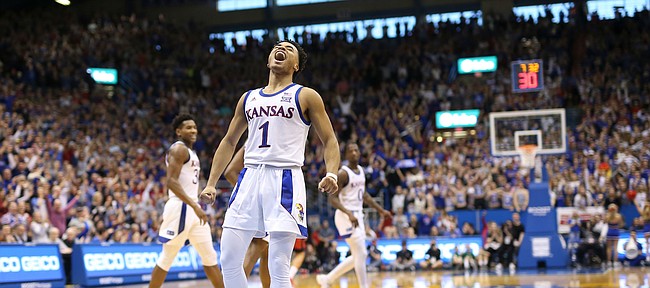 Texas Tech coach Chris Beard thought he was stuck in a time warp while watching KU sophomore Devon Dotson continually thwart every Red Raider run during third-ranked Kansas' 78-75 win on Saturday at Allen Fieldhouse.
"Whenever we had the game kind of where we wanted it, Dotson goes and makes an individual play," Beard said. "It's like flashbacks. Is that Graham out there? Is that Mason? Oh, no. That's Dotson."
The Graham and Mason that Beard referenced, of course, were former KU point guards Devonte' Graham and Frank Mason, who preceded Dotson in the Jayhawks' lineup.
And while Dotson shrugged and smiled upon hearing of Beard's compliment after the victory, KU coach Bill Self said there was one key difference.
"The way he gets them is even harder than the way Devonte' and Frank got them," Self acknowledged after Dotson's 21-point effort in all 40 minutes of Saturday's win. "They would get them by stretching the defense and making you guard them and stuff like this. This guy does it just by getting downhill."
Despite falling into a 19-4 hole early, and trailing by 9 at the half, Texas Tech never stopped charging.
Photo Gallery
Kansas basketball v. Texas Tech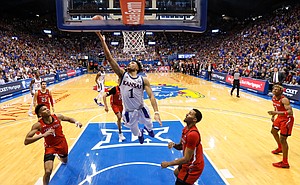 View a gallery of images from Saturday's game between the Jayhawks and Red Raiders at Allen Fieldhouse.
And each time the Red Raiders did, it was Dotson who took the ball out of the basket and got to the other end to put 2 on the board for Kansas or make a play for someone else.
He finished 9 of 16 from the floor and added six rebounds, three assists and just one turnover to his final line.
And although the way he played on Saturday was typical of his relentless, attacking, 100-miles-an-hour style, it was the timeliness of Dotson's baskets that helped Kansas keep Texas Tech out of the winner's circle.
"You don't want to let a team build a lot of confidence in this arena," Dotson said after the win. "That's how teams can beat us. So if I see them making a run, if I see an opening, I'm going to make a quick burst or something to just be aggressive and get the ball in the hole."
Added Beard: "It's frustrating, you know. You know it's coming. Dotson's a dynamic player. He's got poise and a composure about him, and they really feed off him. When they needed it most, he made big baskets."
The way this one began, it looked as if Dotson might get some of the afternoon off.
The Jayhawks (18-3 overall, 7-1 Big 12) made most of what they shot in the early going, with Ochai Agbaji hitting his first three shots for 8 quick points, and Udoka Azubuike drained three of his first four free throw tries to push the Jayhawks out to a 13-2 lead.
That lead quickly ballooned to 19-4, but that's when Beard's team caught their breath.
A 20-7 Red Raiders run pulled Tech within 2, at 26-24. But Kansas responded with an 18-11 run to close the half, with Dotson scoring or assisting on half of those 18 points.
The final 10 minutes of the first half came with Azubuike (5 points, eight rebounds) on the bench with two fouls, forcing Kansas to utilize David McCormack, who was back from a two-game suspension, and a smattering of five-guard lineups.
Kansas survived Azubuike's stint on the bench to lead 44-35 at the break.
Texas Tech (13-8, 4-4) used a 7-0 run midway through the second half to cut KU's lead to 2, but all that did was reawaken the Jayhawks and their home crowd.
Dotson immediately pushed the lead back to 4, mere seconds after the Red Raiders cut it to 2. And Agbaji's block of what looked to be a sure-thing layup for T.J. Holyfield (19 points) was the start of a frantic sequence that ended with McCormack flushing a lob in traffic.
The 4-point swing put KU up 8 and forced Beard to call timeout with 7:32 to play.
"The lob got me very excited," Dotson said after the win. "It was a big moment. Dave caught it over two people and it brought the crowd (into it) and a timeout. Ochai made a huge play. Tremendous play by Ochai."
After the game, Beard said his coaches went into the game counting blocked shots as turnovers.
So while the Red Raiders were pleased to keep their turnover total to single digits — nine compared to 10 by KU — the nine Kansas blocks left the Tech coaching staff feeling less pleased about their ball security.
"If you get your shot blocked against Kansas, if it's live ball, they're going to transition on you," Beard said.
A couple of possessions after the highlight block and lob that sent Allen Fieldhouse into a frenzy, freshman Christian Braun, who made his second consecutive start, buried a deep 3-pointer with the shot clock winding down to push KU's lead to 11 with 6:49 to play.
But even that was not enough to push Tech to fold. The Red Raiders finished the game on a 20-12 run and had possession with 14 seconds to play, down by just 3.
But two attempts by freshman Jahmi'us Ramsey (26 points) to get a quick 2 at the rim came up empty and KU survived.
One of the shots was blocked by Marcus Garrett (15 points on 6-of-11 shooting). And the KU lead was courtesy of two clutch free throws from Agbaji, who finished with 11 points on 4-of-8 shooting in 38 minutes. Isaiah Moss also scored in double figures for KU, knocking in 12 points on 5-of-8 shooting.
The mere fact that Tech was in the game at all was a credit to their resilience, but also the result of some poor late-game execution by the Jayhawks.
Self and his players said after the victory that they needed to perform better late in tight games or perhaps lock in enough to avoid allowing the game to become tight in the first place.
"They didn't get off a 3, so that's positive," Self said of the final 14 seconds. "I don't think (our late-game defense) was great by any stretch, but the good thing was at least we didn't let them shoot a 3."
Asked if he considered fouling in the final seconds instead of giving Tech the option of hoisting a game-tying 3-pointer, Self said he did not want to ask his players to defend for nine seconds and then foul in the final five.
"I don't think we're mature enough to do that," he said. "And that's not what we practice."
The Jayhawks return to action Monday night, when Texas comes to town for the first of two ESPN Big Monday games in Allen Fieldhouse this month.