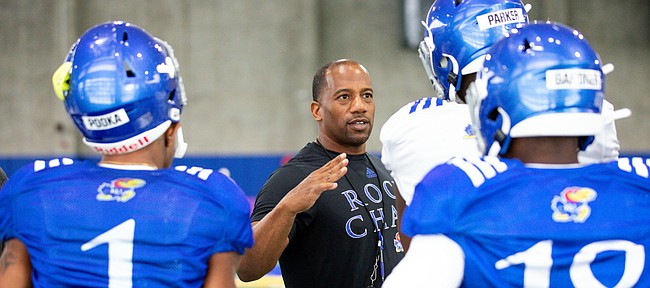 Kansas football receivers coach and passing game coordinator Emmett Jones used the same two words to describe his anticipation for the arrival of two of his newest pupils: "can't wait."
Jones had plenty more to say, too, about Class of 2021 early signees Majik Rector and Kelan Robinson during a recruiting special that streamed on ESPN+.
Both high school seniors were rated as three-star prospects by Rivals, both are from Texas and, of course, both were recruited by Jones.
Rector, listed at 5-foot-9 and 152 pounds, scored 11 touchdowns in his recently completed senior season at Lancaster High, in Dallas. Jones said Rector displayed a "cerebral" approach to the game, while playing as both an outside and inside receiver.
"One thing that impressed me is his IQ for the position," Jones said. "He understands coverages, he understands manipulation, he understands what it takes for him to have a good body language when it comes to winning on certain routes. So I'm fired up about him."
According to Jones, Rector is dynamic as a playmaker after the catch. Of course, his running ability has much to do with that.
"The speed that we're seeing from Majik right now," Jones said, "once he gets here it's going to enhance like times five, because our (strength and conditioning) program is unlike any high school program in the country. So I'm expecting to see him (beat defensive backs) all the time once he gets here and we get to play against other Big 12 opponents. He's going to help us out tremendously."
Next season Rector projects as an inside receiver for KU, Jones said. But the assistant also noted he likes to move his receivers around to create certain matchups against opposing defenses. So Jones doesn't necessarily recruit a player as strictly an inside or outside target.
"You want to bring in guys that can play both spots," Jones said. "That's good that we've seen him play a little bit of outside also, because that's going to make him more versatile here once he gets in our program."
Jones also liked that Rector's high school team had a jet sweep package for him, and Jones thinks KU could at times use Rector similarly, as a rushing threat.
A larger receiver than Rector, Robinson is listed at 6-2 and 183 pounds, coming off his senior year at South Grand Prairie High.
Jones thinks Robinson's size will help the Jayhawks on the outside, and said he'll ask Robinson to do a lot push cracking — releasing vertically off the line of scrimmage, then sizing up the nearest safety to read whether to continue down the field or break toward the safety to execute a block — within KU's perimeter run game.
"That's going to open up a lot of shots down field for him, also," Jones pointed out.
"You hope for a guy his size, he can draw that presence where he can get bracketed or he can get clouded by a squat corner or a high safety," Jones added. "We want someone to demand that type of attention — if that happens then that's pretty much going to open someone else up either in the run game or to the field with our Y and our Z receiver."
From what Jones has seen out of Robinson, the coach also envisions the young wideout making plays in the open field after he hauls in a reception.
"Kelan has the speed to get behind any secondary. And he can go up and get it with his hands also," Jones said. "Definitely a big target coming out of the boundary for us. Sky's the limit for him. Upside is very high."
Rector, Robinson and fellow 2021 early signee Tanaka Scott (6-4, 192, from Mobile, Ala.) will join a KU receiving corps that includes a handful of returning players from the 2020 roster with varying degrees of in-game experience, such as Takulve "TK" Williams, Luke Grimm, Tristan Golightly, Steven McBride and Lawrence Arnold. It's possible senior receiver Kwamie Lassiter II could return for a bonus season, too, with the NCAA's blanket waiver for an extra year of eligibility.
Three other KU senior receivers from this past season — Andrew Parchment, Stephon Robinson Jr. and Ezra Naylor II — entered their names into the NCAA's transfer portal.