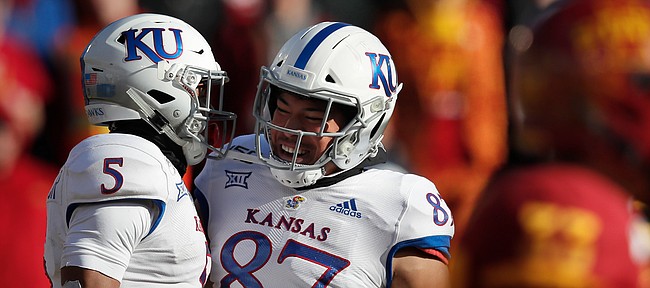 Yet another Kansas football senior, tight end Jack Luavasa, is hoping to extend his college career with a different program.
Luavasa, per Tuesday reports from Rivals and 247 Sports, has entered his name into the NCAA's transfer portal as a grad transfer.
After a six-catch season in 2019, when he played in every game and started six, Luavasa only appeared in three games in 2020 and didn't record any statistics.
Luavasa followed the exit path from KU taken by 10 other seniors over the past several months. Among the 14 KU players who entered their names into the transfer portal since the football program resumed activities this summer, 11 were seniors in 2020, such as Luavasa, and another was a walk-on.
In normal circumstances, none of the seniors who played this year would've been eligible to return to KU and suit up again in 2021. The NCAA's blanket waiver that provides an extra year of eligibility for all fall sports athletes changed that, though, making it possible for a football senior to play a bonus season if he so desires — and the coaches want him back.
So far only defensive tackle Sam Burt and outside linebacker Kyron Johnson have made known their intentions to return to KU for an extra senior year.
KU players from 2020 roster in transfer portal
• Andrew Parchment, senior WR
• Stephon Robinson Jr., senior WR
• Kyle Mayberry, senior CB
• Davon Ferguson, junior S
• Denzel Feaster, senior LB
• Api Mane, senior OL
• Kyle Thompson, senior P
• Ezra Naylor II, senior WR
• Jack Luavasa, senior TE
• James Sosinski, senior TE
• Antione Frazier, senior OL
• Julian Chandler, senior DB
• Clinton Anokwuru, freshman DL
• Hunter Kaufman, walk-on junior WR