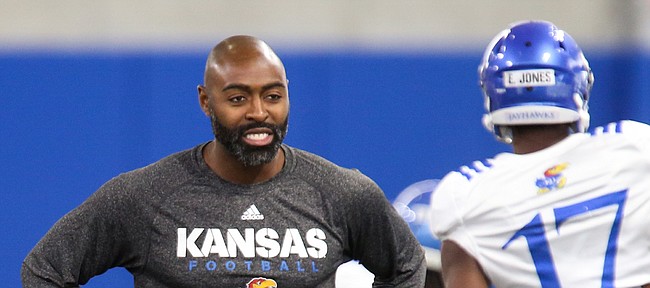 Two of the assistants Les Miles hired shortly after becoming the head coach of the Kansas football program are officially coming back for a third year on Miles' staff.
KU announced Monday that defensive backs coach Chevis Jackson and defensive line coach and defensive run game coordinator Kwahn Drake had their options picked up.
Both Jackson and Drake signed deals in 2018 that were guaranteed through their first two years with the program, and KU needed to exercise its option for them to come back for a third season.
"Kwahn and Chevis have both been valuable members of our staff since they have arrived," Miles stated in a KU release, "and we're very happy they will be continuing with us. They both have shown a strong ability to teach and develop young players in their time here, and that is vital to our success as a program going forward."
Jackson, who played for Miles at LSU from 2004-07, signed a three-year deal with KU in 2018, which stated he would make $175,000 in his third year if KU picked up its option.
Jackson was set to make $165,000 in 2020, but as pointed out in USA Today's annual report of FBS assistant salaries, he took a $6,188 reduction in his pay due to KU budget issues caused by the pandemic.
Drake, formerly an assistant at Colorado, signed a four-year deal with KU in 2018, with only the front half guaranteed — KU also holds an option for 2022 on Drake's deal. The contract the D-line coach signed when Miles hired him stated his annual salary would increase by $30,000, to $380,000, if KU picked up its option for 2021.
Per USA Today, Drake didn't take a pandemic related reduction in his salary this year.
Among the 504 FBS assistants' contracts obtained by USA Today, Drake's salary ranked 324th, while Jackson's ranked 499th.
Drake and Jackson, along with defensive coordinator D.J. Eliot and receivers coach and passing game coordinator Emmett Jones, are the only assistants still in place from Miles' original staff.
Eliot signed a three-year deal with KU in 2018. After one year with the program, Jones signed a contract extension with KU in 2019 that is guaranteed through the end of the 2021 season. Jones' deal could run through the 2025 season if KU exercises all four of the option years on the back end of his contract.
Seven games into his second season on Miles' staff, offensive line coach Luke Meadows was fired in November, late in the final guaranteed year on his four-year contract that came with KU options for 2021 and 2022.
The only two holdovers from David Beaty's final KU coaching staff, safeties coach Clint Bowen and running backs coach Tony Hull both left following Miles' first season.
In that same offseason, two other assistants hired by Miles ahead of the 2019 season also left for new jobs: tight ends coach and recruiting coordinator Jeff Hecklinski, and inside linebackers coach and special teams coordinator Mike Ekeler.
The first offensive coordinator Miles hired, Chip Lindsey, left in January of 2019 to become the head coach at Troy, exiting even before spring practices got started. The second offensive coordinator brought in, Les Koenning, got fired six games into Miles' first season, when the head coach promoted Brent Dearmon to offensive coordinator and quarterbacks coach.
Currently, only one vacancy exists on Miles' coaching staff, heading into the new calendar year. Miles could potentially hire a new offensive line coach from outside of the program, after John Morookian (a senior analyst) handled the job on an interim basis after Meadows was fired.