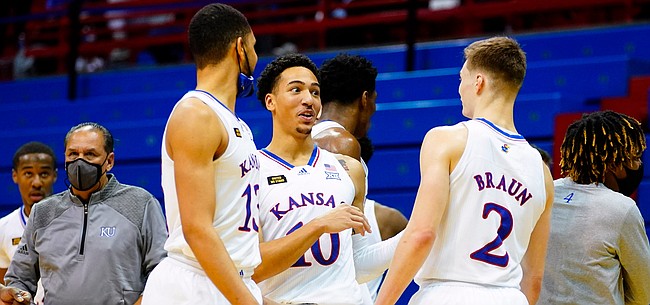 After four days off for the holidays, the Kansas men's basketball team returned to Lawrence on Sunday — KU coach Bill Self's 58th birthday — to begin preparations for their next game on Saturday against No. 8 Texas (7-1 overall, 1-0 Big 12) at Allen Fieldhouse.
But just because the third-ranked Jayhawks are back in Lawrence again does not mean it'll be all basketball all the time.
In fact, Self said he felt it was critical for the Jayhawks (8-1, 2-0) to find a way to get a little enjoyment from something other than basketball during the week leading up their next game.
"We need to practice," Self said before the break. "I think we need to get better and put in some stuff. But I also think we need to find a way to occupy our guys' time with some type of social activity or some type of fun. We haven't had much. About the only fun things we've done this year is play ball."
While the players will tell you that playing basketball is the reason they're here and what they love to do, Self noted that the added toll of playing amid the COVID-19 pandemic makes finding a way to relax and release some of the tension crucial for his players.
Being home with their families for Christmas was a good first step. But Self believes they can and should do more.
He even floated a few specific ideas for what that could look like.
"We need to (go to) Top Golf," he suggested. "We need to be doing something that's fun, that's safe, that we can socially distance, or watch movies together. We've got to do something to create some type of social activity because coming back on the 27th and having no students here until February 1, that's a long time. So we've got to come up with something the guys can do more than just play ball."
Adding to Self's desire to reward his team with a little non-basketball fun was the fact that the 2020-21 Jayhawks recorded a team grade-point average of 3.4 during the fall.
"We've had a good first semester," Self said.