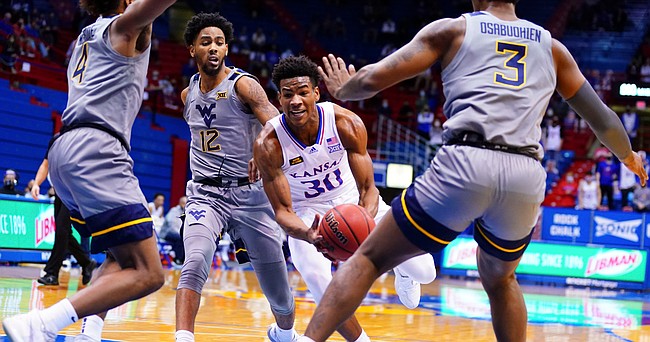 The COVID-19 pandemic has made what's normally a no-brainer for college basketball coaches and players alike something to think twice about in 2020.
But both Kansas coach Bill Self and West Virginia coach Bob Huggins said recently that they planned to allow their players to head home for the holidays following Tuesday's 79-65 KU victory.
Normally, the Jayhawks play their final game before Christmas on the road and the players go their separate ways from there. But the pandemic-altered schedule kept KU home this year. Most of the players will head home this week, but nearly all of them are within driving distance of their hometowns.
The Jayhawks will be off for a few days around Christmas and will return to Lawrence on Sunday to begin preparations for the Jan. 2 clash with No. 10 Texas at Allen Fieldhouse.
"Keeping your players away from family with no break at all during a time where they are almost totally isolated anyway, I'm not sure that would be best for us in February from a morale standpoint," Self said on his Hawk Talk radio show earlier this month.
Huggins agreed.
"I think they should be with their families," the WVU coach said. "I think it's a shame if they can't be with their families. I mean, it's the time of the year, from when you're a little kid until now that they're with their families every Christmas. And they ought to be."
Photo Gallery
Kansas basketball v. West Virginia
View a gallery of images from Tuesday night's game between the Jayhawks and Mountaineers at Allen Fieldhouse.
Self said the coaching staff and KU's team doctors have emphasized to the players the importance of continued social distancing and safety measures while on break. They also have tried to educate the players' families on how to limit exposure so KU can continue to play as scheduled without having to pause temporarily because of the pandemic.
Coaching respect
It's no secret that Self and Huggins get along as well as any two coaches in the Big 12 Conference. But the relationship between the two goes way beyond getting a kick out of each other's one-liners or enjoying the opportunity to catch up at conference events and coaching clinics throughout the past couple of decades.
"I like and respect him a ton and he's done a really nice job," Self said of Huggins prior to Tuesday's tipoff.
Self's respect for Huggins, who entered Tuesday ranked sixth all-time in Division I history with 888 career victories in 36 seasons during his days at Akron, Cincinnati, Kansas State and West Virginia.
Self entered Tuesday with 715 career Division I victories during stops at Oral Roberts, Tulsa, Illinois and Kansas over 28 seasons. Last season, Self became the second fastest Division I coach to reach 700 victories, trailing only Bobby Knight.
"They don't usually get the McDonald's All-Americans," Self pointed out. "And he's still sixth all-time. That tells you the dude can coach."
'Impact' player
Prior to Tuesday's game against West Virginia, the Jayhawks showcased the recent signing of Jonathan Bemberger, a 16-year-old lifelong Kansas fan from Lenexa who joined the roster through the Team IMPACT initiative that helps make dreams come true for young people facing chronic illnesses.
Bemberger, whose middle name is Phog, had been diagnosed with Ewing's sarcoma, a form of pediatric cancer. In November, during a Zoom video conference with the Jayhawks, his father, Tom, informed the team that Bemberger was cancer free and on the road to recovery.
According to the Team IMPACT website, Kansas basketball is one of five KU programs to participate in the program, joining women's soccer and volleyball as well as baseball and football.
For Bemberger's signing, Kansas Athletics produced a video on KU's social media platforms that showed him signing his letter of intent, with a video message from KU coach Bill Self.
"You fit what we're trying to do," Self said in the video. "And that is to win the right way, the classy way and the tough way. … JP, just so you know, I'm far more excited about you signing than any of these dudes, for sure."
Another tough trip
Travel plans have been slightly different — or even postponed or altered altogether — for college basketball teams across the country this season. But for the only Big 12 team in the Eastern time zone, not much has changed.
West Virginia's trip west for Tuesday's game at Allen Fieldhouse was actually one of the Mountaineers' shortest trips of the rest of the season, with stops in Texas and Oklahoma registering as far greater journeys than the trek from Morgantown, W.Va., to Lawrence.
This is nothing new, of course. The Mountaineers have faced this reality ever since joining the Big 12 back in 2012. But Huggins said the long trips are still taxing.
"A normal trip for us, the other nine teams in our league would dread," Huggins said Monday morning. "Because it's so far and it takes too long."
With Tuesday's late tip time — one of eight 9 p.m. starts, WVU time, for the Mountaineers this season — Huggins estimated that his team would get back home at 4 a.m. Wednesday morning.
"I'm not going to say we're used to it, because it's hard to get used to," he said. "But it's rough."
Pierce on the ballot
Former KU great Paul Pierce is eligible for the first time for the Naismith Memorial Basketball Hall of Fame's 2021 class, the Hall announced on Tuesday.
Pierce, who enjoyed a 19-year NBA career after leaving Kansas, averaged double-figure scoring in each of his three seasons at KU from 1995-98, leading the Jayhawks to 98 wins, three conference titles and a pair of league tournament championships.
During his pro career, Pierce scored 26,397 points, was a 10-time All-Star and won a world title in 2008 while being named MVP of the NBA Finals.
The 2021 class will be announced in April and enshrined next September.
This and that...
Tuesday's victory moved KU to 8-1 for the second consecutive season and made the Jayhawks 8-1 or better for the third season in a row and the 11th time in Self's 18 seasons at KU... The win also moved Kansas to 7-0 in the month of December, giving the program its eighth undefeated December in the Self era... KU has now won 17 consecutive Big 12 regular season contests dating back to the final 15 conference games of the 2019-20 season... The Jayhawks now lead the all-time series with West Virginia, 15-5, with all 20 games coming in the Self era... KU is now 5-0 at Allen Fieldhouse this season and the Jayhawks have won 13 consecutive games in their home venue.