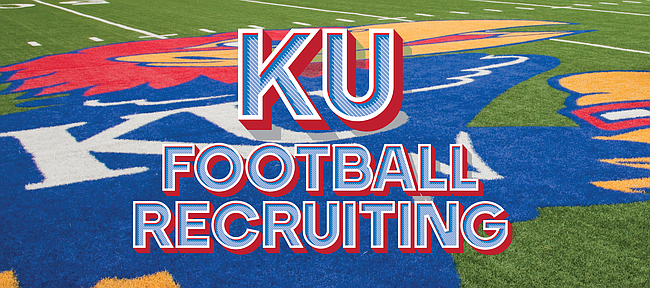 Kansas football coach Les Miles and his staff weren't done signing players on Wednesday, the first day of three in December's early signing period.
The Jayhawks announced another addition to their 2021 class on Thursday, when Tanaka Scott Jr. became the 19th high school senior to officially join the program.
Listed at 6-foot-4 and 192 pounds, Scott is rated as a three-star prospect by Rivals. He was recruited out of Mobile, Alabama, by KU offensive coordinator Brent Dearmon and receivers coach Emmett Jones.
Previously Scott picked up scholarship offers from 19 other programs, including Houston, Coastal Carolina, Southern Miss and South Florida. But KU was the only Power Five program to extend an offer.
Scott became the third receiver in the class to sign, joining Majik Rector and Kelan Robinson, who are both from Texas.
"I'm a great athlete and leader," Scott said in a video posted to KU football social media accounts, "and I look forward to making Kansas a better place."
It's possible others could join the 2021 class as signees by the end of Friday, when the early signing period concludes.
As of Thursday, the two players in KU's class who previously committed but have yet to sign are both three-star prospects: defensive back Kameron Grays and defensive end Garfield Lawrence.
KU football Class of 2021 December signees
(Rivals rankings)
√ Ben Easters — 3-star Indiana prep QB; 6-3, 195
√ Omar "O.J." Burroughs — 3-star Florida prep S; 5-10, 167
√ Cam'Ron Dabney — 3-star Georgia prep CB; 5-10, 175
√ Corey Robinson II — 3-star Georgia prep OL; 6-5, 270
√ Majik Rector — 3-star Texas prep WR; 5-9, 152
√ DeVonte Wilson — 3-star Florida prep CB; 6-3, 192
√ Kelan Robinson — 3-star Texas prep WR; 6-2, 183
√ Tommy Dunn Jr. — 3-star Texas prep DL; 6-3, 277
√ Deldrick "D.J." Withers — 2-star Arkansas prep DL; 6-4, 245
√ James Wright — 3-star South Carolina prep S; 6-1, 195
√ D'Marion Alexander — 3-star Texas prep LB; 6-5, 215
√ Trey Staley — 3-star Georgia prep LB; 6-2, 200
√ Mason Brotherton — 3-star Arkansas prep TE; 6-4, 242
√ Devin Neal — 3-star Lawrence prep RB; 5-11, 208
√ Jayson Gilliom — 2-star Georgia prep S; 6-2, 190
√ Andrew Simpson — 3-star California prep LB; 6-1, 220
√ De'Kedrick Sterns — 3-star Texas prep OT; 6-4, 272
√ Larson Workman — 2-star Texas prep OT; 6-5, 270
√ Tanaka Scott Jr. — 3-star Alabama prep WR; 6-4, 192
Unsigned KU football Class of 2021 recruits
• Kameron Grays — 3-star Alabama prep DB
• Garfield Lawrence — 3-star Texas prep DE