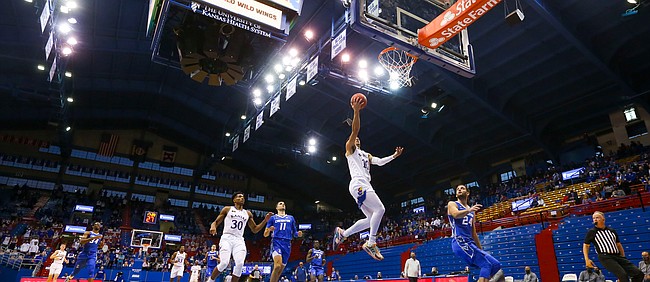 Kansas Athletics announced Thursday that the Pandemic Medical Advisory Team would continue to allow a limited number of fans inside Allen Fieldhouse through at least Jan. 2.
KU's men are scheduled to play host to West Virginia on Tuesday and welcome Texas to town on Jan. 2 for its first game of 2021. Both games will be played in front of a maximum of 2,500 fans, the same number that was allowed at the venue for KU's home victories over Creighton and Omaha last week.
The KU women's team, which had two games called off this week because of COVID-19, are currently scheduled to host three games during that time frame — Dec. 21 vs. North Dakota State, Dec. 29 vs. New Mexico State and Jan. 2 vs. West Virginia.
The KU-Texas men's game is set for 11 a.m. on Jan. 2. Tip time has not yet been announced for the KU-WVU women's game that day.
KU Athletic Director Jeff Long said Thursday, during a Zoom call with reporters, that decisions about attendance at Allen Fieldhouse for both men's and women's basketball games would continue to be made on a weekly basis in January.
"Meetings are already scheduled," Long said Thursday, noting that the upcoming holidays would not affect KU's ability to evaluate its plans.
Long said the advisory team makes its decisions based on the numbers of positive tests in Douglas County, the number of hospital beds taken in Lawrence and Kansas City and the number of respirators being used.
"They monitor it closely," Long noted. "(And) they make decisions based on trends and what they see happening with the virus."
Long also said Kansas Athletics employees are closely monitoring the behavior of the fans who attend KU's home games, as well. So far, he has liked what he's seen.
"Our fans have been outstanding wearing their masks," Long said. "That's a key to this. We always want to do better, (but) our students have been very good wearing masks in the games. Not only do I think our procedures are going well, more importantly, the Pandemic Medical Advisory Team's observation of our protocols, our procedures, our monitoring, our making sure we remind fans to keep their mask on, put their mask back on if they take them off, are going very well. If they don't, it's one of the things (PMAT) will take into account when they allow us to have fans."