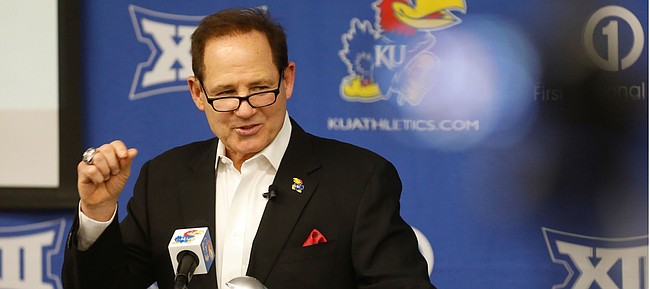 Les Miles opened his video press conference Wednesday afternoon in a jolly mood, inspired by the 18 high school seniors the Kansas football head coach and his staff signed.
"Merry Christmas," Miles began. "Sure is a great day to receive some gifts and some partners in a team. I think we'll enjoy Christmas pretty routinely with classes like this."
Of course, the Jayhawks didn't have to go far to find one of their most touted additions. Miles identified Lawrence High running back Devin Neal as "probably the number one prospect that we signed" in a class that he envisions helping the program finally turn a corner.
"Here's what we did. We went out to get guys that were winners," Miles said. "Guys that have played and competed and understood what it was like to win. To help us change the culture here."
Among the prep prospects who signed, six are expected to graduate high school early and join the program in January: quarterback Ben Easters, safeties Omar "O.J." Burroughs and Jayson Gilliom, offensive tackles De'Kedrick Sterns and Larson Workman, and cornerback DeVonte Wilson.
"We met our needs in this list of guys," Miles said.
While the Jayhawks, fresh off a winless 2020 campaign, obviously have numerous deficiencies to attend to between now and the start of next season, Miles thinks he and his assistants were able to address "a number of those."
Namely, there were positions on the roster that lacked depth. The first that came to mind for Miles was safety.
Early signees Burroughs and James Wright, both three-star prospects according to Rivals, and two-star defensive back Gilliom are expected to fortify KU's numbers in the secondary.
"All three of them are talented men who can run and hit," Miles said of the safeties.
The Jayhawks also needed some help up front on defense, leading to the signing of three-star Texas defensive lineman Tommy Dunn Jr. and two-star Arkansas D-lineman Deldrick "D.J." Withers.
Additionally, Miles noted he thought it was important that KU improved its overall depth on defense by signing three-star cornerbacks Wilson (from Florida) and Cam'Ron Dabney (Georgia), as well as a trio of three-star linebackers — Andrew Simpson (California), D'Marion Alexander (Texas) and Trey Staley (Georgia).
"Those guys are going to fit us in special teams, they're going to fit us in really a number of ways," the coach said.
Overall, KU announced the signing of 18 of the 21 high school seniors who had committed to the program. The Jayhawks can add a maximum of 25 players each year, per NCAA rules, so they still have time to sign as many as seven more prospects by the time the recruiting cycle concludes in February.
As of Wednesday, Rivals ranked KU's 2021 class 46th in the FBS and sixth in the Big 12. However, those numbers are subject to change in the weeks and months ahead as more players sign around the conference and the country. For now, KU has 21 players in its class (unsigned commitments are counted), helping its Rivals ranking. That number was tops in the Big 12, where six teams currently have 17 or fewer commitments in place.
At 247 Sports, KU's 2021 class ranked eighth in the Big 12 and 55th nationally on Wednesday evening.
"We feel very comfortable that the young men that we selected were pretty special," Miles said, "and we will give them an opportunity of playing at a very high level."
It's possible others could join the 2021 class as signees by the end of Friday, when the December early signing period concludes.
The three players in KU's class who have yet to sign are all three-star prospects: defensive back Kameron Grays, receiver Tanaka Scott Jr. and defensive end Garfield Lawrence.
KU football Class of 2021 December signees
(Rivals rankings)
√ Ben Easters — 3-star Indiana prep QB; 6-3, 195
√ Omar "O.J." Burroughs — 3-star Florida prep S; 5-10, 167
√ Cam'Ron Dabney — 3-star Georgia prep CB; 5-10, 175
√ Corey Robinson II — 3-star Georgia prep OL; 6-5, 270
√ Majik Rector — 3-star Texas prep WR; 5-9, 152
√ DeVonte Wilson — 3-star Florida prep CB; 6-3, 192
√ Kelan Robinson — 3-star Texas prep WR; 6-2, 183
√ Tommy Dunn Jr. — 3-star Texas prep DL; 6-3, 277
√ Deldrick "D.J." Withers — 2-star Arkansas prep DL; 6-4, 245
√ James Wright — 3-star South Carolina prep S; 6-1, 195
√ D'Marion Alexander — 3-star Texas prep LB; 6-5, 215
√ Trey Staley — 3-star Georgia prep LB; 6-2, 200
√ Mason Brotherton — 3-star Arkansas prep TE; 6-4, 242
√ Devin Neal — 3-star Lawrence prep RB; 5-11, 208
√ Jayson Gilliom — 2-star Georgia prep S; 6-2, 190
√ Andrew Simpson — 3-star California prep LB; 6-1, 220
√ De'Kedrick Sterns — 3-star Texas prep OT; 6-4, 272
√ Larson Workman — 2-star Texas prep OT; 6-5, 270
Unsigned KU football Class of 2021 recruits
• Kameron Grays — 3-star Alabama prep DB
• Tanaka Scott Jr. — 3-star Alabama prep WR
• Garfield Lawrence — 3-star Texas prep DE