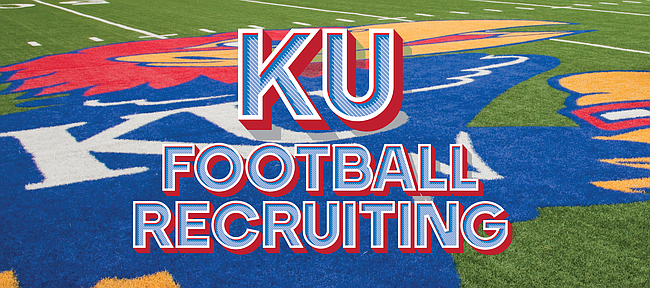 As Kansas football coach Les Miles and his staff continue with their ongoing rebuilding project, they began adding more pieces for the future bright and early Wednesday morning.
Once Class of 2021 recruits were able to submit their letters of intent on the first day of December's early signing period, committed prospects officially became Jayhawks.
The first signee announced by KU at a little after 6 a.m. was quarterback Ben Easters, a three-star prospect from Brownsburg, Ind., who first joined KU's class by giving Miles and the staff his verbal pledge back in August of 2019.
"Can't wait to get over to KU," Easters said in a video KU football posted to Twitter, "to join an incredible team, an incredible staff and be part of something special."
Easters recently told Jon Kirby of Jayhawk Slant he plans to graduate early from high school and enroll at KU during this upcoming spring semester.
KU announced during its afternoon signing special on ESPN+ that 18 of the 21 players in its 2021 recruiting class would sign during the early period.
KU football Class of 2021 December signees
(Rivals rankings)
√ Ben Easters — 3-star Indiana prep QB; 6-3, 195
√ Omar "O.J." Burroughs — 3-star Florida prep S; 5-10, 167
√ Cam'Ron Dabney — 3-star Georgia prep CB; 5-10, 175
√ Corey Robinson II — 3-star Georgia prep OL; 6-5, 270
√ Majik Rector — 3-star Texas prep WR; 5-9, 152
√ Devonte Wilson — 3-star Florida prep CB; 6-3, 192
√ Kelan Robinson — 3-star Texas prep WR; 6-2, 183
√ Tommy Dunn Jr. — 3-star Texas prep DL; 6-3, 277
√ Deldrick "D.J." Withers — 2-star Arkansas prep DL; 6-4, 245
√ James Wright — 3-star South Carolina prep S; 6-1, 195
√ D'Marion Alexander — 3-star Texas prep LB; 6-5, 215
√ Trey Staley — 3-star Georgia prep LB; 6-2, 200
√ Mason Brotherton — 3-star Arkansas prep TE; 6-4, 242
√ Devin Neal — 3-star Lawrence prep RB; 5-11, 208
√ Jayson Gilliom — 2-star Georgia prep S; 6-2, 190
√ Andrew Simpson — 3-star California prep LB; 6-1, 220
√ De'Kedrick Sterns — 3-star Texas prep OT; 6-4, 272
√ Larson Workman — 2-star Texas prep OT; 6-5, 270
Unsigned KU football Class of 2021 recruits
• Kameron Grays — 3-star Alabama prep DB
• Tanaka Scott Jr. — 3-star Alabama prep WR
• Garfield Lawrence — 3-star Texas prep DE