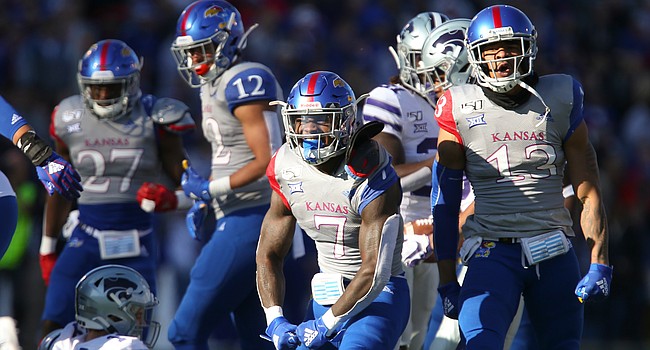 Just as Kansas football coach Les Miles indicated a month ago, safety Davon Ferguson won't be back with the program in 2021.
The redshirt junior from Baltimore announced Friday night on his Twitter account he will be entering the NCAA's transfer portal.
A starter in the secondary for the KU defense in each of the first four games this year, Ferguson first appeared on the team's did not dress list for undisclosed reasons for the Jayhawks' Oct. 24 road game at Kansas State. After a few more weeks of Ferguson missing games, when Miles was asked about the defensive back's absence on Nov. 16 the head coach revealed Ferguson wouldn't be coming back to the lineup in 2020.
"I don't see his return, just to be very frank about it," Miles added at the time regarding Ferguson possibly rejoining the Jayhawks in 2021.
Ferguson thanked Miles, safeties coach Jordan Peterson and defensive coordinator D.J. Eliot in a note he posted to Twitter. He also expressed his gratitude to former KU head coach David Beaty, former defensive coordinator Clint Bowen and the former Beaty assistant who first recruited him to Kansas in late 2017, then defensive line coach Jesse Williams.
Even though Ferguson missed the final five games for the Jayhawks (0-9 overall, 0-8 Big 12) in 2020, he finished sixth on the team with 27 total tackles. In what proved to be his final game in a KU uniform, Ferguson led the Jayhawks with nine total tackles in a loss at West Virginia.
Ferguson first played for KU in 2018, but redshirted that year as a junior college transfer from Hartnell College. He took on a more prominent role in 2019, after Miles and his staff came in. Ferguson started five games and played in all 12 in 2019 as a redshirt sophomore, and made 57 total tackles, with three tackles for loss.
Since preseason football began for KU in August, nine players who were on the roster have decided to leave the program and enter the transfer portal. Six of them were seniors and one was a walk-on.
Ferguson was one of five starters to leave the team during the season, along with running back Pooka Williams, linebacker Dru Prox, offensive guard Jacobi Lott and center Api Mane.
KU players from 2020 roster in transfer portal
• Andrew Parchment, senior WR
• Kyle Mayberry, senior CB
• Davon Ferguson, junior S
• Api Mane, senior OL
• Kyle Thompson, senior P
• Antione Frazier, senior OL
• Julian Chandler, senior DB
• Clinton Anokwuru, freshman DL
• Hunter Kaufman, walk-on junior WR