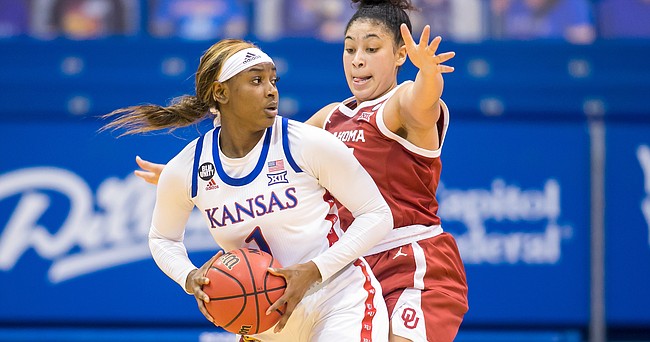 Winning in the Big 12 Conference has been a struggle for the Kansas women's basketball team over the past decade.
But Brandon Schneider's Jayhawks are 1-for-1 so far this season after Thursday night's 74-64 victory over Oklahoma in the Big 12 opener for both teams at Allen Fieldhouse.
Behind double-digit scoring from Tina Stephens (18), Holly Kersgieter (17) and Aniya Thomas (14), the Jayhawks erupted for 48 points in the second half, including a 25-18 advantage in the final quarter.
"Big 12 wins are really, really hard to come by," Schneider said after the victory. "Regardless of who you're playing or where you're playing, there's going to be some tremendous battles."
OU was shorthanded for this most recent battle, coming to Lawrence with just six players because of COVID-19 contact tracing efforts within the program. Schneider said the Jayhawks did not know which players the Sooners would have available until they saw them warming up before Thursday's game.
"Every team in the country is going to face adversity with the pandemic," Schneider said. "There's a good chance it's going to play a role at some point in the season. Today it was Oklahoma, and next week it could be anybody else."
Both teams led for roughly 16 minutes in the back-and-forth battle. But after Oklahoma's Gabby Gregory hit a 3-pointer to cut the Kansas lead to one (63-62) with 3:14 to play, the Jayhawks responded with an 11-2 run to close the game.
One of the biggest shots in that stretch came from sophomore sharpshooter Kersgieter, who drained a 3-pointer with 1:46 to play that put Kansas up 68-62.
Kersgieter shot 7-of-14 from the floor for the night, including a 3-of-6 clip from 3-point range. She added six rebounds, two assists and two steals in her 32 minutes on the floor.
After Kersgieter's third triple of the night, the Jayhawks hit six consecutive free throws — four by Brooklyn Mitchell and two by Stephens — to ice the game.
"Sometimes it comes down to a made free throw and a loose ball here and there," Schneider said. "We were fortunate to make our foul shots down the stretch. I thought we got some key rebounds and executed pretty well the last four minutes of the fourth quarter."
In a game that was closely contested well into the final quarter, the Jayhawks out-rebounded the Sooners 15-10 on the offensive glass and also won the battle of second-chance points (18-6) and bench points (15-4) while outscoring the Sooners 38-22 in the paint and 12-2 in transition.
KU also recorded eight steals, with four coming from Thomas, compared to just one for Oklahoma (0-3 overall, 0-1 Big 12).
The victory improves Kansas to 4-1 on the season and 1-0 in Big 12 play and helps KU match or exceed the total number of regular season conference wins during two of Schneider's first five seasons in charge of the program.
KU finished 4-14 in Big 12 play last season and preceded that with records of 2-16, 1-17, 2-16 and 0-18 in four prior seasons.
The Jayhawks will play host to UT Rio Grande Valley on Monday before jumping back into Big 12 play on Thursday, Dec. 17 at Texas.
After Monday, KU has two more non-conference games on its 2020-21 slate (Dec. 21 vs. North Dakota State and Dec. 29 vs. New Mexico State) before rounding out the regular season with 16 Big 12 games in January and February.
"For us it's just continuing to develop an identity," Schneider said of the team's approach to the rest of the month. "Every team in the country right now is still trying to figure out who they're going to be and that's kind of where we are."