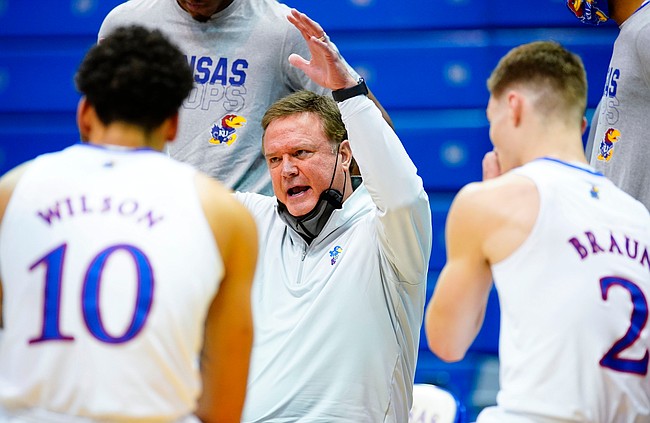 For the second game in a row, the Kansas men's basketball team had to survive a scare in Allen Fieldhouse. Despite a late-game blunder, No. 5 Kansas held on for a 73-72 win over No. 8 Creighton Tuesday night in Allen Fieldhouse.
Creighton's Marcus Zegarowski missed the game-tying attempt from the charity stripe that would have sent the game to overtime.
KU redshirt freshman Jalen Wilson fouled Zegarowski on a 3-point attempt with 1.1 seconds remaining, with the hosts clinging to a 73-70 lead. Zegarowski made the first two free throws, but ultimately misfired on the third and final attempt.
Wilson's mistake came after he made arguably the play of the game for the Jayhawks. Wilson drilled a 3-pointer with 40 second remaining, giving Kansas a 73-70 advantage. David McCormack kicked it out to Wilson for the wide-open look on the wing.
Wilson finished with a team-high 23 points in the win.
Kansas improved to 5-1 on the year, while Creighton falls to 3-1.
Document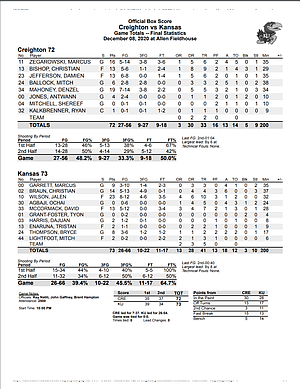 Here's a quick look back at some of the action:
• Offensive highlight: With 11:03 left in the game, Kansas sophomore Christian Braun delivered the team's best offensive moment of the game before the final stretch.
With the shot clock expiring, Braun heaved up an attempt from beyond the arc. The shot not only went in, but smashed off the backboard in order to do so.
So it was just your typical 3-pointer off the glass late in the shot clock, a sequence that tends to go against the Jayhawks so often.
When Braun mentioned on Monday that he needs to be more assertive, he probably didn't mean this shot attempt. But he will certainly take it.
• Defensive highlight: After a sluggish start to the game, Kansas senior Marcus Garrett woke up during a key stretch in the second half.
On back-to-back possessions, Garrett delivered an assist and a steal for the Jayhawks. The assist came off a nice cross-court pass to Bryce Thompson, who knocked down the open 3-pointer.
Moments later, Garrett stole the ball on the other end and it led to a good look for KU. It was a stretch that really seemed to get the Jayhawks and their talented senior guard going during an unusual afternoon primetime matchup.
• Key stat: The Jayhawks struggled to finish at the rim once again. They went 10-for-21 on layup attempts against the Blue Jays.
• Up next: Kansas will play host to Omaha at 6 p.m. Friday.