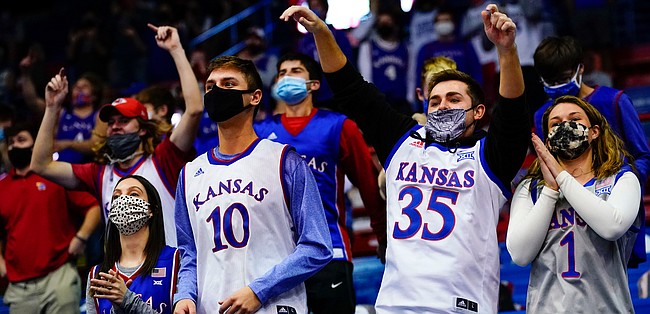 The fifth-ranked Kansas men's basketball team's 73-72 victory over No. 8 Creighton on Tuesday at Allen Fieldhouse was still very much basketball in the time of a pandemic.
But this version looked a lot more like what we've seen in the past, with living, breathing fans occupying roughly 2,500 seats inside the historic venue.
Cardboard cutouts still filled some of the rows surrounding James Naismith Court. Excited fans screamed into face coverings. And ushers at every entrance and exit to the court held up signs reminding fans to wear their masks and observe proper social distancing guidelines.
Regardless of how different it might have been, Kansas coach Bill Self said after the victory that he was thrilled to hear the roar of the crowd again and feel a little more energy in the building than there was last week, when KU opened its home schedule in front of just 100 people in wins over Washburn and North Dakota State.
"It didn't have the full home-court (advantage) that we would have if it was all us," said Self, noting that roughly 40% of the fans in the building were cheering for Creighton. "But even at 2,500 (fans), I thought it was great."
If there was anything that rubbed Self wrong about the experience, it was that a good chunk of the large and loud Creighton contingency may have purchased their tickets on the secondary market from Kansas fans who elected to sell them instead of attending.
"If our fans can't come to the games, don't sell them on a secondary market," Self pleaded. "Give them to a Jayhawk fan, sell to a Jayhawk fan, call the ticket office and let us pay you back for them. Hell, I'll pay you back. I will personally pay you back for the tickets if you cannot come, so we can give them to a Kansas fan."
Photo Gallery
Kansas basketball v. Creighton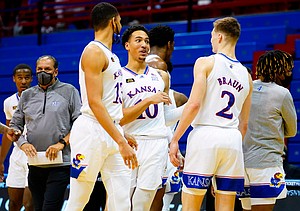 View a gallery of images from Tuesday's game between the Jayhawks and Blue Jays at Allen Fieldhouse.
Even if that doesn't wind up being the case during what figures to be a strange college basketball season from start to finish, Self said he'd live with it.
"I'd much rather have fans from both schools than not have fans at all," he said.
Added Tuesday hero Jalen Wilson, who finished with 23 points and 10 rebounds, including a game-winning 3-pointer from the right wing with 40 seconds to play: "The intensity was crazy. We didn't have 16,000 (fans tonight), but it felt like everybody was there."
As has been the case throughout the past nine months of the pandemic, in all walks of life and in all corners of the country, fans occasionally had to be reminded to wear their masks while watching the game that Self said felt a lot like an NCAA Tournament game because of the atmosphere.
The social distancing also was tougher to enforce than at Kansas football games, where fans sat in blue seat-back chairs instead of on bench seating.
Groups of two, four and six people who sat together occasionally began to blend into groups of 10 or 12. But for the most part, those who came — especially those fans cheering for the home team who want to come back — did what they had to do to take in the game during crazy times as safely as possible.
Said Creighton coach Greg McDermott, when asked ahead of Tuesday's game if he was worried about fans attending: "I certainly trust the protocols that Kansas is going to have in place to keep the players safe because, obviously, they're trying to keep their players and coaches safe, too."
It's likely that doing that will only get easier from here.
Just like Self's team, which will watch film and add and subtract wrinkles from its game plan after Tuesday's victory, those in positions of leadership with Kansas Athletics Inc., likely will do the same.
That's standard operating procedure after all home athletic events, pandemic or not.
In announcing the decision to allow fans to return to the fieldhouse last weekend, KU Chancellor Douglas Girod noted that KU officials would continue to consult with the Pandemic Medical Advisory Team on a weekly basis "to make decisions that prioritize the safety of the community."
While Kansas Athletics and its enforcement of the policies and protocols plays a role in that, so, too, does the behavior of the fans who decide to attend. Girod emphasized that again last week.
"That responsibility is on each of us as individuals," Girod said in a statement announcing the decision. "Please continue your commitment to mask-wearing, social distancing and thinking not only about yourself, but about the entire community, in every decision you make."
Document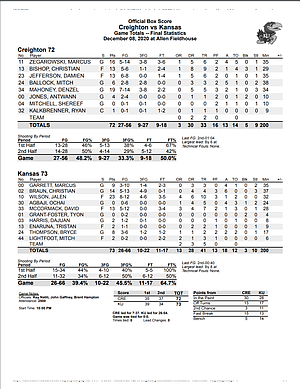 More where this came from?
While the KU-Creighton series dates back to 1923, Tuesday's game was the first between the two programs since 1974.
Kansas defeated Creighton 55-54 in March of that year during the opening round of the NCAA Tournament in Tulsa, Okla.
Tuesday's matchup was tied to the Big 12/Big East Challenge, but there's been some talk about finding a way for the two Midwest powers to play more often.
"It's a great game for us," Creighton coach Greg McDermott said. "If they were interested in continuing (the series), we would certainly be open to that."
On one condition, that is.
"We'd love to get Bill back to Omaha sometime," McDermott said. "That would be good. I certainly don't want it to be Creighton going to Allen Fieldhouse every year without a return game. But the history and tradition of their program and the job that Coach Self has done is incredible. A lot of programs across the country, including ours, are trying to emulate what they do on the court and how consistently they do it."
Ballock's return
Former Eudora High standout Mitch Ballock made his return to a place where he's seen dozens of games and almost played his college basketball.
Although he did not produce the type of shooting night that made him a high-level recruit out of Eudora — 2-of-8 shooting for 6 points in 38 minutes — Ballock started and played nearly the entire game while dishing five assists, grabbing three rebounds and swiping two steals for the Bluejays.
Tuesday's loss was the 103rd game of Ballock's four-year Creighton career. In that time he has made 75 starts and recorded 1,028 points and 239 3-point makes.
This and that...
Tuesday's victory made Kansas 5-1 or better for the ninth consecutive season... The Jayhawks are now 2-1 this season against ranked teams and 1-1 against teams ranked in the top 10... In his 18 seasons at Kansas, Self is now 104-53 all-time against teams ranked in the Associated Press Top 25... The Jayhawks have now won five in a row over Creighton and lead the all-time series 10-6... The win moved KU's Allen Fieldhouse winning streak to 11 consecutive games and makes Self 267-14 all-time in KU's home venue... Tuesday's game was a part of the Big 12/Big East Battle and Kansas is now 1-1 all-time in the conference showdown and 9-4 all-time in head-to-head conference clashes of any kind.