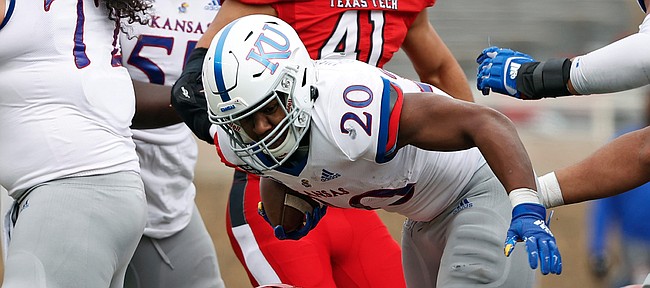 When Daniel Hishaw Jr. joined the Kansas football program this year, the former high school standout from Moore, Okla., already knew plenty about making plays with the ball in his hands.
All Hishaw had to do once he became a Jayhawk was get used to doing that without playing quarterback.
"It's not hard," the true freshman running back said earlier this week, a couple days removed from leading KU in rushing for the third time this season.
"When I was a kid I was a running back. Just switched over to QB just to do it, because I liked it," Hishaw recalled of his days of passing and running at Moore High. "Now that I'm back at it, just going back to the basics. It's nothing I haven't done before."
KU's coaches even have made use of Hishaw's experience at QB, at times sending him onto the field in the offense's wildcat package.
"It feels good being back there every now and then getting the direct snap," the 5-foot-10, 222-pound back admitted.
While KU signed Hishaw in head coach Les Miles' 2020 recruiting class as an athlete, and not a QB, he hasn't lost his throwing ability.
He chuckled during his Monday video interview with media members when asked if he ever reminded offensive coordinator Brent Dearmon that he could pass the ball, too, if needed.
"It's whatever he wants to call," Hishaw said. "So if he wants to get me in there and throw it, I'll go throw it."
So far, in Hishaw's eight appearances as a freshman, the play-calling has kept him as a rusher and occasional pass-catcher out of the backfield.
The Jayhawks (0-9 overall, 0-8 Big 12) relied upon the sturdy freshman more than ever in their 16-13 loss at Texas Tech. While it was Hishaw's third start of the season, he more than doubled his previous career high for carries (10 at Oklahoma), finishing with 22 rushes for 87 yards and KU's only touchdown.
Earlier in the year, Hishaw was third on the depth chart and rarely used. He only ran twice in KU's opener against Coastal Carolina, entering for short-yardage situations and converting on a fourth down.
In the Jayhawks' Big 12 debut at Baylor, Hishaw had just one rush attempt, another fourth-and-one, and the Bears stopped him short of converting.
His role was limited, of course, because junior Pooka Williams and sophomore Velton Gardner were still in the mix at that point. But after four games, Williams opted out. And two games later an undisclosed injury knocked Gardner from the lineup.
Hishaw entered the season wanting to play, but understanding he had "two really good dudes" ahead of him.
"You know, sometimes for the team, opting out, it's not the best. But it's next man up. That's what you've got to do every time," Hishaw said, reflecting on how he ended up taking on an important role as circumstances evolved. "It all happened for the better for me."
Hishaw is one of four running backs to start a game for KU this year — freshman Amauri Pesek-Hickson filled in when Hishaw couldn't play versus TCU. Hishaw enters the Jayhawks' season finale versus Texas (2:30 p.m., Saturday on ESPNU) as the projected starter, and averaging 4.4 yards per carry, with 229 yards on his 52 attempts.
Miles described the freshman back as "a wonderful person" who "roots for his team," and also possesses a "special knack" as a rusher.
"And some of the more artistic runs have happened," Miles said, "when he had the ball in his hands."
On the year, Hishaw currently is responsible for the second-longest run by a Jayhawk, going 47 yards on one of his 10 carries at Oklahoma. He had rushes of 19, 15 and 12 yards in KU's narrow loss at Texas Tech.
"We're for him," Miles said of Hishaw, "and we want to see him continue to progress as such that he gets a lot of carries and we can see if we can ride (on) his back a little bit."