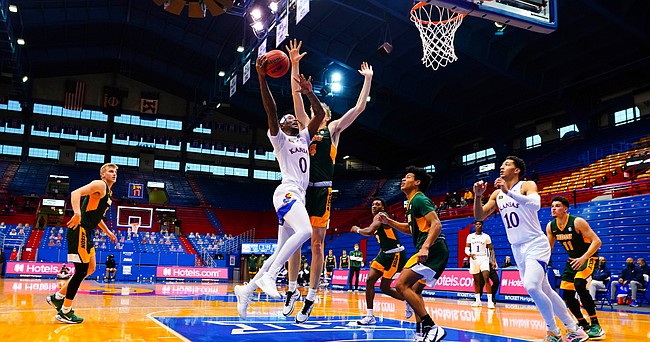 No. 5 Kansas Jayhawks (4-1) vs. No. 8 Creighton Bluejays (3-0)
Time: 4 p.m. | Location: Allen Fieldhouse, Lawrence, Kan.
TV: ESPN | Radio: IMG Jayhawk Radio Network
Log on to KUsports.com for our live game blog coverage and follow the KUsports.com staff on Twitter: @KUSports @mctait @bentonasmith & @SJacksonLJW
Keys for Kansas
1. A 10-guard game?
The Jayhawks are going to continue to start David McCormack, but the junior forward played just 3 minutes in the second half of a close-call victory over North Dakota State over the weekend.
Given the fact that Creighton brings a guard-heavy attack to Lawrence for this top-10 showdown, it seems safe to assume that the Jayhawks will continue to lean on the five-guard lineups that have treated them so well in the early going.
That will make it easier to match up with Creighton, which has played this way for years. But it does not mean that Kansas will have the advantage when they do go small.
"They actually run better stuff than we do small," KU coach Bill Self said Monday during a Zoom call previewing the matchup. "We're still not used to playing this way. We didn't know that we were going to play this way at all."
Self said the Jayhawks worked on the five-guard approach for a total of 15 minutes in practice before the season began, and the coaching staff is continuing to look for ways to get easy baskets, more rhythm and a consistent defensive effort from those lineups.
"That's not what we want to do, so we really haven't had the practice time to get good at it like Creighton is," Self said. "But I think there are some similarities I think you'll see quite a few (defensive) switches and things like that."
While the Jayhawks will continue to look inside to find an edge offensively, this one could come down to how the Jayhawks defend.
The teams are opposites in the KenPom.com rankings, with KU fifth in overall defensive efficiency and 24th on the offensive end and the Bluejays sixth in offensive efficiency and 50th on the defensive side of things.
Creighton coach Greg McDermott likes that style and has built a system that caters to it. But even McDermott knows that all of the offensive firepower in the world won't mean much today if it's not born from efficiency.
"You can't point to stopping one or two guys and you stop our attack," the Creighton coach said Monday morning. "We play team basketball. Different players step up at different times. And we're going to need everyone to play their A-game if we want to go into Allen Fieldhouse and win."
2. Give the crowd something to cheer about
After playing back-to-back home games with roughly 100 people inside Allen Fieldhouse, the Jayhawks will have actual, real life, screaming, cheering fans for this one.
And although the number permitted to attend is maxed out at 2,500, that likely will seem like a lot given how empty and silent the building was last week.
Monday evening, KU sent out an email that said a limited number of tickets for this game and Friday's home game against Omaha were still available.
Will having Jayhawk fans back in the building be enough to give Kansas a true home-court advantage? Self has his doubts, but he isn't about to complain about the increase in attendance.
"We've played a ton of games since I've been here, just like today," Self said on Saturday of the nip-and-tuck battle with North Dakota State. "For some reason, when it gets kind of dull and your energy level's low or whatever, the crowd will do something to make a quick 5-0 run a 10-0 run because you're kind of playing off the energy and adrenaline. We don't have that right now."
Even if it's not the collective will power of 16,300 strong, an element of that might be there in this one, and the Jayhawks are eager to make sure that works to their advantage.
"I think having 2,500 people in the stands will make a difference," Self said. "But it's going to be hard to win at home and certainly easier to win away from home — for everybody — just because of the crowd situation."
3. Don't let Ballock beat you
There was a time when Creighton senior Mitch Ballock thought he might play dozens of college games inside Allen Fieldhouse.
The former Eudora High star was recruited by Kansas for years and nearly picked the Jayhawks several times before settling on Creighton.
There's little doubt that this one means a little more to the 6-foot-5 shooting guard who is averaging 9 points in 29 minutes per game as a starter for the Bluejays.
But Ballock isn't the type to let the buzz and hype of one game get him out of sorts.
"I would honestly say I've never been nervous before a game," Ballock said during a Monday Zoom call to preview the matchup.
Nervous and excited are two different things, and Ballock did not in any way try to downplay his excitement over taking on the Jayhawks in a top-10 showdown inside one of college basketball's most historic arenas.
"It'll be really fun to see some familiar faces and hopefully to see some faces I don't expect to see," said Ballock, who said that 10 members of his family are planning to attend the game. "(I don't really have) any extra emotions right now. I'm probably trying to slow play it a little bit until I actually am in the moment. But, honestly, it's just another game. It's a good opportunity just to see where we're at as a team, what we need to work on and what we can do to keep getting better. This will be a good test for us."
McDermott, who coached a handful of games at Allen Fieldhouse when he was the head coach at Iowa State, said he expected Ballock to be the same player he's been since he arrived in Omaha, Neb. — a tough competitor with a team-first attitude who's willing to do whatever he can to help his team's chances.
"I've got a lot of things that keep me awake at night," McDermott said Monday. "Mitch Ballocks's emotional control is not one of them. He just plays the game. He's about winning. He's about impacting winning. And we've been blessed to have him here. For him to be able to go back to Allen Fieldhouse is certainly going to be special for him."
As for his potential to impact the game, Ballock is a career 40% 3-point shooter and is a threat to get white hot on any night against anybody.
He's not off to the greatest start as a 3-point shooter this season, — 5-of-17 from downtown for 29.4% — but seeing how this will be his only college game inside Allen Fieldhouse, it's not hard to envision him getting hot and closing out on him wherever he is on the floor would be a good idea for the Jayhawks.
Marquee Matchup
Marcus vs. Marcus
In addition to teams ranked in the top 8 of this week's Associated Press Top 25 (KU for an NCAA record 223rd consecutive week), it'll be a battle of All-American Marcuses at the point guard position when KU and Creighton meet up.
It's KU senior Marcus Garrett and Creighton junior Marcus Zegarowski taking center stage in a big-time, early-season contest.
Both are upperclassmen. Both were on the preseason Wooden Award watch list. And both play a huge role in making their teams go night in and night out, whether their stat lines illustrate that or not.
"I think he's great. I think he's terrific," Self said of the Creighton point guard, who enters this one with a 4-1 assist-to-turnover ratio and as the Big East Conference's preseason player of the year. "We had a chance in the first game to go against probably the most physically gifted point guard in the country in (Gonzaga freshman Jalen) Suggs. And we saw him on a day when he was spectacular. To me, Marcus (Zegarowski) maybe has a better chance to be a first-team All-American even than Suggs does because of his ability to play at different speeds."
In addition to having the ability to control the game's pace in any style, Self said Zegarowski, who is averaging 12.3 points, 7 assists and 3 rebounds in 31 minutes per game, can shoot it, handle it and has "terrific" feel on the floor.
"He's fun to watch," Self said.
While both players are critical in what these two teams try to do on both ends of the floor, don't be surprised if Garrett and Zegarowski are only matched up with one another about a third of the time.
Self said the guard-heavy lineups employed by both teams, and the defensive switching that can be done as a result, eliminates the potential for this to be two of America's best going head-to-head for 40 minutes.
Still, whichever one has the better all-around game likely will put his team in the best position to come out on top.
"It'll be a great matchup when they're on each other," Self said. "I'm just not sure they're going to be on each other near as much as what fans would probably like to see."
Jayhawk Pulse
Both teams moved up in the latest Associated Press Top 25 on Monday, with KU jumping two spots to No. 5 and Creighton one spot to No. 8.
But that did little to alter the anticipation of what promises to be an entertaining and intense contest in a rare mid-afternoon KU home game.
The Jayhawks and Bluejays are tipping off at 4 p.m. in order to be on national television. ESPN is hosting the ACC/Big Ten Challenge on Tuesday night, with back-to-back games between top-15 foes (North Carolina vs. Iowa and Illinois vs. Duke) and KU-Creighton gives the network a sweet triple header.
Had the tip time been moved later, the game likely would have been available only on ESPN+.
KU leads the all-time series with Creighton 9-6, including a 5-1 edge in games played in Lawrence.
But the Blue Jays are riding a bit of a hot streak coming into this one. Creighton has won four consecutive games against top-10 teams, which sits tied with Ohio State for the longest active streak in the country.
The game marks the end of a killer stretch of four games in eight days for the Jayhawks and stands to be by far the toughest of the bunch.
Creighton's schedule to date has plenty of ties to Kansas.
Both teams have victories over North Dakota State (Creighton, 69-58 in the season opener and KU, 65-61 on Saturday).
Creighton also has wins over Omaha (94-67), which is slated to visit Lawrence on Friday (6 p.m. on ESPN2), and Kennesaw State, where Mayson Quartlebaum, the son of KU director of basketball operations, Fred Quartlebaum, is a freshman.
Neither side said they could learn too much from the common opponent in NDSU, but both sides had plenty of praise for the team they're about to face.
"Kansas hasn't been at their best at all times," McDermott said of the Jayhawks' 4-1 start. "But when you've seen their best, it's really, really good."
Added KU sophomore Christian Braun: "We don't get to play Creighton a lot. They have a really good team this year so we're looking forward to the challenge."
Probable Starters
No. 5 Kansas
G – Marcus Garrett, 6-5, 195, Sr.
G – Ochai Agbaji, 6-5, 210, Jr.
G – Christian Braun, 6-6, 205, Soph.
G – Jalen Wilson, 6-7, 190, RS-Fr.
F – David McCormack, 6-10, 265, Jr.
No. 8 Creighton
G – Marcus Zegarowski, 6-2, 180, Jr.
G – Denzel Mahoney, 6-5, 220, Sr.
G – Mitch Ballock, 6-5, 205, Sr.
F – Christian Bishop, 6-7, 220, Jr.
F – Ryan Kalkbrenner, 7-0, 235, Fr.