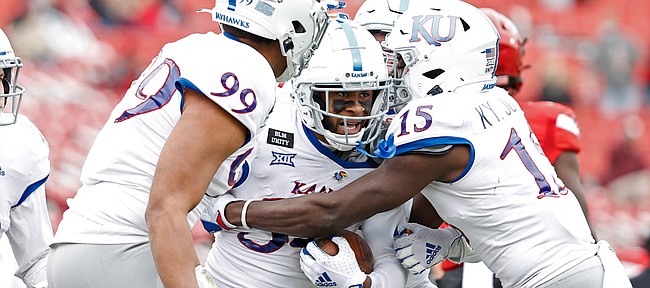 Late in a season that had been defined by blowout losses, the Kansas football team's defense delivered an inspired effort Saturday at Texas Tech, albeit in another defeat.
The 16-13 setback in Lubbock, Texas, was a far cry from recent weeks, when Iowa State put up six touchdowns, Oklahoma piled up eight TDs and TCU's offense crossed the goal line five times.
"I felt like this was the best performance as a defense that I've ever played on in my life," senior safety Ricky Thomas said of the showing at Tech. "That's crazy in the Big 12 to only give up 16 points."
It marked the fewest points allowed by KU since a 12-7 home loss to Coastal Carolina in Les Miles' second game as head coach, in September of 2019.
Saturday's effort also was the first time since 2014 that a KU defense held a Big 12 opponent to fewer than 20 points. The last time that happened was on Nov. 8, 2014, when KU defeated Iowa State 34-14 under then-interim head coach Clint Bowen.
While the Jayhawks' defense didn't dominate in every facet — Tech (4-6 overall, 3-6 Big 12) still amassed 410 yards of offense, bolstered by 293 rushing yards yards — Miles appreciated what players on that side of the ball accomplished, with four takeaways.
"I thought they played hard from start to finish and I thought they hustled," Miles said. "We needed to tackle a little bit more crisply, but other than that I'm really proud of their efforts."
The KU defense capped its first trip onto the field at Tech with a Karon Prunty interception in the end zone — the first pick of the freshman's time in a KU uniform.
It would be a day of career firsts in the turnover department for others, too. Senior safety Nate Betts in the second quarter forced his first fumble, and redshirt freshman defensive end Marcus Harris secured his first recovery.
Late in the third quarter, Prunty came up with his first forced fumble, and Betts chased down the loose football for his first recovery, picking up 45 yards on his return as he tried to add a touchdown to the defense's stellar day.
"As soon as I got the ball," Betts said of his scoop, with KU trailing 13-3, "I was thinking six. I felt like I couldn't pick up my feet because I was so tired, but I was definitely thinking six."
Harris punched the ball out of Xavier White's grasp in the fourth quarter for his first forced fumble and freshman defensive lineman Caleb Taylor found his first fumble recovery.
The four takeaways were the most for the Jayhawks since they had three interceptions and a fumble recovery in a 34-21 loss at West Virginia in 2018.
"Before every series we always had the energy before going out. When we were in the huddle, we kept the energy," Betts said, sharing that some of his teammates were singing during the breaks, and finding other ways to keep "the blood flowing."
Document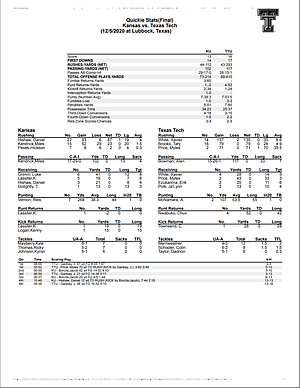 Safeties coach Jordan Peterson filled in as the defensive coordinator for D.J. Eliot, who was back in Lawrence isolating after a positive COVID-19 test. And Betts said Peterson "had us hyped on the sideline, too."
Though Tech quarterback Alan Bowman only threw one pick, the Red Raiders' passing offense never took off, and Bowman finished 15-for-26, with 117 yards and no touchdowns. Tech only passed for fewer than 200 yards one other time this season (169 versus West Virginia). The 117 passing yards versus KU were not only a season low, but also the fewest by a Tech offense in the past 20 years.
That came on the heels of Bowman throwing for 384 yards and three touchdowns at Oklahoma State. Thomas said the Jayhawks (0-9, 0-8) knew from the scouting report that Bowman "doesn't really get out of the pocket that much," and they followed the game plan to keep Tech's passing in check.
Prunty, who also broke up a pass in the end zone in a one-on-one matchup with Tech's Ja'Lynn Polk in the third quarter, said KU's defenders fed off of one another with their big plays.
"Our whole defense has confidence," Prunty said. "We've all got confidence in each other that we're all going to make a play."
All of those momentum building plays didn't go unnoticed by the KU offense. But KU only scored 10 points off the four takeaways in defeat, putting up one field goal and its lone touchdown on the two occasions in the second half that the offense took over in Tech territory because of a takeaway.
The Jayhawks settled for a 29-yard Jacob Borcila field goal in the third quarter after opening their series 16 yards from the end zone.
Said junior quarterback Miles Kendrick of how the offense hoped to better capitalize on the defense's big day: "They make plays, they get stops, OK we get back on the field and drive the ball down, we get points. You always want to complement the other side of the ball and at times we didn't do that."