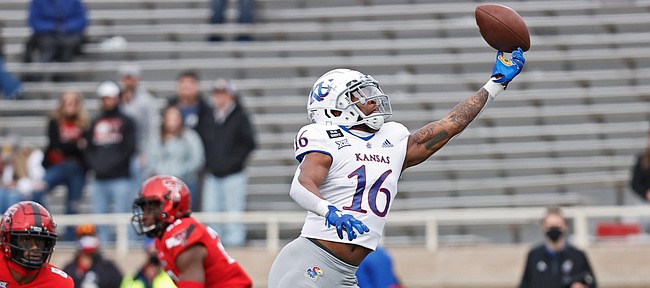 Even on a day when the Kansas defense delivered its best performance of the year, creating four takeaways Saturday at Texas Tech, the Jayhawks' offense couldn't help secure the team's first victory of 2020.
KU failed to convert on a pair of fourth downs in the final four minutes in Lubbock, Texas, leading to a 16-13 defeat.
"It was disappointing," starting quarterback Miles Kendrick said during his postgame video interview. "We were one play away from taking a 'W' home. When you're in a tight game and everyone on your team loves competing, loves to win, and you lose a close one, it's definitely tough for the whole program."
A patchwork offensive lineup that didn't include a pair of projected starters — senior receiver Andrew Parchment and freshman center Garrett Jones both were not available — finally scored a touchdown with 10:46 to play when Daniel Hishaw ran for a 12-yard score, but the Jayhawks (0-9 overall, 0-8 Big 12) couldn't build off of that momentum on their final two possessions.
The Red Raiders (4-6, 3-6) couldn't have felt safe until KU's last series ended with a Kendrick pass for Takulve "TK" Williams on fourth-and-four hit the turf with 58 seconds left and the Jayhawks out of timeouts.
Kendrick (17-for-29 passing, 102 yards, no touchdowns, no interceptions) said he spotted Williams coming over across the middle of the field against Tech's man coverage.
"I've just got to give him a better ball," Kendrick said of the throw, on which Williams had to extend his arm just to try and get his fingers on it.
Asked if the pressure being applied from Tech's Jacob Morgenstern influenced his errant throw, Kendrick took the blame.
"Either way, the O-line fought their tails off today and (pressure) happens," Kendrick said. "They still allowed me to get the ball off and it's up to me to put the ball where it needs to go."
KU, which only produced 214 yards of offense, compared to Tech's 410, turned the ball over on downs by failing to convert on fourth down four times in the loss, including on each of its last two possessions.
On the Jayhawks' penultimate series, KU trailed by three with 5:36 to play when their drive began 75 yards away from their destination, the gaol line. The possession ended quickly, though, with Tech stopping starting running back Hishaw on four straight plays. The last one, on fourth-and-one from KU's own 34-yard line concluded with Eric Monroe bringing Hishaw (22 carries, 87 yards, one TD) down in the backfield.
Document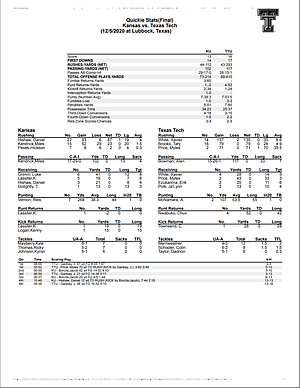 It marked the third time in the second half that KU ran with Hishaw on fourth down and failed to convert.
"The ones that got stopped, we'd like to have had the opportunity to call a couple of those plays again certainly," KU head coach Les Miles said afterward. "You wish you had it back. They're gone, they're out of your hand."
Miles said the hope was Hishaw would replicate some of his longer runs of the day in those situations.
"We were waiting for that one to show up, run off tackle to the right and then bounce into the end zone for a score," Miles said, referencing what transpired on KU's lone TD.
The KU offense only had those chances because the defense kept forcing Tech turnovers and keeping Red Raiders kicker Jonathan Garibay busy. Though the junior kicker sent was responsible for most of Tech's scoring, connecting on three field goals, including one that broke a 13-13 tie with 5:36 to play, Garibay also missed three tries, including one that missed wide right with 1:59 left.
Incredibly, Garibay's make from 36 yards that gave Tech its 16-13 advantage went through the uprights after a KU defender deflected it at the line of scrimmage.
The Red Raiders only crossed the goal line once, because the Jayhawks kept taking the ball away.
KU avoided falling behind immediately on the road, despite a 42-yard punt return from Tech's Chux Nwabuko that allowed the Red Raiders' offense to take the field for the first time just 17 yards away from the end zone.
One of KU's standout players all year, true freshman cornerback Karon Prunty set a tone for the defense on its first series. An Alan Bowman pass into heavy traffic deflected up into the air toward the end zone, and Prunty snagged it for his first interception of the year and the initial key takeaway for KU in its road finale.
"I think it gave us a lot of momentum," Prunty said, "because everybody's been waiting on me to make that play. When I made that play, that allowed me to turn up."
The Jayhawks' defense only suffered one major mistake in the first half, and that came three plays into Tech's third possession. A failure to contain on the perimeter when Tech dialed up a receiver reverse for Myles Price allowed the speedy wideout to sprint freely to a 70-yard touchdown.
But KU's defense, playing with safeties coach Jordan Peterson serving as its coordinator, due to D.J. Eliot staying home after a positive COVID test, never let the Red Raiders in the end zone again.
Safety Nate Betts forced a fumble in the second quarter that defensive end Marcus Harris recovered. In the third quarter, Prunty forced another fumble, and this time it was Betts scooping the loose ball for a 45-yard return that set up a 29-yard Jacob Borcila field goal.
In the fourth quarter, Harris punched the ball loose and defensive lineman Caleb Taylor secured it, leading to KU's one TD drive, that only had to go 44 yards.
"The main thing was swarming to the football," Betts said of the defense's success. "Everybody was getting their hands on the football, trying to make plays and be disruptive."
Their efforts on defense allowed the Jayhawks, whose previous closest loss was by 15 points to Coastal Carolina, to actually still have a chance to win late in the game.
"There were a lot of people's heads down," Prunty said of the scene inside the locker room. "But everybody told each other to keep their head up. We're still building a program here. We've just got to get better and improve. We're not blaming nobody. We lost as a team."
Kendrick said the defense played "lights out" as the offense failed to get anything going most of the afternoon.
"They kept us in the game," Kendrick said. "I really wanted to get this one, not only for this whole program, but for those guys and the effort hey were putting out on that field."
KU is set to conclude its season next week at home versus Texas (6-3, 5-3).
SCORING BY QUARTERS
FIRST QUARTER
8:56 — Jonathan Garibay 47 field goal. Eight-play drive for 35 yards, in 1:47. (Tech 3, KU 0.)
3:52 — Myles Price 70 run. Garibay kick. Three-play drive for 82 yards, in 0:49 (Tech 10, KU 0.)
SECOND QUARTER
0:00 — Jacob Borcila 42 field goal. Fourteen-play drive for 53 yards, in 4:53. (Tech 10, KU 3.)
THIRD QUARTER
6:59 — Garibay 21 field goal. Fourteen-play drive for 36 yards, in 5:17. (Tech 13, KU 3.)
0:27 — Borcila 29 field goal. Four-play drive for 5 yards, in 1:44. (Tech 13, KU 6.)
FOURTH QUARTER
10:46 — Daniel Hishaw Jr. 12 run. Borcila kick. Seven-play drive for 44 yards, in 2:18. (Tech 13, KU 13.)
5:36 — Garibay 36 field goal. Ten-play drive for 52 yards, in 5:10. (Tech 16, KU 13.)