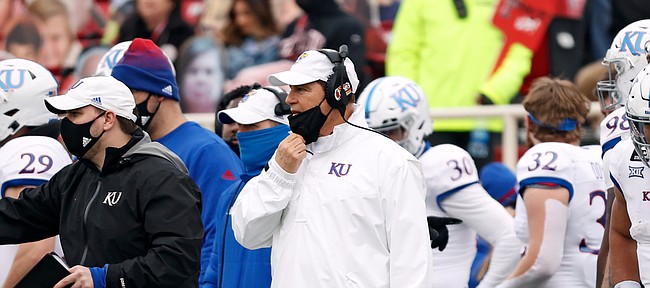 The Kansas football team traveled to Texas Tech for its road finale without defensive coordinator D.J. Eliot, a result of the assistant coach testing positive for COVID-19, head coach Les Miles revealed on Saturday.
With Eliot self-isolating back in Lawrence, safeties coach Jordan Peterson filled in as defensive coordinator in what proved to be the Jayhawks' best showing of the season, in a 16-13 loss.
"I thought Jordan Peterson did a really nice job," Miles said afterward, "putting the game plan in a spot where the great majority of the defense could understand it and handle it and do well with a new (play) caller, which is very difficult to do."
KU's defense created four takeaways in the loss in Lubbock, Texas. Safety Ricky Thomas said the Jayhawks felt as if Eliot was still with them this week.
"Coach Peterson just picked up right where Coach Eliot left off," Thomas said. "I felt like there was no change. We didn't do anything special for practice or anything."
Eliot typically coaches KU's inside linebackers, too, but this week senior analyst Chris Woods took on those duties.
Tech played its season finale without head coach Matt Wells, after he also tested positive for COVID this week. The Red Raiders' defensive coordinator, Keith Patterson, acted as head coach. Tech also was without offensive line coach Steve Farmer and defensive line coach Paul Randolph.
No Daniels this week
After starting each of KU's previous four games, quarterback Jalon Daniels didn't play at all in the Jayhawks' loss at Tech.
Miles said the "spark" Miles Kendrick provided off the bench a week earlier against TCU set the stage for the junior taking over the starting job.
Document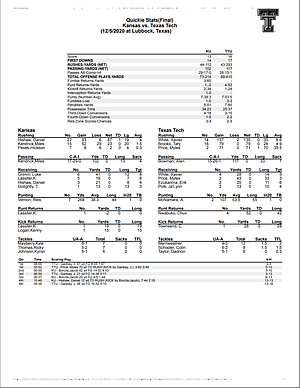 "Then he continued and had a really pretty good practice week," Miles added of Kendrick, who made his second career start. "We figured we'd give him a shot and he made some significant plays and gave us some rushing yards from the quarterback that we hadn't had in a while."
Was there a reason KU didn't even send Daniels, a true freshman, in for a few snaps or a series?
"No, there was no reason," Miles said. "It was that we were in a game with a tight score and didn't want to make a change too abruptly. I'm not saying that Jalon Daniels won't be our quarterback in the future. He's talented and we certainly expect those things from him."
Even though KU's defense had a strong showing while the offense struggled, Miles stuck with Kendrick.
"I gave thought to it," Miles said of making a change at some point, "but I kind of liked the flow that (offensive coordinator Brent) Dearmon was in. I didn't want to change it."
Jayhawks without several former starters
KU's did not dress list at Texas Tech, published shortly before kickoff, included two new subtractions for the starting lineup.
Miles said a "sickness" kept senior receiver Andrew Parchment out. An undisclosed ailment also prevented freshman center Garrett Jones from suiting up, a week after Jones made his first career start.
Freshman receiver Steven McBride made his first career start at Tech, and senior center Adagio Lopeti replaced Jones at center.
The list of unavailable Jayhawks also included several others who were already known to be dealing with various issues, such as receivers Stephon Robinson Jr. and Lawrence Arnold, running back Velton Gardner, offensive lineman Chris Hughes, tight end James Sosinski, and linebackers Jay Dineen and Denzel Feaster.
Backup safety Corione Harris also didn't dress.
Berryhill leaves on stretcher
The first quarter hadn't even concluded before the KU defense lost two starters due to a collision.
Freshman linebacker Taiwan Berryhill and sophomore safety Kenny Logan Jr. hit each other accidentally while trying to finish a tackle. Logan hit Berryhill's head on the play and Logan's head awkwardly rammed into the lower body of a Red Raider.
Neither was able to return and Berryhill had to be taken off the field on a stretcher.
Miles gave an update on Berryhill, who was making his first career start, after the loss.
"We have unofficial information at this point," Miles began. "But he's flying home with us and we think he's going to be fine. More of a temporary injury than a longterm one in any way."
Big 12 road losing streak lives on
For the 12th year in a row, KU will conclude a season without winning a Big 12 road game.
The Jayhawks' conference road losing streak extended to 54 games with the three-point loss to the Red Raiders.
KU hasn't won a true road game in Big 12 play since its 2008 trip to Iowa State. This year the Jayhawks went 0-5 on the road, with losses at Baylor, West Virginia, Kansas State, Oklahoma and Texas Tech.